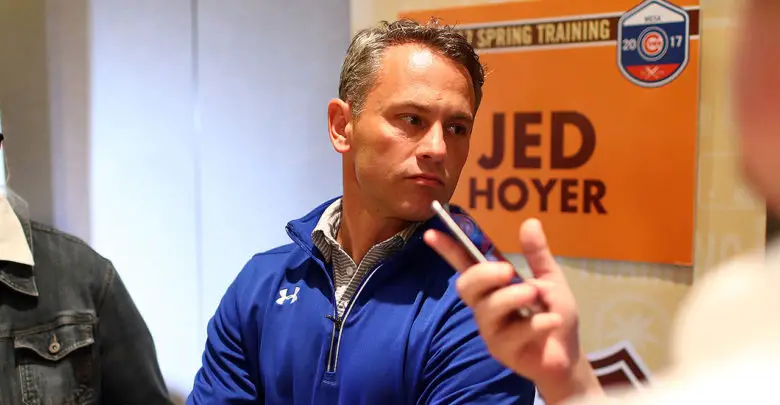 Hoyer Says Cubs 'Will Certainly Look Outside for Answers' to Offensive Questions
Though they enter Thursday's action in first place in the NL Central and now boast an elite closer, along with several potential All-Stars on the offensive side, the Cubs just don't look like a complete team. There are several areas of need you could point to, but there's just a certain quality that's missing. Absent a few flashes here and there, it's like someone turned down the rheostat on the excitement level.
It's entirely possible that the dial gets turned back up in the second half and we again see that Cubs team with which we fell in love back in 2015. But it's looking more and more as if they'll require some sort of infusion of talent and verve from outside the current 25-man roster.
Whether that's in the form of a trade, which would likely clear some roster space, or a promotion, which would require roster space to be cleared, the front office is absolutely looking to make changes.
"I would still say this is a group that has won more games than any team really since we've been put together," Jed Hoyer told 670 The Score's Bernstein & McKnight Wednesday. "So there are a lot of positives. There are some areas of frustration, like we just discussed. We haven't been very good in those [situational hitting situations].
"I do think we'll certainly look outside for answers. I think that whether we find those answers is a question. I think the trade market could be tough, and we're not going to make change for change's sake. But this is an offense that probably doesn't have quite the depth that [it used to have]. Obviously, we certainly miss [Ben Zobrist's] presence, his quality at-bats, his on-base skills."
Hoyer seemed less certain about Zobrist's return than when he discussed the topic a couple weeks ago, saying only that the organization is "hopeful." But hope can't dictate the decision-making process, so the Cubs have to be proactive when it comes to making improvements.
"We wouldn't be doing our job to not do our due diligence, to not think about those things externally," Hoyer said. "Whether they happen or not, I'm not sure. That said, I don't think that says that we don't have confidence in our guys.
"I think it says that's our job, to think about everything we can. If an external move makes sense to jump-start the offense, maybe we'll do that."
Allow me to once again bang the "Call up Robel Garcia drum" here, since that's a move that might spark the team without costing them anything beyond a roster spot. And with a little creative maneuvering, even that might not be an issue. With all due respect to those who will surely point out all the reasons Garcia shouldn't be an option, I'll simply say that his upside and a break from the status quo can't do the Cubs any harm.
And what if Garcia continues to display light-tower power from both sides of the plate while spelling some of the regulars at multiple positions? It might help the Cubs to more clearly define their needs, or could even keep them from the trade market entirely. Or maybe they still make a trade, but they do so with better leverage.
Look, there are any number of directions the Cubs could take here and I have no doubt myriad stones are going to be turned in the process. The moral of the story is that the front office is acutely aware of the fact that something needs to be done and they're echoing the thoughts of the fans by saying so publicly.
Whether they actually get it done, though, that's what Paul Harvey would call "the rest of the story."