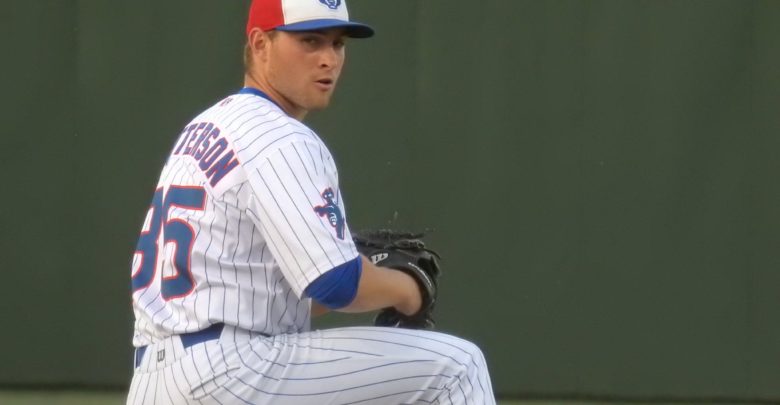 Chicago Cubs Weekly Farm Report (6/24/19): Fernando Kelli Does It All, Jack Patterson Might Be a Dude
News in the System
There were three All-Star games last week, with players from South Bend, Myrtle Beach, and Tennessee all playing in their respective exhibitions. PJ Higgins was the top performer in the Southern League All-Star Game, going 2-for-4 with a double, a run, and an RBI. Jesus Camargo and Javier Assad each put up zeros in the Carolina League All-Star Game, with each picking up a pair of strikeouts in their respective innings of work.

That all cleared the way for promotions to pick up all over the system. Alex Lange was the big one, getting the call from Myrtle Beach to Tennessee. Luis Lugo was also promoted to Tennessee, Jeff Pasantino to Myrtle Beach, and Craig Brooks and Danny Hultzen to Iowa.

The University of Louisville was eliminated from the College World Series over the weekend and that means third round draft pick Michael McAvene was able to officially sign. He joins big list of names that have signed since draft day, including each of the team's first nine selections. Pretty impressive given the organization had the fifth smallest bonus allotment this year.

There are a few guys that made appearances in Arizona on rehab starts over the last week. Zack Short was in the lineup after missing almost the entire season up to this point from getting hit by a pitch in the wrist. Brendon Little had also missed the entire season and made an appearance on the bump. They should both be back up in full season affiliates soon.

With Adbert Alzolay making his MLB debut, those of us that follow the system now turn our attention to who might be the next man up to make an impact in Chicago. Todd Johnson took a look at who that could be.
Triple-A Iowa Cubs
The I-Cubs were the only full-season affiliate that had a full slate of games last week, going 4-2 and pushing their lead in the division up to 5.5 games. Iowa won't have a day off this week as they wrap up their series with Round Rock with the Omaha Storm Chasers coming in for a mid-week four game set. They will wrap up the week and month with two games against San Antonio down in the Lone Star State.

Duane Underwood Jr. was moved to the bullpen fairly recently after starting the season in the rotation. After that rough start, he has absolutely locked it down as a reliever. He has put up a 1.93 ERA in June and worked three scoreless innings last week.

Craig Brooks has given up the same number of runs (3) in three innings on the mound in Iowa as he did in his 29.1 innings in Tennessee, but has still looked good with his mid-90's heat and wipeout slider.

Jim Adduci has put together a 19-game hit streak currently going, the longest the system has seen this year.

Donnie Dewees clobbered three home runs last week to put his season total up to 11., setting a new career high and it is only the halfway point of the season.

Trent Giambrone hit a couple more bombs to give him 15 for the year.
Double-A Tennessee Smokies
The guys from East Tennessee had their All-Star game on Tuesday night in Biloxi, Mississippi and were scheduled to kick off the second half on Thursday, but mother nature had other plans. Instead, they started off the festivities with a doubleheader on Friday and went 1-3 last week. They play one more game against the Montgomery Biscuits on Monday and then travel to Chattanooga for a five-game set with the Lookouts. They will wrap up the month of June with the first game of a series with the Birmingham Barons.

There were not a whole lot of notable stats in such a shortened week in Tennessee, Myrtle Beach, and South Bend so I will use this week to take a look at some of the guys that have not been given as much credit as they deserve so far this season.

With Brooks up to Triple-A, it appears as though the next guy to deserve a promotion out of the bullpen is lefty Wyatt Short. The long-haired closer with the slight build has a miniscule ERA of 1.80 with opponents hitting just .216 off of him in his 30 innings on the mound. He has struck out 28 men and only walked nine this year.

Jhonny Pereda has been the primary catcher all year long in Tennessee and while he is not hitting for much power (.309 SLG), he is walking more than he is striking out (14.4% vs. 13.9%), and is good for an even 100 wRC+.
High-A Myrtle Beach Pelicans
The Carolina League All-Star game was played in Frederick, Maryland on Tuesday night and the Pelicans looked to get off on the right foot after a rough first half of the season. That did not happen as the birds lost all four of their opening games. They now travel to Winston-Salem for three games with the Dash, then Fayetteville for four games with the Woodpeckers.

Ben Hecht has been one of the best relievers in the system this season. He has the fifth best K% in the organization (33.3%) and has only given up 25 hits in 32 innings. His 2.81 ERA is best on the Pelicans roster with a minimum of 16 innings pitched.

On a team that has only two players with an OPS over .700, Cam Balego leads everyone in that category. His .258/.358/.412 slash line is actually really impressive given the parks that he plays in around the Carolina League. He has seven bombs and has driven in a team-high 28 RBI to go along with his 117 wRC+.
Low-A South Bend Cubs
Just like the teams at the two levels above them, the SB Cubs had their All-Star game on Tuesday night. Unlike the other affiliates, South Bend actually played host to their game, which included a home run derby for the ages that ended in one of the most magnificent bat flips you will ever see. They faced off against Bowling Green over the weekend, with the teams scoring a combined six runs in the first three games and then producing a score of 11-10 in the finale. They will now play the Fort Wayne TinCaps in four games and then come back home for the first two games against the Dayton Dragons.

South Bend tallied 10 doubles(!) in their game on Sunday. That included two apiece from Levi Jordan, Andy Weber, Cole Roederer, and Jonathan Sierra.

Jack Patterson is my favorite prospect in the system who isn't being talked about the way he should be. He has been lights-out as a multi-inning lefty reliever, posting a 2.65 ERA, 1.18 WHIP, .206 batting average against, 25.7% K-rate. That should be enough to put you smack dab on the radar, and it will happen soon enough. I think there is a chance he gets either bumped up to Myrtle Beach as a reliever or moved into the starting rotation in South Bend in the second half of the season.
Short Season Eugene Emeralds
The Ems finished out their first full week of the season by going 5-2, including scoring a walk-off wild pitch late into the night on Sunday. The team will square off with Tri-City for one more game before hitting the road to face former Cubs affiliate Boise and then three game in Hillsboro against the Hops.

Kohl Franklin might just be a dude. He struck out eight batters without walking any in his start last week, giving up four hits over four shutout innings. He featured a changeup that might be one of the best I have ever seen for a 19-year-old. The 6-foot-4 righty got plenty of arm-side movement to go along with the downward plane he pitches from.

Yunior Perez worked as a piggyback for five innings last week and ended up giving up only one run on three hits. He struck out five and only walked one and featured a fastball that touched 98 mph. The first 28 pitches he threw were all fastballs.

Fernando Kelli is one of the most exciting players in the whole organization, mostly due to his blazing speed, and he did a little bit of everything last week. In 24 at-bats, he homered, tripled twice, doubled three times, and stole three bases.