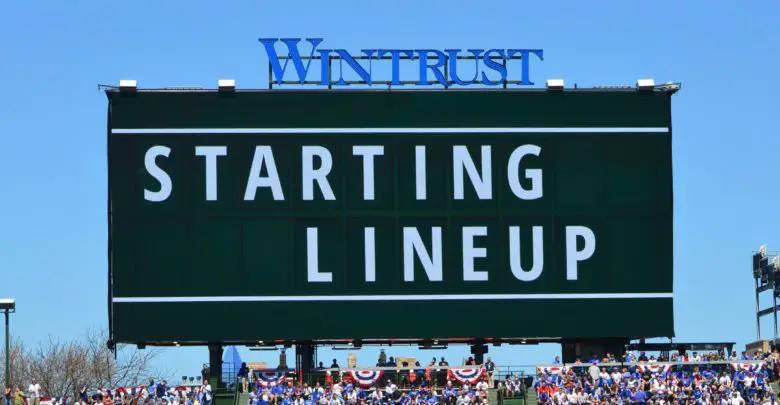 Chicago Cubs Lineup (6/18/19): Schwarber Leads Off, Descalso at 2B, Hamels Tries to Outfox Sox
The glut of off-days early in the season were a real drag and could seriously muck up momentum, but the Cubs really needed a break yesterday after dropping five of seven on their westward swing. Now they get 10 games at home, the first two of which make up half of the meatball sandwich that is the Crosstown Cup.
Kyle Schwarber is leading off in left, Kris Bryant is at third, Anthony Rizzo bats third, and Javy Báez cleans up at short. Jason Heyward is batting fifth in center, Victor Caratini is catching, Carlos González mans right, and Daniel Descalso bats last at second.
Even though it seems ill-advised to give a starting spot to a man with one hit in his last 24 plate appearances, maybe this matchup spurs Descalso. It can't hurt, since he's batting .098/.211/.131 with a wRC+ of -1 since the start of May. That means he's 101% worse than the average MLB hitter in that span.
On the mound for the visitors is 32-year-old (wait, he's really only 32?) Ivan Nova, whose ERA is roughly 50% higher this season than his aggregate 4.17 from the previous three seasons. This guy has not pitched well in a White Sox uniform and has given up at least three earned runs in five of his last six starts.
Nova has not struck out more than six batters in any game this season and he's only recorded as many as five K's in five starts, so he's not going to overpower the Cubs. But maybe don't take that as gospel, since we've seen the Cubs help opposing pitchers put up big K numbers this season.
There's reason to believe Nova is susceptible to the longball, though 11 of the 14 dingers hit against him came in just four starts. He's actually done a decent job of keeping the ball on the ground and limiting massive amounts of hard contact, but the .352 BABIP against him says batted balls are finding holes. Hey, maybe that can continue.
You'd think a dude who goes 6-foot-5 and about a deuce and a half would have a big fastball, but Nova's sinker sits around 92-93 and doesn't have much life. He's got a curve, change, slider, and four-seam as well, none of which are scary pitches. The sinker has value when he keeps it down and gets grounders, but he can't just keep throwing the same pitch over and over.
The nutshell version here is that the Cubs should be able to beat the hell out of this tomato can, especially the lefties. Nova's allowed a .349/.386/.570 slash with a .400 wOBA to left-handed hitters, though righties are right behind at .305/.363/.482 with a .358 wOBA. Time to hang some runs.
Cole Hamels should be able to make even relatively meager offensive support stand up, though the Cubs can't expect him to keep throwing seven or eight shutout innings every time out. The lefty has really been on one lately and that changeup has just been sexy as hell when he throws it after a fastball and makes batters look silly.
The Sox have some mashers, but they're a pretty young team and they're not fantastic against lefties. Actually, their 98 wRC+ in that area is even with the Cubs. I think ol' Colbert can keep them at bat, but I won't be surprised if Eloy Jimenez makes a loud noise. Javy's got something up his sleeve in this one as well.
First pitch from Wrigley is at 7:05pm CT and can be seen on NBC Sports Chicago (Cubs) or WGN (Sox) and heard on 670 The Score.
Here is tonight's #Cubs starting lineup. #EverybodyIn

Stream on @NBCSChicago: https://t.co/rGCuW1XI7C pic.twitter.com/OknknyGK9H

— Chicago Cubs (@Cubs) June 18, 2019