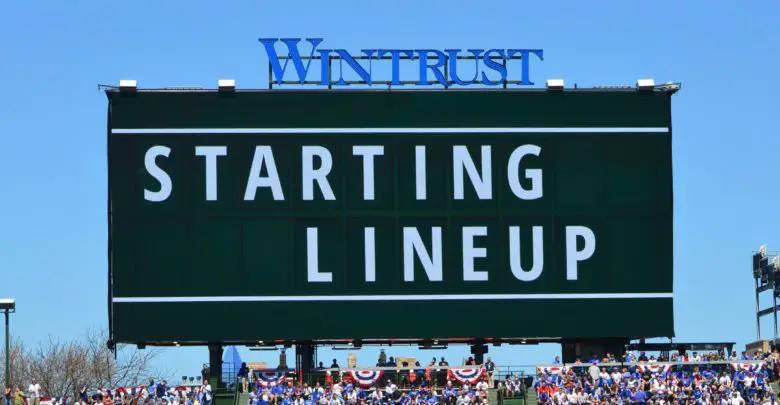 Chicago Cubs Lineup (5/29/19): Bryant Returns as DH, Javy at 3B, Hendricks Tries to Prevent Sweep
Kyle Schwarber is leading off in center, followed by Kris Bryant, who will DH tonight in Houston. Anthony Rizzo is at first, Javy Báez will actually be playing third base, and Willson Contreras is catching. Albert Almora Jr. is in center, Jason Heyward is in right, Addison Russell is at short, and David Bote is at second.
This is a bit of a strange lineup, one that Joe Maddon probably hadn't foreseen when he first put together his starters for the series. Bryant had previously DH'ed in Seattle, so this isn't entirely new to him. And since Javy has struggled badly in that role in the first two games, getting him back in the field might shake something loose.
It's a little curious that he's not at short, though it's possible his lingering heel pain is limiting his burst a bit. Russell and Bote have been swinging hot bats, certainly hotter than Daniel Descalso, which means keeping them in the lineup in a park that has been surrendering home runs like crazy.
Wade Miley is exactly the kind of mediocre pitcher the Cubs should lambaste, which means he's going to throw eight shutout innings. The 32-year-old lefty has pitched much better over the past two years, though, undergoing something of a career rebirth by changing up his pitch mix.
Previously a four-seam/sinker pitcher, Miley has all but scrapped the traditional fastballs in favor of a cutter. He only starting throwing the pitch in 2015 and gradually upped it to 13% of his mix over three seasons, but it's been at 42% and 52% over the last two seasons. He'll still throw the fastballs, but they're just 20% of his total repertoire.
Miley's best secondary, the only pitch other than the cutter with any real value, is his changeup. He'll throw it about 15% of the time, almost exclusively to righties, and typically for swinging strikes when he's behind the count.
He isn't much of a strike-thrower and works mainly in the upper 80's, so he relies on getting swings at pitches out of the zone. And with a home run allowed in nine of his 11 starts, including the last eight in a row, Miley is prone to the longball. He's only walked 15 batters, though, so the big hits aren't doing as much damage.
Lefty hitters know a little something about not doing damage, as evidenced by their .516 OPS this season. That could change tonight with the Cubs' propensity for slugging the other way, but righty hitters will need to look down and in. Perhaps more than any pitcher in the game, Miley's heat map is heavily concentrated in one specific area.
Check it out, this is all of his pitches to all batters: Same spot every durn time.
That's good news for a low-ball hitter like Bote and a guy like Bryant who likes the ball middle in. Or, you know, it'll suck and we'll all be ready to throw things as hitters flail wildly at the junk Miley is tossing.
The Cubs have tried and failed to overcome the depleted Astros with two lefties, so now they'll send Kyle Hendricks to the mound in an attempt to escape with a win. The two sides are almost completely unfamiliar with one another, as Hendricks has faced only Robinson Chirinos and Aledmys Diaz for a grand total of six at-bats coming into the game.
After a hiccup against the Nats, Hendricks was back on point in striking out nine Reds to just one walk his last time out. A Yasiel Puig homer tarnished his final line, but it was a wonderful lecture nonetheless. Hendricks really needs to assume the stopper mantle Jon Lester shrugged off last night if the Cubs don't want to keep depending on Minnesota to keep them ahead of the Brewers.
First pitch from the Juice Box is at 7:10pm CT on NBC Sports Chicago and ESPN (out-of-market), with 670 The Score covering the radio call.
Here is tonight's #Cubs starting lineup.

Stream on @NBCSChicago: https://t.co/rGCuW1XI7C pic.twitter.com/irEfR0XxLQ

— Chicago Cubs (@Cubs) May 29, 2019