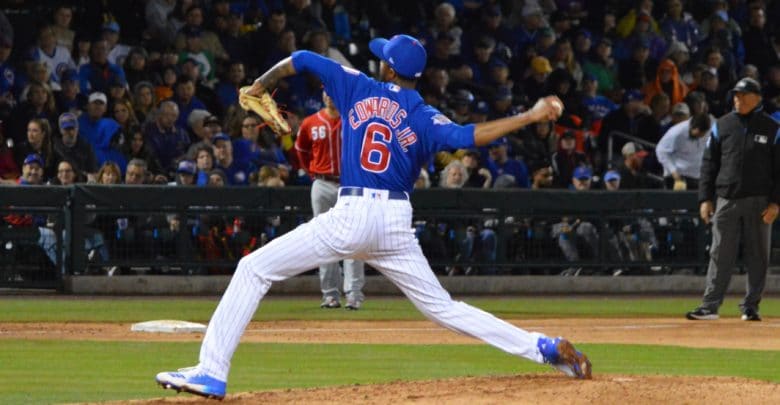 Carl Edwards Jr. Showing Improvement Since Return from Iowa
Carl Edwards Jr. got off to a disastrous start, exemplified by serving up a three-run bomb to the Rangers' Joey Gallo, that mimicked the Cubs' overall struggles. The reliever was demoted to Triple-A Iowa on April 6, ostensibly to rework his illegal new pitching motion and straighten out his control issues. He was recalled one month later, on May 6.
While he has been by no means perfect since his return, Edwards' pitching splits show major improvements regarding the main topic of concern, his command of the strike zone. In fact, Edwards has not allowed a single walk in eight appearances (6.2 IP) since coming back. It also appears that his 4.76 ERA in May is slightly inflated, at least according to his 2.34 FIP for the same period.
In keeping with that improved command, his K/9 mark has gone from 10.8 to 12.15 and his K-rate has skyrocketed from 15.4% to 40.9% (and yes, these are small samples). It doesn't hurt that he struck out the side in his lone inning of work Thursday against the Phillies, but just look at the stark difference in performance.
Carl Edwards Jr. 2019 Splits (as of May 23)
Month
IP 
ERA
FIP
WHIP
K9
K%
BB9
K/BB
Mar/Apr
1.2
32.40
25.28
4.80
10.80
15.40
27.00
0.40
May
6.2
4.05
2.34
0.53
12.15
40.9
0.00
6.00
Edwards came on in what was then an 8-2 game and set down Rhys Hoskins, J.T. Realmuto, and Scott Kingery (the Phillies' 4, 5, 6, hitters) on strikes. Not bad. The Stringbean Slinger has also made a couple of run-saving defensive plays since his return, which I feel is a sign of a positive change in his mental focus.
The above clip is from the May 17 win against the Washington Nationals. Edwards nabs a squibber to run Brian Dozier, who seems to think he has an El Mago-like ability to evade tags, out of the baseline and escape a jam in the 7th inning with a 5-4 lead.
This clip is from the May 21 win over the Phillies. With runners at second and third and one out, Edwards induces a weak comebacker from Odubel Herrera, but reacts quickly. After initially having difficulty getting a glove on the ball he was able to hold the runner at third while completing the throw to retire Herrera.
Edwards' continued improvement and success as a late-inning reliever will be key for the Cubs to remain on top of the NL Central standings. Given his better command and quick reactions on defense, I am optimistic he will be able to turn around his horrendous start, much like the team has done as a whole.