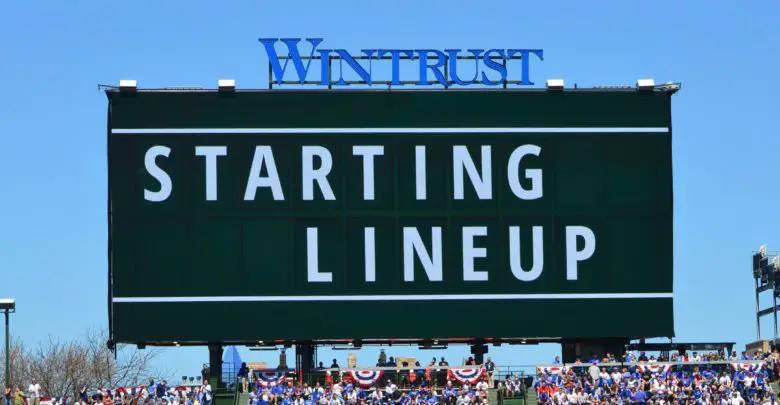 Chicago Cubs Lineup (5/15/19): Heyward Leads Off, Bryant at 1B, Schwarber Cleanup, Darvish Pitching
With one win already under their collective belt, the Cubs now go for their ninth consecutive series win tonight in Cincy. They'll do it with the top three spots in the order unchanged from the last couple games: Jason Heyward leads off in right, Kris Bryant is at first base, and Javy Báez is playing short. The Cubs haven't missed a beat with Anthony Rizzo out, and Bryant joked that they may even be better.
"We've been messing with [Rizzo]," Bryant said after Tuesday's game. "His WAR is going down because I'm a better replacement player than him."
Rizzo clapped back on ESPN 1000 Wednesday morning, saying that he might try showing KB up at third when he returns to the lineup. That return is yet to be determined, but Rizzo indicated that Thursday or the weekend was most likely. He could be available to pinch hit tonight if necessary.
Kyle Schwarber batting cleanup is a big change, particularly against a guy who's historically been tougher on lefties, but hit keen eye could come in very handy even if he's not getting big hits. David Bote is at third, Albert Almora Jr. is in center, Addison Russell is at second, and Taylor Davis is catching.
Gotta be honest, that's not the best back half the Cubs could put together. But Joe Maddon's also got to spread playing time around and give Willson Contreras a break. And hey, maybe some of those lighter-hitting guys will step up. Lord knows Davis has done that already this season.
Facing them will be 29-year-old Sonny Gray, once the apple of the Cubs trade-monger's eye as an ace starter for the A's. Much like Chris Archer, Gray flashed all kinds of nasty stuff before battling injuries and inconsistent performance. That continued after a trade to the Yankees, whom Gray criticized harshly for having him throw his slider too frequently.
"In my very last outing against the Red Sox, second to last game of the season in New York, I threw two innings out of the pen, all I did was throw cutters," Gray told Eno Sarris of The Athletic ($). "I said, 'F— 'em, all I'm going to do is throw cutters today.' I just threw 94-mph cutters — six up, six down, four punchies, and I thought maybe I'll make the postseason roster here…but I didn't."
It's nearly impossible for anyone on the outside to find a discernible difference in Gray's repertoire because it's so nuanced that pitch tracking systems show vastly different results. For instance, one says he threw 20% cutters in 2018 and is throwing 30% this year while another has those numbers at 1.6% and 3%, respectively. The variation of his slider usage is negligible over the last three seasons.
Whatever he's doing now seems to be working, as Gray's 9.46 K/9 is the highest of his career while his 0.46 HR/9 is the lowest. And his 4.15 ERA is offset by a 2.95 FIP that indicates he's been better than what the traditional mark tells us. Still, there appears to be room for regression similar to what we saw with Tuesday's starter, Tanner Roark.
Gray is doing a great job of locating down and getting more grounders than in the past, which has led to a reduction in homers, but he's also giving up more hard contact than in the past. There is a league-wide trend in that direction, something you may have noticed in these posts over the course of the season. Whether that's a result of juiced balls — baseballs, that is — or a tweak in the way FanGraphs classifies contact, I'm not sure.
Regardless, Gray has allowed only two homers this season over 39 innings pitched, and both of those shots have come on the road. That's pretty interesting given Great American Ball Park's reputation as something of a hitter's paradise, but it helps that Gray is a reverse-split pitcher who's fared somewhat better against lefties. That's really pronounced this season, as he's kept left-handed hitters to a .533 OPS and .229 wOBA against .663 and .296 for righties.
Lefties will get a very heavy dosage of four-seams and curves early, but Gray shifts to the slider a bit more when he's ahead in the count. Righties get a lot more sinkers, but they'll still see lots of four-seams and curves. If Gray gets ahead of them, however, he'll shift very heavily to breaking pitches. As in well over 60% of his offerings. And he keeps them down, down, down.
Because of that, righties need to be wary of sliders in the dirt in two-strike counts. That's been Javy's Kryptonite in the past, but he's done better this season. Bryant has likewise been spitting on bad pitches with regularity. Maybe the Cubs look to jump on early mistakes and then remain disciplined as the count deepens, knowing Gray isn't likely to give them anything to hit.
Speaking of not giving teams much to hit, Yu Darvish is on the mound for the Cubs. The beleaguered righty has walked 33 batters in 36.2 innings (8.10 BB/9) and has walked at least four batters in six of eight starts. By comparison, Tyler Chatwood walked a mere 32 batters through his first 37.2 innings (7.65 BB/9) across his first seven starts last season.
That all stems from Darvish's inability to command the fastball, to the point that he doesn't have any idea where the pitch is going. He has shown the ability to throw in the upper 90's and his breaking pitches still have filthy movement, he just isn't able to consistently get ahead of hitters. His 10.8 K/9 is near his career average and would certainly be even better with just a smidge more control.
Let's hope he can get that going in this one to build some momentum heading into his next start this coming Monday at Wrigley. A start that just happens to be against Jake Arrieta. Serenity now!
Before we worry about that, let's just get through this one. First pitch from GABP is once again at the odd time of 5:40pm CT and can be seen on WGN or heard on 670 The Score. I will again exhort the gluttons for punishment among you to check out the Reds' broadcasts for a while. If nothing else, it'll make you appreciate the Cubs' teams that much more.