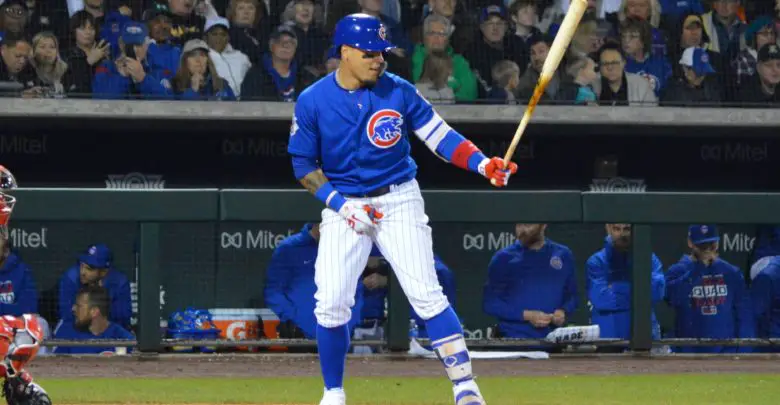 Why Javy Báez Taking More Called Third Strikes Could Be a Very Good Thing
Javy Báez is having another huge year so far in 2019, bashing 11 homers and slashing an impressive .323/.360/.627 through 38 games. All of his offensive numbers are actually ahead of the pace he set in 2018 when he finished second in NL MVP voting to Christian Yelich.
The dynamic shortstop is even walking more, drawing free passes in 5.8% of his plate appearances (12 total, 10 unintentional) so far this season. He had 29 walks in 606 PAs last year, just a 4.5% rate. But just as his bases on ball have gone up, so have his strikeouts, from 25.9% in 2018 to 28.5% in 2019.
The concurrent increases in these rates seems confusing at first blush, at least according to common sense. Taking more walks means El Mago is laying off of breaking pitches in the dirt more often, but an increase in strikeouts would normally indicate he's swinging and missing more frequently. Except that Javy's not normal.
He is swinging at 43.6% of pitches outside the strike zone, down from 45.5% a year ago. His swinging-strike percentage has also fallen from 17.9 to 16.8 percent year-over-year. Could this be an Ian Happ situation, where he is laying off junk but swinging through pitches in the zone? The answer appears to be no to that theory as well, since Javy is making contact with 84.1% of pitches in the zone, up nearly three percent from the previous season (81.6%).
We've already tried twice to slice it with Occam's razor, but neither of the simplest solutions have panned out. Why, then, are Javy's strikeouts up in 2019?
It turns out Ednel Javier Báez is on pace to strike out looking 60 times in 2019, a drastic increase over last season. He took only 27 called third strikes out of his 167 total punchouts (16.2%) in 2018, but has already had the K written backwards on 14 of 49 strikeouts (28.6%) this season.
Cubs manager Joe Maddon spoke about the increase in El Mago freezings with NBC Sports Chicago's Tony Andracki in early May, saying it's nothing more than pitchers adjusting to Javy's adjustments.
"I just think it's how he's processing the at-bat," Maddon explained. "He'll learn to balance this out. There's certain counts that they would just not throw him a strike that maybe they are right now and so we gotta get away from that. There's been certain moments that, historically, he's never seen a strike, and now he's seeing a strike. So it's just an adjustment he'll make again."
Basically, pitchers have realized Báez is chasing fewer sliders off the plate, so they are throwing him more strikes when they are ahead in the count. Javy has been focused on fighting his natural instinct to chase, thus causing him to lock up on pitches in the zone with greater frequency.
But you know what? I think this is an excellent sign for the young superstar moving forward. If he continues to get more comfortable with not chasing bad balls, he will be able to jump on those strikes the pitchers are trying to surprise him with. Just imagine how good Javy will be if he makes this adjustment.
I'll give the final word to his manager, who likes to say if Javy can lay off sliders in the dirt he can be Manny Ramirez. As good as he already is, this might just be the beginning.