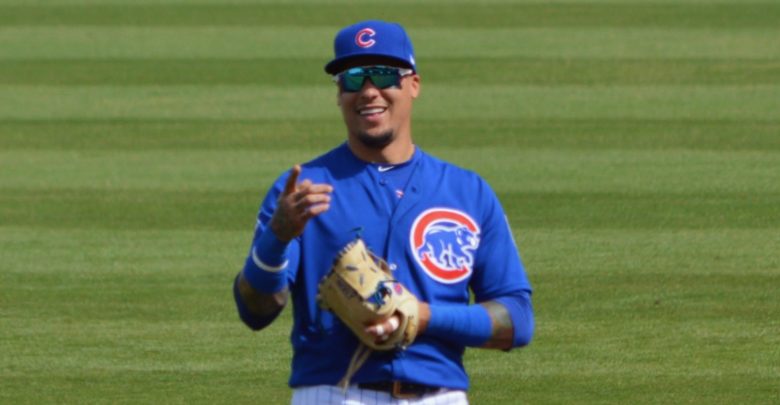 ESPN's Karl Ravech Says Cubs Feel They're Better with Addison Russell as Everyday Shortstop
It wasn't until Addison Russell was optioned to Triple-A Iowa following the expiration of his 40-game domestic violence suspension that the Cubs made it clear Javy Báez was their shortstop. Even after Russell was recalled, the assumption was that he would spell Javy as the primary backup. But that hasn't happened yet, as Russell has played second base while Javy has played short exclusively all season.
That may not remain the case as the season wears on, however, at least according to a report from ESPN's Karl Ravech. The Baseball Tonight studio host joined ESPN 1000's Waddle & Silvy (his appearance is listed in Hour 3, but it's actually early in Hour 2) Monday afternoon to talk Chicago baseball, dropping some surprising nuggets about the Cubs along the way.
"I think the team's probably best off when [Russell]'s at shortstop, when he's hitting and Báez is bouncin' around," Ravech said, foreshadowing his forthcoming comments. "As good as Javy has been at shortstop, and I can certainly understand the people who are like, 'Look, let's leave well enough alone.'
"The dude is outstanding at shortstop, he obviously is having a huge year offensively. He's doing everything you'd want from your best player. But I think in order to get to that '16 feel, you're gonna need to have him be able to bounce a little and have Russell be a consistent contributor offensively, as well as what he brings with his glove."
Were that just an organic take, it wouldn't necessarily be unique. There's been some of that going around for at least the last few months. But where it got interesting is that, when pressed on his opinion, Ravech told the hosts that it was informed by conversations he'd had with folks in the know.
"A lot of the people I spoke to that know the Cubs intimately, that's how I'm being told the Cubs internally feel," Ravech said. "That they are better off when Báez has the ability to go play second base and go play third base. Again, I totally understand the argument that I wanna leave Baez at short. I love him at short, who's a better shortstop than Javier Báez?
"But I know that the Cubs, a lot of them feel like they are better when Russell is your everyday shortstop and you can take Javy Báez and move him around."
Ravech went on to state that he believes Javy is the best shortstop in the league and he should have won the NL MVP last season, but offered justification for moving El Mago around. It's a hollow argument, though, since it was predicated on the idea that being more versatile allows the Cubs to position him in different places based on different matchups.
While it's true that Javy is the most dynamic player on the field regardless of position, the incremental improvement he provides over another capable defender is generally going to be less at other positions than it is at short. And when you're talking about a player in Russell who's dealt with foot and shoulder injuries over his brief career, maybe short isn't the best spot for him long-term. Not in Chicago, anyway.
Ravech seems to be on an island with this one, at least according a brief sampling that includes ESPN 1000's David Kaplan and others to whom Cubs Insider reached out. But what if this whole thing was just saying the quiet part out loud and not really putting the comments in the proper perspective?
Nope.

— David Kaplan (@thekapman) May 13, 2019
What I mean is that of course the Cubs would love a Gold Glove-caliber shortstop who hits 21 homers and drives in 95 runs instead of the one who's eaten alive by 93 mph fastballs. But that was three seasons ago now, and Javy has blossomed into a charismatic do-everything superstar while Russell had regressed offensively even before his suspension cost him his preferred role.
Just like I can't magically wish away the spare tire that seems to have developed around my midsection overnight, The Cubs can't wish for Russell to suddenly morph into a consistent hitter. Nor can they do much about the fact that he's a publicist's nightmare every time he opens his mouth. It would be foolish as all hell for them to have him displace Javy from short for anything more than occasional rest.
The idea of moving players around the field is certainly not foreign to Cubs fans, particularly since Joe Maddon took the helm. The manager has said in the past that he believes players being ready for anything is what keeps them sharp and we've seen him deploy Kris Bryant at four different positions over the last week or so. Then again, Maddon also said he'd consult with Javy about how short would be handled once Russell returned.
There's one other reason the Cubs might want Russell to display his proficiency at shortstop, a much more practical one. Shortstops who can play elite defense are pretty valuable, so perhaps the Cubs want to showcase him for a trade. Merely floating that idea out there to a national pundit could be like chumming the waters, so to speak.
It's hard to imagine this really being a thing (just like A-Rod's Yu Darvish comments and Buster Olney's report that the Cubs were seriously considering offers for Kris Bryant), but the Cubs aren't playing tonight and I'm waiting until the kids are in bed to fire up the Game of Thrones catch-up machine. So, you know, feel free to yell at me about click-bait or my bad takes or whatever. Or don't, that would be better.