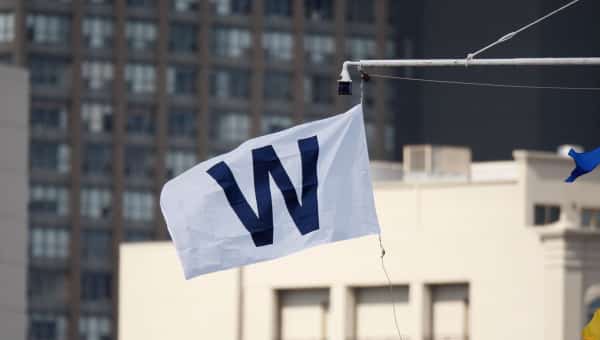 Chicago Cubs Score and Recap (5/7/19): Cubs 5, Marlins 2 – Bryant Smashes 3-Run Walk-off Homer
It was a cold and breezy night at Wrigley Field, which was conducive for some pretty shaky defense by the Cubs. There were a few errors and misplayed balls, but Jon Lester was able to work through them and throw another great outing. Lester threw six strong innings, allowing two runs (none earned) and eight hits, while striking out six and walking none.
The Cubs offense was not fun to watch tonight. The bats struggled to get great contact, and struck out 12 times while drawing five walks. They also failed to take advantage of the opportunities they had. That was until the bottom of the 9th.
With men on first and second, and no outs, Daniel Descalso — pinch hitting for Steve Cishek — laid down a bunt to advance the Jason Heyward and Kyle Scwharber. After Albert Almora grounded into a fielder's choice, Kris Bryant smashed a 99 mph fastball into the centerfield bleachers to send the fans home happy. (Box Score)
Why the Cubs Won
Lester and the bullpen pitched well, limiting the Marlins offense on a night where the Cubs struggled with situational hitting. If not for the great performance from the pitching staff, this very well may have been another loss against this lackluster Marlins team.
Key Moment
Kris Bryant's homer was incredible, but the key moment of the game came much earlier than that. Curtis Granderson hit a double and advanced to third on a Jason Heyward error to lead off the 5th inning. Lester dug deep and induced a couple lazy fly balls, along with a weak grounder to first to get out of the inning. It was the final time the Marlins had a man in scoring position all night. Lester, Kintzler, Brach, and Cishek ensured the Cubs offense was going to win this one.
Stats that Matter
Lester pitched well, but the bullpen was exceptional: 3.0 IP, 1 H, 0 R, 0 BB, 6 K
Albert Almora Jr., playing leadoff tonight, went 2-for-5 with a solo shot that tied the game up in the bottom of the third.
Kris Bryant has homered in three straight games. I think it is safe to say that he is back to his pre-injury form.
Bottom Line
The defense and offense weren't great, but against a mediocre Marlins team they didn't need to be. The Cubs still managed to keep it close until Bryant was able to walk it off. It was one of those hard-fought victories that shows the true grit of a team. With Cardinals loss, the Cubs are in first place again by half a game. Let's hope for good.
On Deck
Kyle Hendricks and the Cubs will play their third game of four against Jose Urena and the Marlins. First pitch will be made promptly at 7:05 CT, with WGN carrying the television broadcast and 670 The Score with radio coverage.