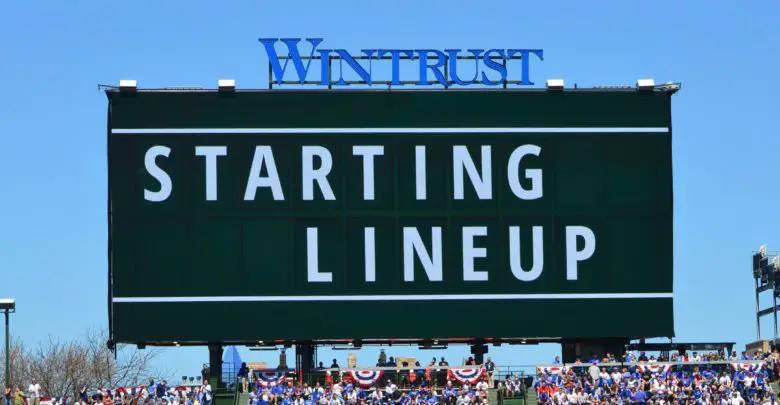 Chicago Cubs Lineup (4/30/19): Descalso Leadoff, Bryant DH, Schwarber LF, Hamels Playing Kingslayer
Daniel Descalso leads off at second base for the Cubs tonight, followed by Kris Bryant in left, Anthony Rizzo at first, and Javy Báez at short. David Bote is at third, Jason Heyward is in right, Willson Contreras is behind the dish, Kyle Schwarber is the DH, and Albert Almora Jr. is in center.
---
Update: Bryant felt a little tightness in his left leg, so he'll be the DH and Schwarber will be in LF.
---
Bryant's been playing in the outfield an awful lot lately, but is that just a function of making more room for Bote and Descalso to both get more time or a sign of what's to come when Addison Russell returns? We may find out Friday, but let's move on before we get distracted.
The Cubs will try to stage a coup against King Félix Hernández, one of the last of a dying breed of MLB's yesteryears. The venerable righty is in his 15th season, all in Seattle, though that could change when his contract expires at the end of the year.
Because it's rare for the Cubs to play the Mariners, I wanted to augment the typical scouting report with a little bit more info about the King. Signed out of Venezuela, he made his American professional debut just after his 17th birthday. Here's a bit of trivia for you: One of his teammates on the Everett AquaSox during that first season was former Cubs legend Bryan LaHair.
King Félix made his MLB debut a little over two years later, just four months after turning 19. Let's think about that for a moment through the lens of pitching development, which can take a long time even with more advanced arms. This dude blasted through the minors in just over two seasons with a 2.68 ERA and 10.7 K/9 as a teenager and never looked back.
In fact, it would be over a decade before he'd have to make so much as a rehab start due to injury. Just incredible. Also incredible is how, not unlike Jon Lester, Hernández has reshaped his game to account for a precipitous drop in velocity over time. Once armed with an 96-98 mph four-seam/sinker combo that made up 60% of his offerings, offsetting the heat with a wipeout slider, he now sits 90-91 and uses a lot more changeups and curves.
No one's confusing this version of King Felix for the precocious monarch who set the Emerald City ablaze back in the day, but he's still quite effective. He's also quite hittable, as shown by a vastly decreased swinging-strike rate and a hard-hit rate that has jumped markedly in each of the last five seasons. If the Cubs can avoid his tricks and make their contact count, they'll be okay.
That means being aggressive, since Hernández has walked only three of the 108 batters he's faced thus far (1.07 BB/9) and has thrown an insanely high number of first-pitch strikes (74.1%). Out of 4,597 individual pitcher seasons (min. 20 IP) since 2010, only two pitchers have thrown a higher percentage (both 75.3%).
Roughly 90 percent of those first pitches are sinkers or curves, so Cubs hitters may want to go up with a plan to pick one of those and try to punish it. Sit fastball, but watch for the hook…You listening, Schwarber? Once Hernández gets ahead, he'll use the change as a put-away pitch to batters on both sides. It generally has tumbling action against righties and fades away against lefties for swinging strikes and weak contact.
T-Mobile Park has been among the worst in baseball in terms of park factor this season, which means it's much harder to hit a homer there. Heck, it's been more difficult just to record hits and push runs across. It has historically played closer to league average, though, so maybe the Cubs can do a little something about that regression to the mean tonight.
Cole Hamels is hoping to use those factors to his advantage as he faces his contemporary and onetime AL West rival, since the longball has stung him a bit this season. Control has been an even greater nemesis, especially after he issued a career-high six free passes in his last start. It was evident that Hamels was just as perplexed as the rest of us. so here's to hoping he's cleaned up any weird flaws.
That's almost assured because he's only got nine walks on the season, the other three of which came in his season debut. Because the Mariners will take their walks and they don't strike out at a super high rate, Hamels is going to need to be sharp tonight. Those free passes may have some folks worried because the M's have hit an MLB-leading 59 home runs, but it's important to qualify that stat.
Remember that whole park factor thing? Only 22 of the Mariners' dingers have come in 532 at-bats in Seattle, while the other 37 have have come in 545 road at-bats. That's indicative of a massive drop from 22.2% home run/fly ball rate on the road vs. 14.2% at home. The ball just doesn't carry well in the Pacific Northwest right now, so this one could be decided by gappers and smart baserunning.
First pitch is set for 9:10pm CT so get ready for some really interesting commercials if you're watching on NBC Sports Chicago or listening on 670 The Score. Or, more accurately, expect the ratio of ads to change like King Félix's pitch mix. Which means a preponderance of ED meds, booze, and mattresses.
Here is tonight's #Cubs lineup in Seattle. #EverybodyIn

Stream on @NBCSChicago: https://t.co/rGCuW1XI7C pic.twitter.com/bCFGywMvcy

— Chicago Cubs (@Cubs) April 30, 2019