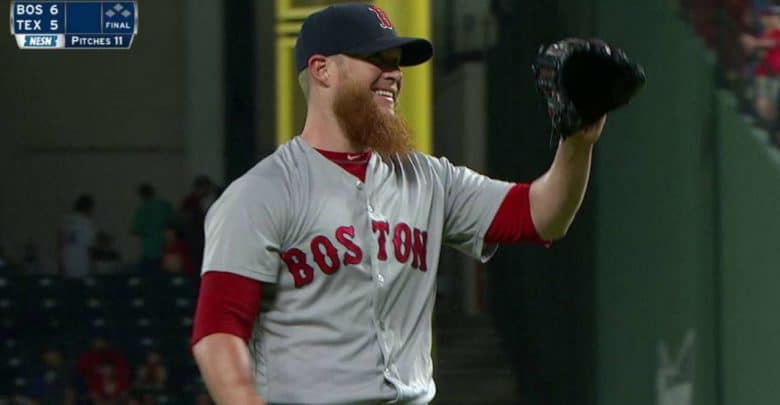 The Rundown: Forget About Kimbrel, Bote Walks Off Again, Lester Return Near, La Stella Has Boom Stick
I had planned a relatively quiet weekend away from baseball but my phone was blowing up all day Saturday and Sunday with private Twitter messages asking me if the Cubs were going to sign Craig Kimbrel after Brandon Morrow was shut down on Saturday.
Really, all I wanted to do was spend my weekend walking Milwaukee's beautiful lakefront. Just wasn't in the cards, I guess.
As far as Kimbrel, I wouldn't count on anything happening. When Victor Caratini went down with his injury, the front office did nothing but promote Taylor Davis. I don't want to sound like a broken record, but the Cubs will continue to cry poor when it comes to any major expenditures this season. I realize that Kimbrel has lowered his demands significantly, but even if he could be had for $40 million over three years, it's not going to happen in Chicago.
Sure, there will be money to make additions at the trade deadline if needed. But those types of moves are usually reserved for players going into free agency, meaning the Cubs are only on the hook for about 60 days of a player's contract. They could hypothetically offset that by getting a team to include cash in any potential deal.
If you want my real opinion on the closer situation, it's that Morrow has probably thrown his last pitch for this team, meaning they paid $21 million for 22 saves over two-thirds of one season. Despite a tremendous outing from Tyler Chatwood in yesterday's 2-1 win over the Diamondbacks, here is what the Cubs have to show so far for the $185 million they spent on Morrow, Chatwood, and Yu Darvish in free agency last season: 203 IP, 6-12 record, 4.74 ERA, 22 S, 196 K, 148 BB, 1.1 WAR.
Cubs News & Notes
How About That
The Red Sox beat the AL East-leading Rays 4-3 in 11 innings to sweep their three-game series. That six-game swing is all the difference between being 5 games back of the lead instead of 11.
Per Aaron Gleeman, Byron Buxton now has 12 doubles in Minnesota's first 19 games, tying the most for a player through 19 games since 1960.
Buster Posey snapped the longest homerless drought of his career with a three-run shot off Pirates' starter Chris Archer yesterday. It was Posey's first dinger in 237 at-bats since going deep against the Miami Marlins on June 19, 2018.
Albert Pujols passed Babe Ruth on the all-time RBI list yesterday. Pujols has now plated 1,993 runs and is in sole possession of fifth place on the all-time list. Pujols only passed Ruth according to baseball's official starting point for the mark. The RBI wasn't an official statistic until 1920 – Ruth's first year with the Yankees, though his career began in 1914 with the Boston Red Sox.
Sunday's Three Stars
Tommy La Stella – It's not even the end of April, and 3 AM has already set a personal high for home runs in a season. La Stella had two big flies yesterday, giving him six on the year, tying him with Mike Trout for the team lead
Josh Donaldson – The Braves third baseman was 3-for-4 with two homers, three runs scored, and 4 RBI in ESPN's Sunday Night Game of the Week.
Stephen Strasburg – The Nationals' number two starter went eight strong in leading Washington to a 5-0 win over the Marlins. Strasburg surrendered just two hits and struck out 11 Miami batters against two walks.
Not a Star
Indians starter Shane Bieber didn't fool anyone in last night's 11-5 loss to the Braves. Of the 11 balls the Braves put into play against him, seven were tracked at 100 mph or faster, according to Statcast. His average exit velocity allowed was 98.5 mph, the worst mark of his career (via ESPN Stats & Info).
On Deck
Pujols is also closing in on Lou Gehrig (1,994) and Barry Bonds (1,996) on the career RBI chart. Alex Rodriguez (2,086) and Hank Aaron (2,297) lead the list.
Extra Innings
In 1994 at the age of 31, Michael Jordan played outfield for White Sox Double-A affiliate Birmingham, slashing .202/.289/.556 with three home runs, 51 runs batted in, 30 stolen bases, 114 strikeouts and 11 errors in 127 games. His manager that season was Terry Francona. Jordan returned to the Chicago Bulls in March, 1995.
" … competitive, intelligent. He had it all."

Terry Francona learned a lot from his time coaching Michael Jordan in the minors 🐐 pic.twitter.com/8CqnBCWX9Z

— ESPN (@espn) April 22, 2019
They Said It
"That was pretty spectacular — the command, the stuff, the ease with which he was throwing it. That was pretty outstanding. That's what we thought [Chatwood] would do in the beginning. We've talked about it a lot. As he gains feel for what he's doing, he's capable of that. That's not a fluke." – Joe Maddon
"It's nice. [Bote] has had experience early. You can't teach that. He's had a lot of situations come up like that and he's come through, and it's fun to watch." – Anthony Rizzo
"We built it from the ground up. We always saw the tiny homes on Pinterest and all that (and thought) 'dang, that would be cool to build.' We had a chance to do it from the ground up. So, we went ahead and did." – Trevor Clifton
"Given [Morrow's] injury history in the past, I think we've tried to take it really slow with him. Our goal is to get him back, and once we get him back to know that he'll be healthy and pitching for us for a while. So we probably have taken things on a pretty conservative route, and we'll continue to do that." – Jed Hoyer
"I just like the freedom to choose [a closer] as the manager. Psychologically for the rest of the group, if they knew that ninth inning is entirely one pitcher's [job], I think it does define them a little more readily. They understand exactly where they're going to be [used]…It's always nice to have that guy, but if you don't, there's still a way to get it done effectively." – Joe Maddon
Monday Walk Up Song
Brass in Pocket by The Pretenders. Nice of Chatwood to command a little attention yesterday.