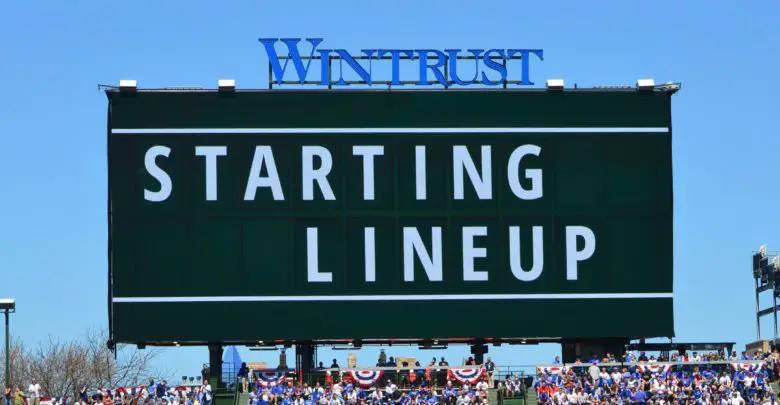 Chicago Cubs Lineup (4/19/19): Descalso Leads Off, Bryant in RF, Hendricks Takes Mound
Daniel Descalso has been a better addition than even the optimists believed, and he'll be leading off again at second base. Kris Bryant is in a corner outfield spot for the third time in four games, perhaps foreshadowing a future that includes Addison Russell at short. Anthony Rizzo is at first and Javy Baez at short to complete the top of the order.
Willson Contreras will be catching, which has been the case ever since Victor Caratini was lost to a broken left hamate. That will have to change here soon, as the Cubs will need to let Taylor Davis start if only to rest WillCo. Jason Heyward is in center, David Bote is at third, and Kyle Schwarber is in left in this one.
Opposing them this afternoon will be rookie righty Merrill Kelly, who is making just the fourth start of his career. Armed with a 92 mph fastball and a cutter/curve/change trifecta of secondaries, Kelly has proven himself so far to be a very competent strike-thrower. With only three walks in 19 innings, look for him to stay around the plate and force the Cubs to beat him.
There doesn't appear to be anything Kelly does particularly well, nor is there really anything he does poorly. He's not afraid of working in the zone and getting outs with contact, so the Cubs are going to need to make the most of that. His early splits skew very heavily toward lefties, who have compiled a .354 wOBA vs. .258 for their righty counterparts.
Maybe this is a good game for Rizzo and Schwarber to hit themselves out of their respective funks. How about they throw a dinger party and invite all of us? The samples aren't big enough to really say anything definitive, but Kelly has allowed a home run in each of three previous starts. Which means, "Swing away on Merrill."
Kyle Hendricks has not looked good so far this season, whether it's early in the game or against the first batters in an inning. That's largely due to his setup fastball, which has been more stinker than sinker as it hangs up in the zone. If he can't get enough movement on it to set it off from the four-seam, he may look to drop a few more curves in there.
First pitch from Wrigley is set for 1:20pm CT and can seen on NBC Sports Chicago or MLB Network, though that means all of you in the Cubs' blackout zone who don't get the former channel are hosed. Good Friday, indeed. Of course, you've always got the dulcet tones of Pat Hughes on 670 The Score.
Here is today's #Cubs starting lineup at Wrigley Field. #EverybodyIn

Stream on @NBCSChicago: https://t.co/rGCuW1XI7C pic.twitter.com/5VhJ6E2uGk

— Chicago Cubs (@Cubs) April 19, 2019