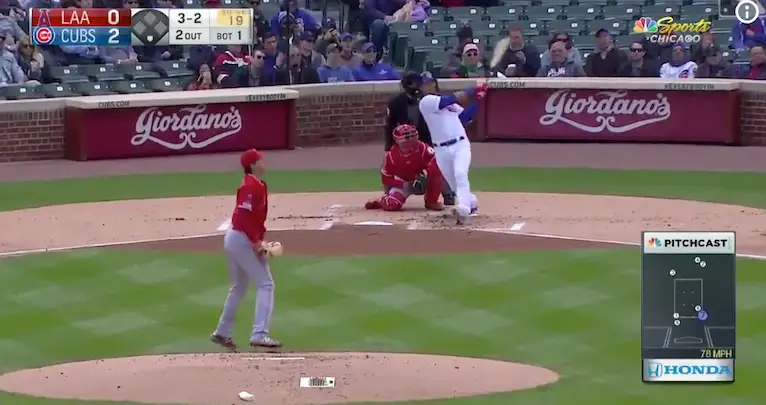 Willson Contreras Hitting Ball Higher, Harder This Season
Much was made this offseason of the possible negative effects former hitting coach Chili Davis had on several Cubs hitters in 2018. One of the most frequently cited sluggers in that group was Willson Contreras, who saw his OPS fall from .855 in 2017 to just .729 last season.
Whether it was the Chili Effect or the wear and tear of over 1,100 innings behind the plate that led to the slump, something has changed in the early going of 2019. Contreras has been crushing ball the first 17 games of the season and his six homers put him on pace to easily eclipse his grand total of 10 from last season.
A deeper dive into his early numbers show two big differences from 2018: Not only is he hitting the ball harder, he is also elevating it to a greater degree. According to Baseball Savant, the Cubs backstop's 89.5 mph average exit velocity is 2.5 mph harder than 2018. It's early yet, but the results certainly back up the data so far.
Baseball Savant also measures how many balls a hitter "barrels," or hits on the sweet spot. With six barrels already this season, Contreras is on pace to tally 55-60 after totaling 55 over the past two seasons. It's how he's barreling balls up that has really made the difference, though.
A big problem many have with the Davis school of hitting is that is goes against the launch angle revolution that has swept baseball, sacrificing power for increased contact. And if you look at some of the underlying stats, Contreras's batted-ball profile looks very similar before and during Davis's tenure, with groundball rate over 50% each of his first three seasons at the major league level.
There's been a dramatic change under new hitting coach Anthony Iapoce this year, however, as the grounder and line drive rates have fallen while Contreras's fly ball rate is up more than 14 percentage points (44.8%, same as grounders). That's a direct result of a launch angle that has increased from 6.8 degrees in 2018 to 9 degrees this season.
His strikeouts are up a little so far, but so are his walks. And if Contreras can maintain these trends throughout the season, 30-plus homers are a very real possibility and would negate an minor increase in strikeouts. He has always had tremendous raw power, now it's a matter of remaining consistent as the season wears on and his duties behind the plate take more of a physical toll.