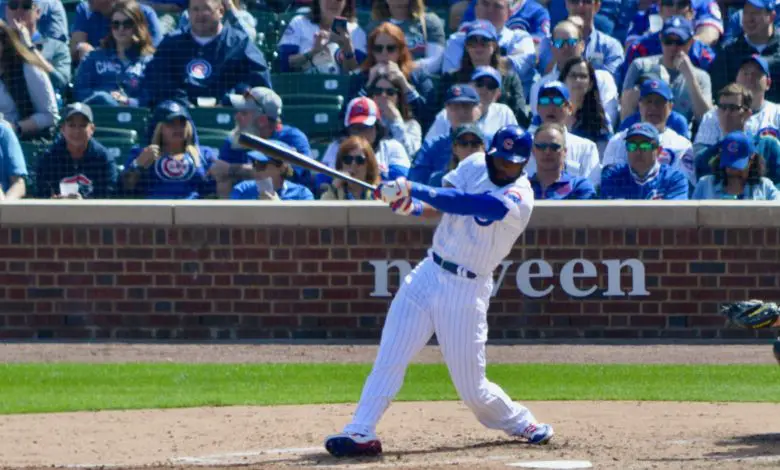 Will We See Jason Heyward Surpass His Career-Best Home Run Total?
During Wednesday's 5-2 loss to the Pirates, Jason Heyward went 3-for-4 with an impressive solo shot to center field with the wind howling in at Wrigley, his fourth of the young season. This home run tied Heyward with Javier Báez atop the Cubs' home run leaderboard, at least until Willson Contreras hit two Friday. As of April 12, Heyward was also leading all qualified Cubs hitters in batting average (.351), runs scored (11), slugging percentage (.676) and OPS (1.120).
With four homers in just 45 plate appearances, Heyward is on pace for 44 home runs this year (hooray for small sample sizes) if he reaches 500 total plate appearances. It extrapolates to 53 homers with 600 PAs. While achieving such a number is of course unlikely, Heyward is looking like a different hitter this year, even to Joe Maddon.
Maddon on Heyward:

"It's really fun to watch and it's special because the ball's coming off hot. It's a different swing. It's not like you can compare it to what he's done the past couple years. It's entirely different. I do believe it could continue to work."

— Tony Andracki (@TonyAndracki23) April 11, 2019
Heyward has never been much of a slugger over the course of his MLB career, averaging 17 home runs per 162 games. He set an early precedent for power, thought, hitting the first of his 18 rookie home runs against Carlos Zambrano and the Cubs in his first MLB at-bat in 2010.
The only other time he ever topped 14 was with a career-best 27 home runs two years later. Had Heyward's 2013 season not been shortened by a broken jaw sustained when he was hit in the face by a Jon Niese fastball, he may have reached 20 again. Even so, his home run numbers have never matched the size of his frame or expectations.
Heyward's regression from modest home run totals and above-average career OPS to what he's done in a Cubs uniform has been the subject of endless hand-wringing since the 2016 season. Which is fitting, since Heyward's own hand-wringing on the bat are part of a swing he's been tinkering with throughout his entire career.
This year's welcome developments see him cleaning things up and stripping away some of the unnecessary mechanics he's added over the years. That has him on pace to top 20 home runs for just the second time, but dare we hope he could top his career-best mark? Just coming close after his first three seasons in Chicago and the frozen bats of late 2018, not to mention concerns about whether Kris Bryant will return to MVP form, would be big.
In search of information that would explain why we are seeing a different Heyward so far this year, I found the FanGraphs contact stats very interesting. While we are dealing with a very small sample size just two weeks into the 2019 season, and there may be significant changes after a full 162 games, I believe the numbers are still noteworthy.
The number that immediately jumps out for me is a 38.2% hard hit rate, which is well above anything we've seen from Heyward in a full season other than his rookie year (38.8%). He had a 34.5% hard-hit rate in his career-homer year of 2012, but an unexceptional 29.1% during a 5.6 fWAR season as a Cardinal in 2015 that helped make him the most coveted position player of that free agent class. He failed to reached 30% in any of his previous three years as a Cub and he's got a mere 29.9% career average.
Perhaps even more jarring is a fly ball rate of 47.1% nearly 15 points above his career average and more than 10 points higher than he hit in 2012. Heyward's home run/fly ball (HR/FB) rate so far this year is 26.7%, nearly two and a half times his 10.9% career average. Maybe he's just finally embracing the idea of launch angle after hearing Theo Epstein declare that it's not a fad.
While some of these inordinately elevated stats are likely to even out over the course of a full season, it's not at all unreasonable to expect Heyward to maintain some of the better habits he's displaying. And that could mean he'll put up the latent power numbers the Cubs thought they'd be able to unlock when they first signed him.