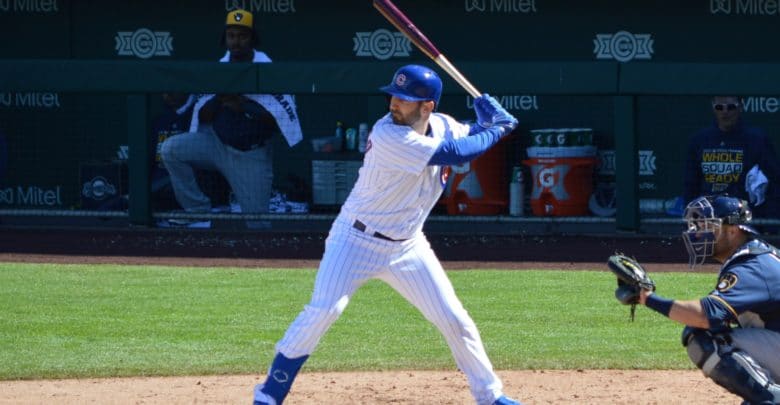 Bargain Pickup Daniel Descalso Paying Early Dividends with Hot Start
When the Cubs' biggest offseason move turned out to be signing Daniel Descalso to a two-year $5 million deal, fans were not pleased. The addition became a running joke on social media as fans lamented their team's winter hibernation.
Amid the derision and sarcasm enveloping the utility infielder's deal, something went unnoticed: It actually might have been a good move for Chicago. After missing a large portion of the spring with a sore shoulder, Descalso has come out raking in 2019.
The former Cardinal has reached base in 12 of his 29 plate appearances in the early season, totaling nine hits, including a home run and two doubles. This is building off career highs of 13 homers and a .789 OPS in 2018 with the Diamondbacks, numbers generated by a swing change that had him aiming at better contact.
A look at some of the underlying numbers add more credence to the theory that his good start could be sustainable. Descalso's batting average on balls hit in play (.381) suggests a fair amount of luck, but a high BABIP can also be indicative of plenty of well-struck baseballs. The fact that 50% of his contact is of the hard variety hints it may be the latter in this case.
Descalso also displays an excellent plate approach, routinely putting up double-digit walk rates and drawing 64 free passes in only 422 plate appearances last season (15.1%). This season he is seeing an average of 4.5 pitches per appearance, nearly the same as Ben Zobrist has averaged in the early going. Joe Maddon even put Descalso in the leadoff spot for a game during the Brewers series.
To top it all off, Descalso is one of the best clutch hitters of all time. Seriously. Among 1,268 qualified hitters in, Descalso's clutch score ranks ninth all-time. (just behind Ozzie Guillen's 7.48). Add in some of his other high-leverage hitting stats and you start to get the idea that he could be a legit piece for the Cubs over the next two seasons.
Don't hold the fact the Cubs didn't spend any money against the new guy. As it turns out, sometimes picks out of the discount bin can be more valuable than the ones behind the glass case. Am I saying I would rather have Descalso than Bryce Harper? Well no, I'm not crazy, although the argument has been made that he's a better hitter than Giancarlo Stanton.
All I am saying is that the Cubs could have done a lot worse with their limited spending.