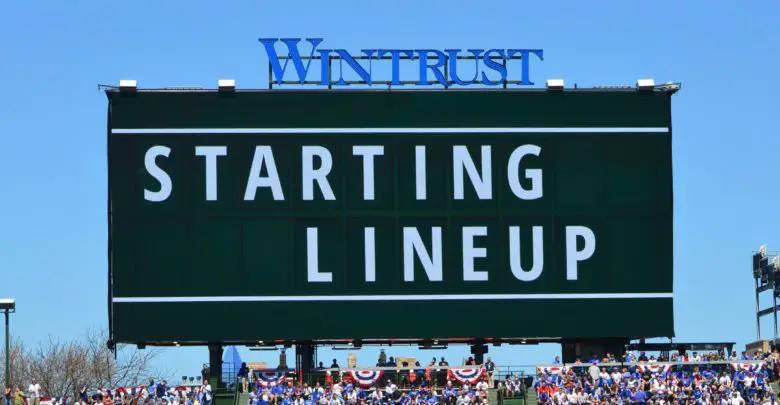 Chicago Cubs Lineup (4/5/19): Zobrist Leads Off, Heyward in CF, Quintana Makes First Start
The top of the Cubs' order is exactly what you'd expect: Ben Zobrist leads off in right, Kris Bryant is at third, Anthony Rizzo is at first, and Javy Báez plays short. Kyle Schwarber mans left, Willson Contreras works behind the plate, and Daniel Descalso is at second. In a change from the norm, Jason Heyward is batting eighth in center.
Opposing the Cubs will be 26-year-old righty Brandon Woodruff, who'll be making just his 14th MLB start and third against the Cubs. In four previous appearances (10.2 IP), the Cubs have tagged ol' Redbeard for a 5.91 ERA and 1.59 WHIP. He looked good in his first start this season, though, striking out five Cardinals and walking just one.
That's been a theme for Woodruff, who locates his big fastball well and follows with a firm change and decent slider. Rather than generating a ton of whiffs with his secondaries, Woodruff uses them to keep the ball in the yard and on the ground. He seems to be going to the sinker a little bit more these days as well, and that's a pitch that really generates worm-burners for him.
The Cubs may want to get aggressive in this one, since Woodruff is a strike-thrower and isn't likely to walk many batters. He gave up a ton of hard contact to the Cardinals (over 60%), but none of it really did any damage for various reasons. If the Cubs can take advantage of a few mistakes and get some runners on base early, they may be able to get into the Brewers' depleted bullpen and set the tone for the weekend.
José Quintana will be taking the bump for the Cubs in his first start, though it's his second appearance on the season after he was pressed into relief duty in Texas. He had the curveball working in that one, riding it to eight strikeouts over four innings, but he'll need to improve the changeup in order to maintain that success over the course of the season.
For whatever reason, the southpaw has absolutely dominated the Brewers over the course of 11 career starts. He's got a 1.62 ERA and a 0.843 WHIP with 67 strikeouts and just 15 walks in that time, holding them to a .516 OPS that is the lowest of any opponent he's faced. In fact, the components of the Brewers' aggregate .181/.232/.283 slash line are all the lowest Quintana has allowed by more than 10 points apiece.
Can he keep that up Friday night? Lord knows the Cubs could use it.
First pitch from Miller Park is set for 7:10pm CT and can be seen on WGN and heard on 670 The Score. As always, dozens of stations throughout the Midwest will syndicate the TV broadcast for those who can't get WGN. But be aware that the delay in such coverage can be significant (mine was about 45 seconds the other day), so you may want to avoid social media during tense moments.
Actually, it's good advice to just avoid social media during Cubs games in general if you've not already been irreparably warped. Some of us are already in too deep to swim back to shore, but I'd advise the rest of you to save yourselves while you still can.
Here is tonight's #Cubs starting lineup in Milwaukee. #EverybodyIn

Game preview: https://t.co/PycmEajDqk pic.twitter.com/axqhr2udm5

— Chicago Cubs (@Cubs) April 5, 2019