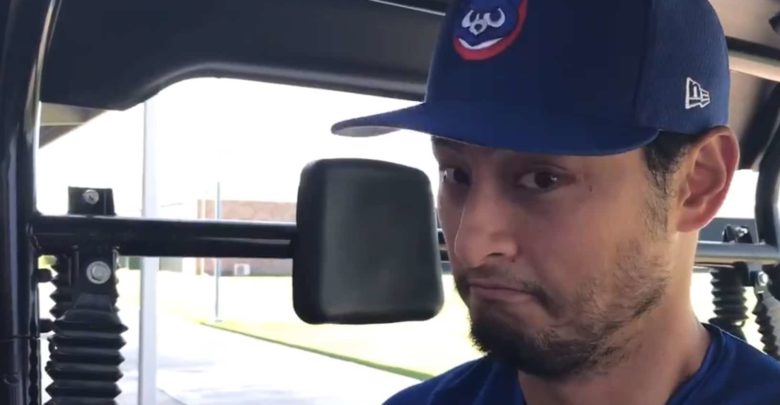 Maddon Went to Struggling Bullpen to Make Sure Darvish Felt Good About Himself
Yu Darvish looked better Thursday night than he had in his disastrous first outing, but things were getting shaky toward the end. After a strikeout to open the 4th inning, he gave up three straight singles to push a run across. A pickoff that resulted in Ozzie Albies being tagged out at home and a diving catch by Kyle Schwarber got Darvish off the hook momentarily.
The next inning opened with more of the same, as Darvish allowed a ringing double to Ender Inciarte before walking Josh Donaldson on five pitches. Though he'd only thrown 71 total pitches and still looked decent, aside from the hard contact and the walk, there was no way for Darvish to avoid the hook this time.
So with two on and none out, Joe Maddon got the all-clear from pitching coach Tommy Hottovy and signaled for Carl Edwards Jr. Hindsight in this case is actually much clearer than 20/20, since most folks watching will tell you they feared the worst when the call went down to the bullpen. Even those who managed to cradle cautious optimism like a gossamer egg had yolk running through their fingers after Edwards' first pitch.
Ball one to Freddie Freeman, everyone knew what was coming next. Freeman predictably walked to load the bases, after which Edwards walked Ronald Acuña Jr. to load the bases again. Wait, something's missing here? Oh yeah, Edwards spiked a curve that crossed up Willson Contreras and allowed a run to score. Enter Tyler Chatwood.
If you're like me and you've been trying to wrap your brain about just how bad things have gotten for the Cubs bullpen, imagine Chatwood's entrance with the bases loaded being seen as a good thing. As proof that his control issues have improved from last season, Chatwood ended up issuing no walks during his two innings of work, the first time he's done that as a Cub. Issued no walks, that is, since he's actually pitched two innings before.
Thing is, Chatwood also gave up a bases-clearing double to Nick Markakis, who racked up five hits on the night, and allowed two additional singles before the inning came to a merciful close. The Braves ended up hanging five runs after Darvish was lifted, but that was all part of Maddon's plan.
"He could have continued," Maddon said of his starter. "He was not weak. He actually pitched really well. Part of it is I wanted to get him out while he was pitching well. I wanted to make sure he left the game feeling good about himself."
To say nothing for how this perpetuates the pervasive notion that Darvish is mentally weak, how exactly is turning the game over to the bullpen a way to make anyone else feel better? Edwards certainly isn't happy with his performance, nor is Chatwood with his. And though they both needed to execute better, their ability to do so was severely hampered by the situations into which they were placed.
Wanting to build your starter's confidence is admirable, it really is, but at what point is any goodwill eroded by torpedoing a bullpen that's already listing hard to port? Or maybe that was it. Maybe Maddon was so certain Darvish was losing it that he figured he'd offer his relievers up to the baseball gods as sacrificial goats. There's a certain IDGAF genius to such a move, even if it didn't work.
Except that Darvish didn't want to leave the game, so that whole favor Maddon thought was doing might end up as a ceremonial paver on the road to hell.
"Yeah, sure," Darvish told reporters (video link) when asked if he wanted the chance to work out of the jam. "Just 71 pitches and I feel comfortable against Freeman and Acuña. So…yeah."
Whether it was the loss in general or his disappointment in having not been allowed to work deeper, Darvish was terse and offered clipped responses with none of the humor we saw this spring. He did say that his stuff felt good and it was evident that his command had improved, even if he did walk four (one intentional) in as many innings. Only his subsequent results will tell, but you have to wonder whether Maddon's good intentions will have the intended impact.
More than likely, this is nothing. It's only being written about because it follows another loss in which the bullpen gave up a bunch of runs and flung the door wide open to all manner of party-pooping critics. Except that it's not the first time Maddon has done something like this, even in the Braves series.
After praising Kyle Schwarber's new approach against left-handed pitchers, Maddon chose to keep the outfielder on the bench against a lefty whose reverse splits played right into Schwarber's strengths of walking and slugging. Perhaps there was something the Cubs saw in the numbers that made that the right choice, or maybe Maddon believed he was helping to build his left fielder's confidence by keeping him away from a lefty.
I'd like to think it's not the latter, since doing so certainly doesn't help Schwarber address his weaknesses and may have hurt the team in the process. Likewise, the decision to pull Darvish may have undermined some of the trust and rapport Maddon has built with his starter while also putting the Cubs in a worse spot pitching-wise.
One of the problems with managing in a fishbowl is that you're going to have people poring over your every decision. Some blogger can watch the game and read a few tweets and then decide you're the dumbest human being on the planet. Not that I think Maddon is that person, though I do take issue with some of his recent decisions. And not so recent, but let's stay on topic.
It's entirely possible Darvish would have given up all those hits and runs if he had remained in the game. Had that happened, we might be questioning why Maddon left him in too long. But given just how abysmal the 'pen has been so far, there has to be a point at which you stop going back to that same brackish well and praying for clean water. The bullpen must get better, I'm just not so sure this was the way to make it happen.
Say what you will about the overwrought urgency trope the Cubs have cultivated this season, Maddon's call to remove Darvish in the 5th inning felt like just getting too cute and over-managing. It's like he was playing Jenga and removed an integral piece to hose his opponents, then bumped the table and knocked the tower over before he could place the piece at the top.
Enough analogies, enough second-guessing. I think we could all use a few games in which the Cubs just steamroll their opponents so none of us have to think too hard. Milwaukee seems like as good a place as any for that.