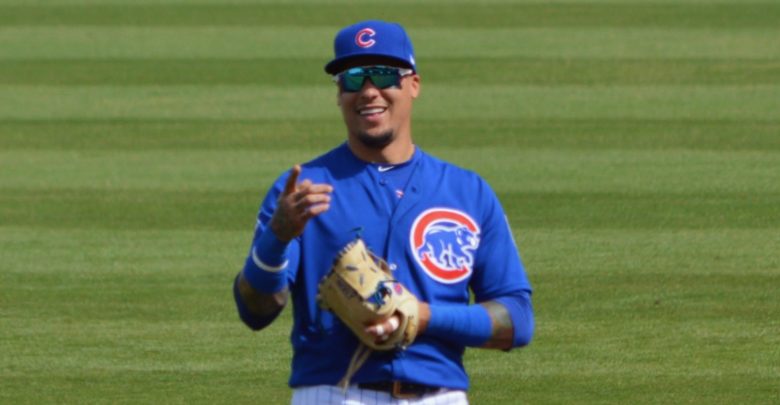 Did Javy Báez Ghost His Shot at Becoming Best Shortstop in Baseball?
What is a GOAS? It stands for Greatest of All Shortstops. It's not really a thing except perhaps in Javy Báez's head.
When asked this winter who was the greatest current shortstop in baseball, Baez unflinchingly told the Chicago Sun-Times, "It's me." Joe Maddon didn't go as far, but he largely backed his player, calling Baez one of the five best shortstops in all of baseball.
Let's assume Maddon doesn't also consider Addison Russell among the elite five. And how could he, with Francisco Lindor, Brandon Crawford, Carlos Correa, Andrelton Simmons, Didi Gregorius, Corey Seager, Trea Turner, and Trevor Story all out there? But given Maddon's professed reverence for Báez's shortstop skills, Javy seemed to have a golden springtime opportunity to turn Russell into the shortstop version of Wally Pipp.
After Báez flashed so much bravado this offseason, you'd think surely he'd take 500 fungos a day over the winter to refine his fundamentals. Surely he would report to Mesa hellbent on proving his shortstop mettle. Surely he would try to force the Cubs braintrust to at least entertain moving Russell back to second base, where Russell played solidly in the yawning dusk of Starlin Castro's Cubs career.
But no shortstop controversy ever materialized. Once Russell avoided scowling and cursing at his news conference, any contemplation of Báez as even the best shortstop on the North Side quickly faded into the online archives.
Not only did Báez not push Russell from the top of the depth chart, Baez essentially went down without a fight. Watching the sporadic televised exhibition starts, I didn't see a player on a mission. I saw one shaking a lot of winter rust. This showed on March 2 when a pop-up fell untouched 15 feet behind him. A few days later, a late break and lack of an aggressive charge let Seattle's Dee Gordon beat his throw by a half step.
It wasn't scary, horrible spring training defense. Except for the pop-up, it was largely standard-issue Báez play at short. I saw a player who too often falls back on his tremendous athleticism and powerful arm, but who lacks the finer fundamentals to make the more nuanced bang-bang plays that Lindor, Simmons, Crawford and, yes, Russell make look easy.
Of course, no shame exists in Báez being content to return to second base once Russell is activated in early May. If Báez can simply be anywhere from an All-Star to MVP-candidate second baseman, then that will be more than enough for the Cubs.
And who knows, maybe Báez considers April the true start of his shortstop audition and spring training was just one rope-a-dope swim move meant to keep people guessing.