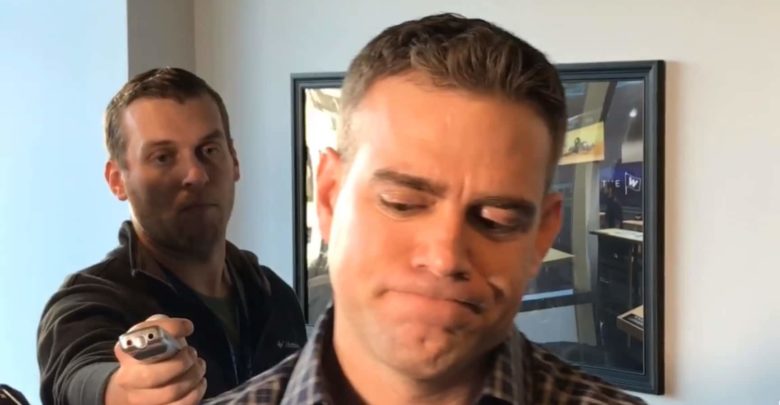 Cubs' Cutting Back Booze and Fast Food in Clubhouse, Implementing More Mandatory BP
We've been hearing since Theo Epstein's early-October press conference about how the Cubs had lost their edge and sense of urgency. When Epstein and others in the organization said repeatedly in the time since that improvement would need to come from within, they weren't just talking about keeping virtually the same roster. Rather, it was a matter of refocusing and establishing an environment that was more conducive to consistent effort and output.
Until now, the specific whos and hows of that process have remained under wraps. Epstein said back in January that the Cubs had implemented some subtle adjustments, but the details of those tweaks have now been made public.
In an extensive column ($) at The Athletic, Patrick Mooney and Sahadev Sharma painstakingly laid out the "Cubs' detail-laden plan to get their edge back." That plan germinated in the soil of tense exit interviews in the wake of the team's unceremonious postseason ousting and was fertilized by one-on-one meetings on the respective home turf of several different players.
The general concept of the new plan isn't any different from anything you've read here at CI or elsewhere since last season ended. It's mostly a matter of shifting away from the laissez faire style Joe Maddon has exhibited to this point and pushing for more accountability throughout the organization. But it's the specificity of the information Mooney and Sharma provide that makes the post well worth your time.
Your money too, since it's a subscription site, but The Athletic should let you view a limited number of posts for free. Make this one of them, or subscribe if you don't already. I used to say that because we had a deal with them to earn commissions on each subscription we generated, but either we stopped pushing anyone to them or they stopped paying. Regardless, it's more than worth the cost.
Rather than give away any of the real depth of the piece, I'll stay at surface level and hit on the series of everyday changes the Cubs are implementing this season. Some of those, like Maddon setting lineups for an entire series, have been common knowledge for a while. Others stand out a little more.
• Lineups will be set a series at a time. Again, we knew about this already. The goal here is to prevent the lackadaisical approach to getaway games and getting too comfortable eating meatloaf, while also improving communication with players.
• Spend more time in dugout during games. This presumably to avoid having a veteran angrily smashing the TV younger teammates use to play Fortnite.
• Mandatory BP four or five days a week. One of Maddon's big things when he came to Chicago was cutting back on early ballpark report times and mandatory batting practice. He has gone on record as saying players take too much BP, but it's hard to hold that position when the offense breaks. This is also a big deal for fans who like to get to the ballpark early to catch a home run or get autographs.
• Focusing on 10 trap games. See the meatloaf thing for more context, but this is about being intentional and setting a standard early for what needs to happen. One thing the Cubs have sort of been known for is the sense that they can just turn it on when they need to. This may help keep them from falling into a lull.
• Cutting back on booze and junk food in the clubhouse and on the road. The chickens and beer have come home to roost. It's impossible to deny the ties to Theo Epstein's demise in Boston, which was marked by a noted leadership void and ownership's disdain over a bloated contract that wasn't working out. Oh, there were also players not hanging out in the dugout. Oof. There isn't an outright ban on the stuff, just trying to keep things more reasonable.
The Cubs have been paragons of the modern player-friendly professional sports franchise since Epstein and Jed Hoyer blew into town, but it appears as though they're seeing that the pendulum has swung too far in some respects. That doesn't mean they should become less friendly, just that they need to lay out some ground rules and stick to them. They don't want to end up like the "cool parents" who get arrested because everyone knows they let all their kids' underage friends drink at their house.
Not that they've got to worry about literally having any underage players consuming alcohol in the clubhouse, since that would require calling a guy up and starting his service-time clock way early.
When you get right down to it, winning is a helluva lot more fun than having that extra beer or not having to show up for BP on a Tuesday afternoon. Or at least I think that's what's being promoted here. Okay, I know that's what's going on with these changes. If it seems a little drastic, that's just because the incremental slippage in accountability took place over the years and wasn't recognized in real time.
People will probably see fit to assign blame for what went wrong where to allow that to happen, and more power to you if that's your jam. Rest assured there'll be more than enough finger-pointing to go around if these changes don't bear fruit. For now, though, the only point is that everyone in the organization is aware of what's expected of them. Fans are aware too, so the accountability can't easily be skirted.
The fuse has effectively been lit. Whether it'll shower the Cubs with confetti or blow the team up may depend on how hot the flame burns.