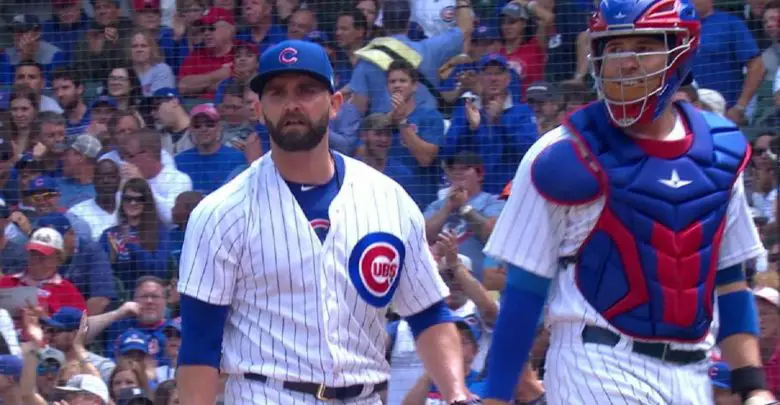 The Rundown: Bullpen Woes Continue, Expect Many Lineup Variations This Season, Cardinals Extend Goldschmidt, It's Been Our Honor Ichiro
Another day, another tie. March Madness showed up at the right time. Can we get the season started already? It would be nice if this week picks up its pace just a little bit.
There's a lot of talk about the Cubs bullpen lately, and rightfully so. Brandon Morrow and Pedro Strop are currently injured; Brad Brach is a little behind the other pitchers after fighting an offseason illness; Mike Montgomery has had limited availability; Tyler Chatwood has trouble finding the strike zone; and there's a general lack of faith in Brian Duensing and Brandon Kintzler.
The Brewers have injuries at the back end of their bullpen and may be interested in Craig Kimbrel, who would represent a dynamic upgrade to Chicago's bullpen while serving as a nice obstruction to Milwaukee's intent. Barring any late moves, Steve Cishek should probably expect to log a lot of innings the first month of the season.
The starters will be asked to eat up a lot of innings and the offense has to be more efficient, too. Scoring one run or less every fourth game will put a lot of strain on the team's patchwork bullpen.
Joe Maddon wants the team to get off to a fast start, similar to the way the 2016 Cubs finished April with 17-5 record on their way to a 103-win season and a World Series title. By the end of May, the North Siders had won 35 of their first 50 games.
Lack of a strong and healthy bullpen may be Maddon's biggest deterrent.
"You want to get off to a great start, but everyone does," Maddon said Tuesday. "When you get off to a great start, it normally benefits you throughout the season."
Cubs News & Notes
Kyle Hendricks believes he and his teammates will be rewarded if they take care of their singular mission of returning to the World Series.
The most intriguing relief option to start the season may be Carl Edwards, Jr. He boasts a career strikeout rate of 12.3 per nine innings and a WHIP of 1.07, but he lacked confidence to blow batters away last season. The result was a jump in WHIP to 1.31 as the thin reliever too often tried to paint the corners.
A surprise addition to the team's bullpen could be Junichi Tazawa, who has been effective and consistent despite a small sample size this spring.
The Cubs will need Cole Hamels and Jon Lester to stave off Father Time this season.
How will the Cubs stack up against the Cardinals this season? It seems odd to say, but St. Louis has some question marks with their outfield and pitching staff, usually the cornerstones of every Redbird roster over the past seven decades.
Anthony Rizzo hopes his strong spring training will carry over to the start of the season. The Cubs open with nine straight road games, six of which are against Braves and Brewers teams that made the playoffs last season.
Kris Bryant has been exceptionally strong this spring, too. The Cubs third baseman will likely occupy the number two spot in Chicago's lineup, just ahead of Rizzo.
The team's everyday lineup is pretty much set, at least for the team's core of Bryant, Rizzo, Willson Contreras and Javier Báez.
Jason Heyward is prepared for the season and expects uncertainty from Maddon. "I still like him on righties," the manager said. "But I'm not afraid of him against lefties."
Victor Caratini will remain the team's primary backup at catcher and hopes to see more playing time.
The Cubs used 152 lineups in 2018, a bemoaning experience for most Cubs fans. Being that the roster is essentially the same as the one that Chicago fielded last year, expect to see more of the same.
Top prospect Nico Hoerner is willing to embrace versatility, dive into data and do anything else the Cubs ask of him. That just adds another layer to what has already been an impressive spring for the young shortstop.
Likened to Andrew Benintendi, Cole Roederer has a quick left-handed swing and advanced bat-to-ball skills and is another prospect to keep an eye on this season.
The Cubs will face Rangers pitchers Mike Minor, Edinson Volquez, and Lance Lynn in their season-opening series against Texas. Barring an injury, Chicago won't face Drew Smyly.
Are the Cubs too poor to afford a new marketing slogan this season?
Every game. Every heart-pounding moment. Every walk off.#EverybodyIn ? https://t.co/3vIMAaTkFe pic.twitter.com/AlVF1AWSvT

— Chicago Cubs (@Cubs) March 21, 2019
Spring Training Notes
The Cardinals are close to an extension with stud first baseman Paul Goldschmidt on a deal that will go five years and be worth approximately $130 million, St. Louis Post-Dispatch beat writer Derrick Goold reported.
Cardinals third baseman Matt Carpenter has been sidelined with a back injury.
The Brewers bullpen, which was a strength during the home stretch in 2018, is currently in a state of flux due to injuries to two of their three best relievers. It looks like Josh Hader will assume the role of closer unless Milwaukee signs Kimbrel.
Angels GM Billy Eppler sensed the commitment of Mike Trout to the Angels' organization several years ago.
Bryce Harper hit two home runs yesterday and indicated he is now season-ready.
Teammates and fans watched, wept, and bowed in honor as Ichiro Suzuki played his final game.
Red Sox catcher Sandy Leon is being "actively" shopped ahead of the start of the 2019 season. Christian Vazquez and Blake Swihart figure to split time behind the dish this season.
Julia Ruth Stevens, daughter of Babe Ruth, has passed away at the age of 102, the Yankees confirmed.
With Sunday Night Baseball announcer Jessica Mendoza now part of the Mets' front office, ESPN has promised objectivity from its broadcast crew. It should be noted that Alex Rodriguez is a special assistant to the Yankees as well.
On Deck
The Pawtucket Red Sox are "celebrating" A-Rod's recent engagement to entertainer Jennifer Lopez. In honor of the couple's forthcoming nuptials, the PawSox will host an engagement party during their game against the Syracuse Mets on April 12. Ben Affleck will throw out the first pitch. Pawtucket is the standard-bearer for minor league promotions.
Extra Innings
It's been our honor, sir: As much as baseball loved Suzuki, the most prolific hitter in history, the Seattle outfielder loved the game even more. He will truly be missed by the game and its fans.
Seattle Mariners right fielder Ichiro Suzuki bows at the end of a press conference to announce his retirement after Game 2 of the Major League baseball opening series between the Mariners and the Oakland Athletics today in Tokyo. | Photo Eugene Hoshiko pic.twitter.com/7WKXhBatdE

— AP Images (@AP_Images) March 21, 2019
Friday Walk Up Song
The Boys are Back in Town by Thin Lizzy. Woohoo! Cubs baseball is just a seven days away.