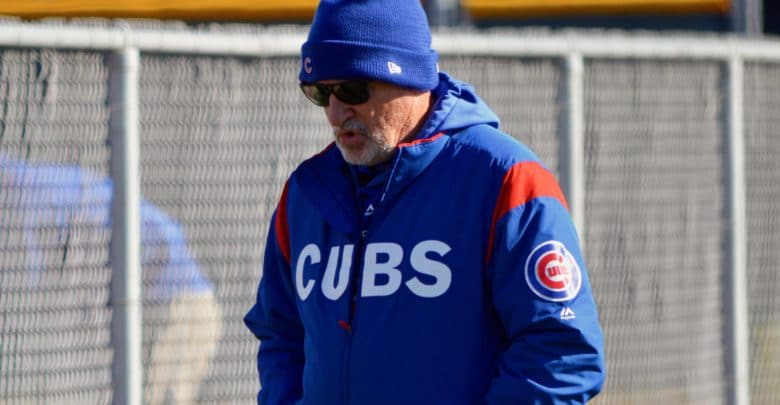 Joe Maddon Wants Cubs to Morph from 'Hit-a-Home-Run' Offense, Show More Variety in 2019
The Cubs were an enigma last season under deposed hitting coach Chili Davis. Their .258 team batting average was their highest such mark since 2003, but their 167 home runs were the fewest they'd hit during the window of contention that opened in 2015. Their .313 batting average on balls in play was significantly higher than league average (.296) and was their best as a team since 2008 (.321), but their .152 ISO — a measure of raw power — was nine points below league average.
Even more telling, that ISO was 19 points lower than in 2017 and 28 points lower than in 2016, something that irked fans didn't need an understanding of said metric to recognize. When Theo Epstein said the offense "broke somewhere along the lines," he wasn't just talking about a season in which the Cubs scored no more than one run in a quarter of their games.
I mean, yes, the results were the most glaring example of the brokenness. What was really problematic, though, was a flawed process that got several Cubs' hitters out of what had made them so successful over the previous few seasons and stagnated their development.
"The core offensive philosophy of this organization remains unchanged," Epstein said in October. "We want to be selectively aggressive, get pitches we can drive, and drive them hard in the air. Including out of the ballpark. Line drives.
"But the bottom line is we stopped walking and stopped hitting the ball out of the ballpark, especially in the second half. We hit the ball on the ground a ton, I think that was exacerbated down the end probably by a little of the stuff the guys had to deal with, the schedule and the fatigue. But it started long before that, so it's not an excuse."
Epstein wasn't able to provide specifics answers at the time as to exactly what went wrong, saying only that they needed to get to the bottom of it. As we soon learned, however, a coaching change was part of the proposed solution. That didn't just mean replacing Davis with Anthony Iapoce, but included Joe Maddon taking a more active role in shaping the offensive philosophy.
"We've been more of a drive-the-baseball, hit-a-home-run kind of a group," Maddon told reporters Sunday. "We're trying to morph into something else. I think in 2016, we probably demonstrated a little bit more variety. I love variety with that."
Wait, I thought the Cubs wanted to keep driving the baseball and hitting home runs. Is Maddon saying that's no longer the goal? Rather than signifying a departure from the past at a macro level, it's more about making subtle adjustments so that the offense is more opportunistic even when the power game isn't coming through.
That 2016 title-winning Cubs were capable of winning in any number of ways, grinding down opposing pitchers and imposing their collective will. The home runs were a significant part of that, but their 199 dingers only ranked fifth in the National League. Instead of relying solely on the big shot, the Cubs displayed the type of opportunistic offense Maddon's spring drills are meant to reinvigorate.
It's all part of that sense of urgency Epstein has talked about since the end of last season, an edge Maddon is expected to set. Which is why the manager is out there running a lot of the instruction instead of leaving it all to his coaches. Even though Iapoce is perfectly capable and has some familiarity with the players from his time in the organization a few years ago, it's not a bad idea for Maddon to set the tone here at the outset.
"When the manager's out there running drills — especially when it's team-oriented drills from an offensive side, things that are hard to do — and he's giving them different thoughts, sometimes as coaches, players can get stale maybe listening to you," Iapoce told MLB.com's Jordan Bastian. "And then they hear a different perspective and it's from the manager, it holds a lot more weight."
Maddon's ensuring that the message and delivery are in keeping with the direction he — and presumably the front office — is trying to take the team. That's not only a matter of giving Iapoce a set of training wheels, so to speak, it means no longer having a scapegoat for disappointing performance. Not like Maddon's expiring contract even allows for that at this point anyway.
So look, we could keep digging into what the Cubs are trying to do and how they're working to make it happen, but the reality is quite plain. As great an idea as "opportunity hitting" is and as much as it should help them avoid last season's lulls, this team needs to get back to slugging. And what they really need is to slug with two strikes and with two outs and with men on base. Simple, right?
I guess that means the Cubs just need to do simple better.