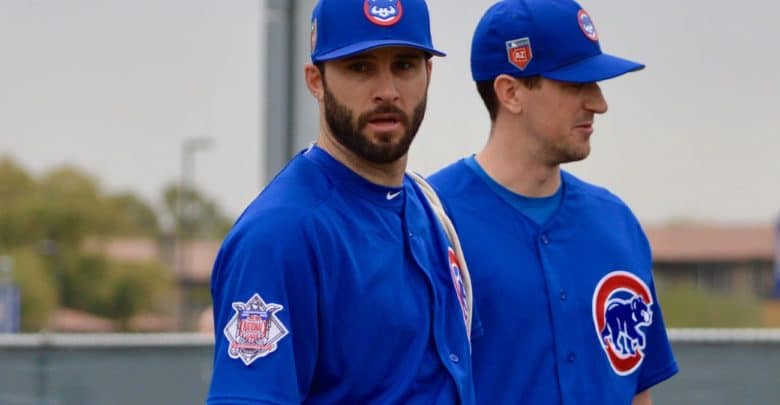 Brandon Morrow 'Felt Great' After First Bullpen Session Since Elbow Surgery
Brandon Morrow, who last pitched on July 15 and had surgery in November to clean up his right elbow, took a big step Monday by throwing 20 pitches from the mound. Pitching coach Tommy Hottovy told reporters that all the offerings were fastballs and that the plan is for the closer to throw another session either Thursday or Friday.
Morrow's elbow procedure and subsequent rehab timetable are similar to those of Yu Darvish, who has reported zero discomfort and is sitting in the mid-90's with his fastball. Both pitchers were shut down by stress reactions last season, tricky injuries that are hard to diagnose because they often don't appear on the most common imaging tests used.
Debridement surgery and subsequent rest has Darvish as good as new, and Morrow's early assessment of his bullpen indicates he's on the same path.
"It felt great," Morrow told Mark Gonzales of the Tribune. "You still wonder how you're going to feel in games when you're throwing 100 percent. It's a little different when somebody is in the batter's box.
"But I have no expectation of feeling anything or having any problems. There's nothing that would indicate I'd have any problems."
If any of that sounds familiar, it should. Morrow said almost exactly the same thing late last season when he was trying to pitch through pain to come back for the stretch run. Then again, he admitted to discomfort following a September 12 session and was scared to really cut it loose as a result. This time around it's more a matter of just facing live hitters in general that spurred the caveat.
Morrow was shut down for good on September 18, though it would be another two months before he'd undergo the clean-up procedure. The timing seemed a little strange, what with the similarities between his diagnosis and Darvish's, but perhaps the initial opinion was to see if cessation of throwing would allow the issue to clear up on its own.
Assuming all goes well, Morrow is still on pace to rejoin the active roster by May. Which means the Cubs are totally fine and really don't need to add anyone to a bullpen that is dealing with several other injuries as it is. There's no doubt at all that the bubblegum and duct tape keeping the relief corps intact will hold for another 45 days or so.
Right?