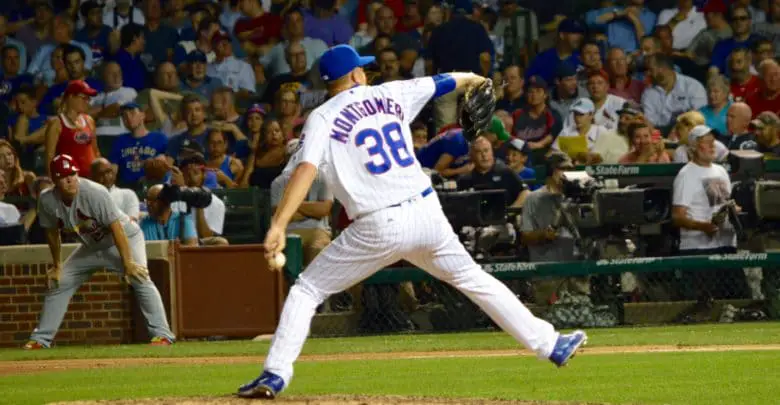 5 Factors to Fuel Cubs' Internal Improvements
You might think Theo Epstein is blowing smoke up your backside when he says improvement will have to come from within for the Cubs this season. But he's not feeding anyone a line when he says it. Unless the budget horse we've collectively beaten to death is named Lazarus, it doesn't appear either Manny Machado or Bryce Harper is riding into town on him. Which is to say the improvement is going to have to come from within.
That growth can and should take many different forms, most of which are too subtle to register in the consciousness of even the most astute observer. It could be as simple as Tommy Hottovy's relationship with Yu Darvish or Anthony Iapoce setting Ian Happ at ease. Maybe a word of advice here or the slightest change in finger pressure on a cutter there. We'll only know those things if someone clues us in after the fact.
Then you've got the more obvious adjustments, like maybe scoring multiple runs in the 40 anemic games that led to Epstein saying the offense broke. Getting a full season from Yu Darvish would help, as would Tyler Chatwood not walking everything that walks. Brandon Morrow coming back strong after elbow surgery would be nice too. The list goes on.
As such, the five key factors I've listed below represent only a small fraction of the countless improvements the Cubs could make individually or as a team. But because a comprehensive list would be longer than my, uh…I mean, because it'd be too long to effectively curate, I arbitrarily chose a number that required only one hand to count to.
Kris Bryant's plate discipline
Heading into last season, Bryant had a stated goal of reaching rarefied air for a slugger: posting as many walks as strikeouts. And he was trending really close over his first 185 plate appearances, striking out 29 times and drawing 24 walks (1.21 K/BB) through his shoulder injury on May 19. In 272 subsequent plate appearances, however, he duplicated that walk total with 78 strikeouts (3.25 K/BB).
For the sake of reference, KB's K/BB ratios were 2.58, 2.05, and 1.35 in his first three seasons. That's incredible improvement.
Now fully recovered from the nagging shoulder issues, I'm not concerned at all about Bryant's ability to hit for power. The real key for him will be getting back to the plate discipline and pitch recognition that faltered after the injury. That he struggled in that regard isn't surprising, what with the inconsistent playing time, long stretches of inactivity, and even changes to his swing.
Throw in reduced bat speed and what was surely a heavy psychological burden — Bryant had never been shelved like that before and he knew the team was depending on him — and you've got a recipe for diminished results. Bryant's been working harder than ever this winter to ensure he's back to MVP form, but he could be even better than ever if that K/BB ratio is anywhere near even.
Mike Montgomery's velocity
A naturally gifted athlete, Montgomery used to roll out of bed throwing 97 mph gas. He averaged nearly 95 coming up through the minors, which means he was frequently touching high-90's. That average was still over 94 mph in 2016, but then dropped two ticks to just over 92 in 2017 and then to under that mark last season.
Some of that is no doubt due to the higher workloads and increasing number of starts he made over the two most recent campaigns. After all, he wasn't able to go out there and really cut it loose when the Cubs required more than an inning or two at a time. But there's more too it than that, whether it was bulking up and losing some of his whip-like flexibility or just concentrating more on his secondaries.
Getting that velocity back would be huge for Montgomery as he transitions back to the 'pen full-time. It's not for lack of effort or desire, there just isn't a spot in the rotation at this point. So if he's able to cut just a little bulk and bump back to, say, 94 mph on a regular basis, the changeup and curveball — I'd like to see more of the former, he prefers to lean on the latter — become that much more effective.
Monty's whiff rates have been down across the board compared to 2016, which he's no doubt aware of, but he could easily get right back to that level again. And if he can dial in that slider he started mixing in a little more, perhaps by using Brendan Sagara's pitch-grip index ($) to ensure he's not getting too far behind the ball, hoo boy.
Kyle Schwarber's power
He could continue his ascension to becoming the best defensive outfielder in all of baseball and people would still point to the 2015 NLCS to claim Schwarber should be dating Alice from The Brady Bunch. We've seen far worse left fielders in the NL Central over the years, so the defense doesn't bother me one bit. Nor will it bother anyone else if Schwarber starts hitting 35-plus dingers.
A back injury limited his power late last season, part of why his ISO (.227) was 27 points lower in 2018 than in the previous season despite an identical slugging percentage (.467). Another issue fans have with Schwarber's performance is his low batting average, but that .238 mark matters little since he was 21st in the NL with a .356 OBP.
Schwarber can help further diminish the focus on nigh-irrelevant stats like batting average and RBI by once again improving his walks and strikeouts. But the real key is his power, as mashing taters will help drive the rest of the offense.
Rotation's margin for error
No one doubts the potential of the Cubs' rotation to be excellent this season. At the same time, no one doubts the potential for that group of starting pitchers to be mediocre. Due to both style and age, there simply isn't a great deal of margin for error with these guys because there isn't really a dominant pitcher in the group. Darvish is the closest they've got to that when he's on his game, it's just a matter of being healthy.
And don't take this as a knock on Jon Lester, Kyle Hendricks, Cole Hamels, or even Jose Quintana. All of them have proven themselves at various points throughout their respective careers. But the Cubs don't have that Max Scherzer or Jacob deGrom who you know is going to put you in position to win every time out there. Those guys can also more easily recover from mistakes, a luxury the Cubs don't quite have.
Again, this could be a phenomenal year for the rotation and they could all flat-out shove. If they can just stay relatively consistent and work deep into games more frequently, it'll be a huge boon to the bullpen and the performance of the team as a whole.
Pitching prospects
While we're on the subject of pitching, let's spend our last improvement factor on the first of those long-awaited waves of pitching prospects. The Cubs have vowed to be more aggressive when it comes to drafting and developing pitchers, but the guys who will help this season are largely out in front of the momentum building in the lower levels of the minors.
And when we're looking at 2019 specifically, this isn't really a matter of any individual pitching prospect having a huge impact. Rather, some combination of Adbert Alzolay, Dakota Mekkes, James Norwood, and Alec Mills coming up and solidifying a bullpen that still needs work would be a nice coup for an organization that has largely whiffed on homegrown arms to this point.
The Cubs have done well shuttling players back and forth from Iowa, a trend that will no doubt continue this season. With the possibility of changes to the DL and option rules, however, that ability to stream pitchers at the back end of the 'pen may be hampered. As such, having one or more of these young arms really settle in as a legit option could be key.
There you have it, appears to be a pretty simple set of solutions. Of course, the Cubs still need Willson Contreras to bounce back and Jason Heyward to continue moving in the direction of his pre-2016 offensive production. Happ taking a big step forward wouldn't hurt. Oh, and Joe Maddon not committing arson in the bullpen prior to October would be ideal.
With that in mind, I'd like to ask what your keys are for the coming season. Not that you won't go ahead and share them anyway, I just figured I'd be nice and put the invite out there. RSVP below.