Cubs System Position-by-Position, Pt 8: Righty Starters Aplenty in Lower Levels
The Cubs' right-handed starting pitching depth is quite considerable, to the extent that I had to break this review into two parts. Our first section focused on just AA and AAA and this week we'll examine the depth at three levels of class A and the rookie leagues in Arizona and the Dominican. While deep, the Cubs system is not blessed with anyone who could be considered a top-of-the-rotation starter right now.
But that could change soon.
Richard Gallardo, a 17-year-old the Cubs signed last July 2 as an international free agent out of Venezuela, could be the name on everyone's lips over the next couple years. He is blessed with command and control early in his career and he is growing and could easily add more velocity. Baseball America and MLB Pipeline both lauded Gallardo as the number one pitcher in last year's international free agent class and he dominated the major showcase last spring. He should be at Mesa to start his pro career in 2019 under the tutelage of esteemed pitching coach Anderson Tavarez, who worked wonders with Adbert Alzolay.
The highest uspide in the system belongs to 22-year-old Erling Moreno. He has a plus curve, a developing change, and a low-to-mid-90-s fastball. His only issue has been staying healthy. Signed in 2013 as an international free agent — the same class as Gleyber Torres and Eloy Jimenez — Moreno still projects to be a mid-rotation starter. If he can stay healthy this year and get off to a good start, he could move quickly to AA.
Yovanny Cruz is a 19-year-old out of the Dominican who flashed brilliant command and a deadly changeup last year at Mesa. He looked extremely polished in his only game at Eugene and should be in competition to start in South Bend this year. If you're looking for a sleeper in 2019, this is your guy.
Evaluations of Paul Richan vary quite dramatically. Some prospect lists see him as a top 10 arm in the system and others don't even have him ranked anywhere close to that. One reason is the consistency of his fastball velocity, which can be anywhere between 87-95 mph. After watching him last summer at Eugene, it's evident is that his breaking stuff is quite good. He should have no trouble at South Bend if he is assigned there, but his fastball is going to dictate his success if he ends up at Myrtle Beach.
Derek Casey is my guy. The ninth-round pick out of Virginia from last year only saw about seven innings of work and I'm excited for the Cubs to let him loose, possibly at Myrtle Beach in the spring. He throws on a steep downhill plane that makes it hard for hitters to square him up.
I'm hoping Jose Albertos is the Cubs' comeback player of the year in 2019. What began as a physical problem of finding the strike zone soon turned into mental exasperation for the youngster last year at South Bend and then Eugene for a few starts. Despite his control issues, he was still throwing 95-97 with a beautiful curve and a wipeout changeup. He just turned 20, so there's more than enough time to figure it out. Here is to him making the proper adjustments this winter and finding a release point that works.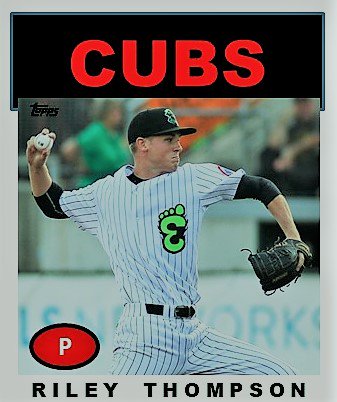 One of my favorites from last summer was Riley Thompson. The 11th-round pick out Louisville looked head and shoulders above the competition in the Northwest League. He worked as both a closer and starter in college and it looks like the Cubs are going to put that 95 mph fastball on the mound every six days this summer. He's one of the pitchers I look forward to seeing most in April and May at South Bend.
Erich Uelmen was outstanding for South Bend last spring but struggled at Myrtle Beach in the second half. He should return to Myrtle Beach this spring armed with his devastating sinker.
Jeremiah Estrada and Danis Correa, both 19 years old, missed most of 2018 with injuries. Estrada was a sixth-round pick out of high school in 2017 while Correa was hitting the upper 90's in the Dominican Summer League that same year. How they respond after concluding rehab stints early on may determine how their seasons end up.
With this much depth, spring training is going to be even more competitive than usual. In addition to those named above, Javier Assad, Kohl Franklin, Jesus Tejada, and more will all be striving to make opening day rosters at South Bend or Myrtle Beach. Seeing how it all shakes out this spring is going to be really fun.