Cubs' Financial Constraints Could Spur 'File-and-Trial' Arbitration Process
One of the hallmarks of Theo Epstein's player-friendly approach to organizational management is a long track record of avoiding trips to the arbitration table. Justin Grimm became the first player under Epstein to fail to agree to a figure prior to the hearing, with both sides standing firm on their respective sides of a $275,000 gap. But given the team's stated financial concerns and the amount of projected raises this season, it's entirely possible that Grimm was the start of a new trend.
And this isn't just a Cubs thing, as ESPN's Jeff Passan noted in a column focused on Bryce Harper and Manny Machado holding up the free-agent market. Passan included the following nugget regarding league-wide strategy in the section about D.J. LeMahieu
With the Jan. 11 deadline for the sides to avoid arbitration, the number of conversations will pick up significantly, particularly since all 30 teams this year are adopting the so-called file-and-trial approach to arbitration. In past years, teams and players would exchange numbers at the deadline, then keep talking before the arbitration case in hopes of settling on a mutually agreeable salary. Now every team takes a hard line: Either we agree on a number by the deadline, or we're going to what's often an uncomfortable trial.
I'll let you draw your own conclusions about the seemingly collusive leanings of such universal adoption of a process ostensibly meant to suppress salaries, we're going to stick with the Cubs for now. It's interesting that they'd take such a different tack this time around, particularly with players who've been through the process before. Grimm was a unique case — or so it seemed at the time — who nearly everyone on the outside knew was fighting an uphill battle. Hell, he was Custer.
Even in cases where the player has a stronger argument, calling the arbitration process "uncomfortable" is underselling it. At the risk of getting into too many specifics you may already be aware of, the team and player exchange salary figures and then have a couple weeks to negotiate an agreement. If they are unable to do so, the matter is taken before a panel.
It's basically a trial in which the team presents evidence to prove that their player isn't worth the salary he's asking for. This is all made worse by the panels' traditional bent, which means focusing on stats like batting average, RBI, wins, and saves. And while the process almost always results in a raise of some sort, it's possible for a player's salary to be reduced by as much as 20 percent.
As you can imagine, this is something teams and players alike generally want to avoid. You'd think that would remain the case with acrimony between the union and league growing, but maybe teams have just decided it's already so bad they might as well say, "F— it." And while that flies in the face of the way Epstein — and I'm using just his name, though it's understood that Jed Hoyer is also involved — and the Cubs have operated in the past, this may be a sign of the new normal.
If the Cubs are indeed trying to limit bloating the payroll further, free agency isn't the only place to shop for bargains. In fact, they might be able to shave a few million from the books by making lower offers to some of their existing players and hoping to settle somewhere below where projections currently stand. After all, these players are already on the roster, so there's no danger of losing them to a higher bid.
There is, however, significant risk down the road when it comes to employing such a strategy. Trying to short a player by a million bucks in arbitration could result in having to pay him far more in an extension, or worse, losing him in free agency. But hey, he was cheaper in his prime.
With seven arb-eligible players projected to earn aggregate raises of roughly $18 million for 2019, it's easy to see where and how the Cubs could try to save some money. Their current total payroll (including arb raises) is projected to land just under $227 million, so every dollar they cut means that much less of the 20 percent tax penalty for being above the $206 million threshold. And when you factor in the need to bolster the bullpen and perhaps add some catching depth, you're looking at an additional 12 percent surcharge for being more than $20 million over.
Let me say again that I'm not making an attempt to justify the Cubs' decision — if they've indeed made one — to limit their luxury tax footprint. And I'm certainly not advocating for a reduction in arbitration offers as a means by which to do it. I mean, that'd be like replacing Christmas bonuses with memberships to the Jelly of the Month Club. What I am saying is combining Passan's report with what the Cubs have stated publicly points pretty clearly to this path.
Below is a chart of the Cubs' arb-eligible players — Tommy La Stella is still shown because I just inserted an existing image rather than re-creating one — with FanGraphs' salary projections for 2019 and how they compare to 2018. Most of these are pretty modest, but a couple jump out. Peruse at your convenience and we'll meet back up on the other side to discuss.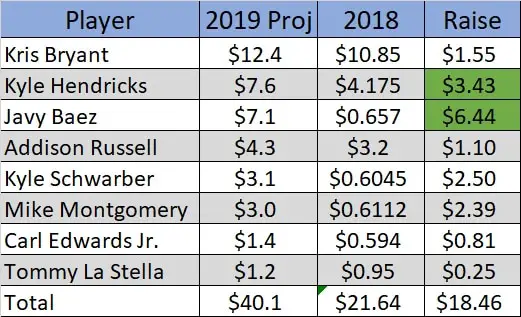 MVP candidate Javy Baez seems like the most obvious candidate to receive a low-ball offer, what with the massive jump he's projected to receive. Kris Bryant set a first-year arb record of $10.85 million last season, but that was after taking home Rookie of the Year and MVP honors. Javy's development has been less linear and you could see where the Cubs might try to open up at $6 million or so.
Speaking of Bryant, he's another interesting case. While $12.4 million will be a steal for a guy who's planning to come back better than ever in 2019, the panels' proclivities lend themselves to the Cubs being able to limit his raise. With career lows for home runs and RBI, the case could be made that Bryant's production doesn't merit any additional money. It would be insanely stupid for the Cubs to argue such a point, but it's there if they want to try.
Kyle Hendricks, who stands to nearly double his 2018 salary, presents another opportunity for savings. Sticking with Kyles, Schwarber's $2.5 million projected jump could be limited by a few hundred thousand. And Mike Montgomery, who's in the no man's land of statistical production because he can't rack up innings or wins or saves, might not get as big a bump on his $611K salary.
Then you've got Addison Russell, who is coming off of his worst statistical campaign and will miss the first month of the season due to a domestic violence suspension. I don't care how many cute Instagram posts he makes prior to the hearing, there's no way in hell Russell is going to be able to mount a decent case in his favor. And as much as people find it hard to side with ownership, it's hard to imagine many people being upset if the Cubs offered the minimum $2.56 million and let it go to the panel.
And for those of you who've been suggesting it for the last year, no, the Cubs can't simply fire Russell into the sun. It costs $62 million to launch a SpaceX Falcon 9 rocket, and there's no way Tom Ricketts would agree to underwrite that unless he could first build two bars and a restaurant on board. None of that money counts toward the luxury tax, though, so we'll just say the option is available but highly unlikely.
The deadline to exchange salary figures is coming up on January 11, with arbitration hearings scheduled from February 1-20. So we should find out here in just over a week whether the Cubs will really be adopting the whole file-and-trial approach. Or whether they're reaching out to Elon Musk to see about a partnership with Hickory Street Capital.