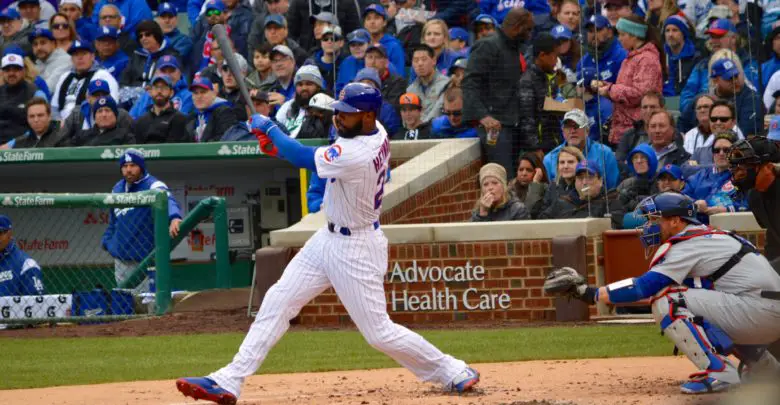 Cubs Trade Rumors: Jason Heyward Once Again Subject of Speculation Involving Giants
Given the various factors and narratives being spun this offseason, it's impossible to avoid speculation about Jason Heyward. And when you increase the search radius to include other teams, it's easy discern a pattern of dots that links the Cubs and Giants in a move that could help both teams. So let's make like old-timey astronomers and see about creating constellations.
You may recall a rumor that quickly gained steam — before being shot down just as quickly — last November, the one in which Heyward would head to San Francisco for Mark Melancon and Jeff Samardzija. It was basically a salary swap in which the Cubs would take on a little bit more money and the Giants a longer obligation, with each team acquiring players that better suited their needs. The biggest problem with such a proposal was that Heyward had a full no-trade clause and would have to grant approval to any deal.
But that veto power went away when Heyward exercised the player option in his contract, meaning he can nix trades to all but a select group of teams. The understanding seems to be that the list includes 12 teams, though exactly which ones they are is known to few beyond Heyward and the Cubs. And though it can be dangerous to simply assume things, it's not unreasonable to believe San Francisco would have made the cut.
Nor is it unreasonable to assume the Giants are looking to strengthen their outfield defense, as they have reportedly discussed an interest in trading for the Blue Jays' Kevin Pillar. Granted, that would be a very different type of deal for them. Pillar is under club control for two more seasons and is only projected to earn $5.3 million in 2019, his second year of arbitration, so he's way cheaper than Heyward.
Ah, but cost is measured in different ways and it'd take prospects to pry Pillar loose from the Jays. That might not be easy for an organization ranked as having one of the seven least-valuable farm systems in baseball, just slightly better than the Cubs. Would new baseball boss Farhan Zaidi would be willing to fuel a quicker rebuild by further depleting his farm for a guy who'll turn 30 in January and hasn't reached 90 wRC+ in any of the last three seasons?
Maybe Zaidi would rather acquire a guy who just had a 99 wRC+ and whose career average (108) is 21 points higher than Pillar's. Heyward is also nearly seven months younger than Pillar, in case you were wondering. And with obligations to Hunter Pence and Andrew McCutchen off the books, the Giants have some room to take on salary.
That's really what this whole thing would have to come down to. When the idea was floated last season, it wasn't about the Cubs saving money in the short term. They'd actually have increased their luxury tax number in order to decrease the length of their obligation. Now, however, such a deal would likely be spurred by a desire to clear more space in order to add Bryce Harper. Trading Heyward would also free up right field for Harper, so there's another dot or star to consider.
That's why it's unlikely that any deal — and I'll reiterate once again that we're playing with hypotheticals here — would return someone like Melancon ($15.5M AAV for two more years) or Samardzija ($18M AAV, also two years). On second thought, Melancon might make sense. The Cubs would have to include some cash and maybe a prospect to offset the additional salary and time commitment, but they'd be able to save a few million in the process.
Injuries haven't been nice to Melancon over the last two years in San Francisco, limiting him to 69 total innings in 73 appearances. For the sake of reference, he had pitched at least 71 innings and made at least 72 appearances in each of the previous four seasons. That coincides with a dip in velocity and a much less effective cutter, the pitch that been his bread and butter during those successful Pirates campaigns. But he was passable when healthy and could be a solid contributor.
That's all you can really ask for since you can't expect to get a lights-out closer in exchange for Heyward at this point. There would be pretty significant risk involved no matter how such a deal would get done, which is another way of saying the Cubs have to be "creative" if Harper is to become a reality. There are certainly different scenarios in which the Cubs could trade Heyward — maybe the Braves would be amenable to a reunion — or other heavy contracts, but I'll let you run with those on your own time.
The moral of the story here, and something everyone seems to agree on, is that the Cubs will need to move some money around before presenting Harper with an offer. Heyward makes a lot of sense as a big part of that movement, but it won't be easy or quick. Harper may be willing to wait on that, though how patient he'll be and whether the Cubs can make it happen are another story. If, that is, the Cubs really want to pull it off at all.
There doesn't appear to be anything imminent and this could all drag out for another month or more, so we've got plenty of time to comb reddit for more information. At the very least, it gives us something to chew on as we await the full meal.