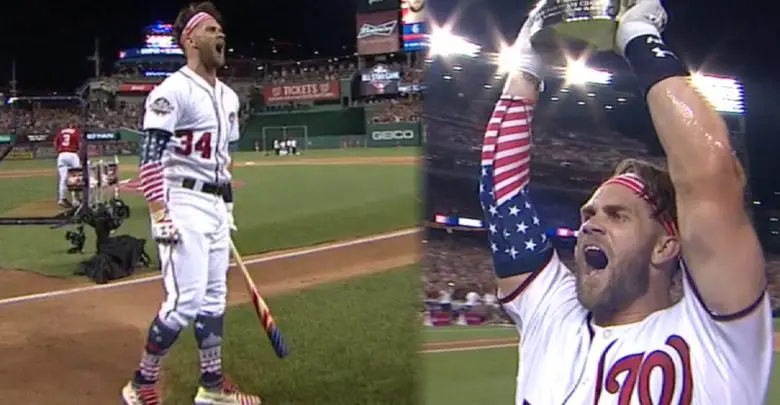 Braves Could Be Serious Players for Bryce Harper (Updated: No They Couldn't)
Much of the focus has been on the the northern contingent of the NL East, but don't be surprised if Bryce Harper gets some very serious attention from the south. No, not Miami, silly. According to David O'Brien of The Athletic Atlanta, there's been persistent chatter about the Braves' involvement in the pursuit of the coveted outfielder.
Despite any posturing you might hear now, don't be surprised if #Braves are players in the Bryce Harper sweepstakes. I keep hearing things that make me believe they will be.

— David O'Brien (@DOBrienATL) November 19, 2018
O'Brien is a reliable member of a reliable outlet and I don't have any reason to doubt what he's saying, but we still have to file this latest blurb to the "believe it when we see it" rhetoric folder. Between PR posturing and strategic obfuscation, a lot of what is being whispered around baseball circles is meant to amplified by the media bullhorn.
The Nationals reportedly offered their former slugger a $300 million deal late in the season, though that may have simply been to avoid looking cheap. Phillies owner John Middleton his team "might even be a little stupid" about spending this winter. New Mets GM Brodie Van Wagenen has indicated repeatedly that he has no intentions of rebuilding slowly. The Cubs are reportedly "in" on Harper but have said they don't want to add much to the payroll.
There's a lot more in the file, these are just the snippets clustered up near the top. It's no surprise that Miami is the only team in the East not tied either implicitly or explicitly to possibly targeting big free agents this winter; their plans are pretty clear. But the other four teams can't well afford to remain idle, or at least they can't let their fans think that's what they're doing.
Even if they aren't truly after Harper or Manny Machado, letting it be known that they might be sets up the plausibility of that big name simply choosing to go elsewhere. It's kind of like the Cardinals with Albert Pujols before he bolted for Anaheim. They knew they weren't going to offer enough to keep him, but offering to keep him ensured acquittal by the jury of fans on charges of organizational malpractice.
If the Braves really are players for Harper, though, how fun would it be to see him paired with Ronald Acuña Jr. for the next several years? I mean, it'd be like seeing Harper and Juan Soto, except for more than one season. Such a move would also be a double whammy for Cubs fans who've been hoping that Harper signing in Chicago would necessitate trading Jason Heyward, with Atlanta frequently coming up as a willing partner.
I know many of you were tired of hearing about all this Harper speculation several months ago, but I can assure you it won't be over anytime soon. So I guess I'll offer my apologies now for what is sure to be further coverage in the coming weeks.
***Update***
Boy, that was quick. Not long after he'd floated the idea that the Braves could act in a manner counter to current posturing, O'Brien shared that he'd been assured Atlanta is not in on Harper.
And having said that, I was almost immediately assured (again) by someone I trust in these matters that the #Braves are not — repeat *not* — in on Harper and this person doesn't think they will be, said no way they'd give 10-year deal, etc. So, there ya go. Quashing my rumor. https://t.co/2hgL9vUkPY

— David O'Brien (@DOBrienATL) November 19, 2018
Despite whiffing on his earlier tweet, I applaud O'Brien for owning this in no uncertain terms. He isn't blaming semantics or trying to dance around the topic by sweeping it under the rug as a misunderstanding, he just came right out and said he was wrong.
So while there appears to be nothing of substance to the idea of the Braves' interest, this at least serves as a cautionary tale when it comes to rumors, reports, or reading tea leaves. It also provides credence to the idea that not all teams are simply posturing when they say they won't pursue a given player.
The Cubs haven't and won't definitively say they're out on Harper until they're definitively out on Harper, but multiple media reports and direct statements from Theo Epstein have indicated that they're very long shots.