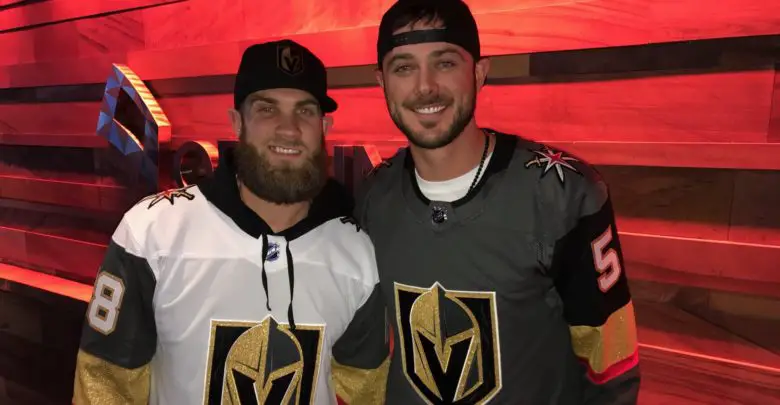 The Rundown: Red Sox Win World Series, Welcome to Hot Stove, Scott Boras Trolls World Regarding Bryce Harper's Decision
Congratulations to the 2018 World Series Champion Boston Red Sox. The hot stove is now open for business, and it got off to a roaring start yesterday when Evan Altman published a report quoting Scott Boras that indicated Bryce Harper already knows where he intends to play in 2019.
PRESENTING YOUR 2018 #WORLDSERIES CHAMPS!#DAMAGEDONE ? pic.twitter.com/U78T4fNNYu

— Boston Red Sox (@RedSox) October 29, 2018
But yesterday was about the Red Sox and one Steve Pearce, the journeyman slugger who was named World Series MVP after hitting two home runs last night. Pearce really cranked it up all series, finishing with three homers and eight RBI while slashing .333/.500/.667 through the five games.
Boston closed the books on the team's best season ever with a decisive 5-1 victory, leaving the Dodgers to watch an opponent celebrate a title on their turf for the second time in as many years. No team since the 1936-37 Giants had been eliminated back-to-back at home. The 2010-11 Rangers were the last team to lose back-to-back World Series.
In a postseason that has seen all sorts of peculiar pitching moves, yesterday's game seemed almost like old-fashioned baseball…until Chris Sale closed it out by getting Manny Machado to flail miserably at the game's final pitch.
David Price was dominant in winning his third straight postseason start and completely reversing the narrative that he couldn't win big games, turning it over to Joe Kelly after walking Chris Taylor to lead off the bottom of the 8th. In seven-plus innings, Price allowed just one run, coming on a lead-off home run by David Freese in the first inning. Before walking Taylor, Price had retired 14 consecutive Los Angeles batters.
The Boston Red Sox are World Series champions. I will be saying that every day, multiple times a day, until spring training. pic.twitter.com/C3CYLICvav

— Jared Carrabis (@Jared_Carrabis) October 29, 2018
Clayton Kershaw was denied a championship once again, and has yet to decide his fate for next season and beyond.
"I haven't made the decision yet," said the Dodgers ace. "We have three days to talk, between us and the Dodgers, see what happens. And then we'll go from there."
Kershaw has two years and $70.2 million left on his current deal, but he also has an opt-out clause in his contract. There is no way he will get an average annual value of over $35 million anywhere else, but he will likely get more years and more total dollars if he opts out, so I imagine he will. The Dodgers will have to decide if they are better off keeping their face-of-the-franchise pitcher or letting him leave for more money.
World Series News & Notes
From April 1 until last night, Boston spent only one day behind in the standings or behind in a playoff series — and that was when they lost Game 1 of the ALCS to Houston.
The Red Sox finished 2018 with 119 total victories.
Dodgers manager Dave Roberts' contract officially ended with the loss. Roberts took a ton of criticism — including a bashing by Donald Trump on Twitter — for pulling starter Rich Hill with a four-run lead in Game 4, only to watch the LA bullpen allow nine runs in a 9-6 loss. Roberts was booed by the home crowd before last night's game but expects to manage the Dodgers next season.
Kershaw has now worked 152 postseason innings. He's allowed 78 runs, 74 of which were earned. Despite having thrown at least 200 innings five times in his career and more than 170 eight times, he has never allowed as many as 74 earned runs in a season.
The Red Sox are the early favorites to win the 2019 World Series, tied with the Astros at 6/1. The Cubs and Indians are 10/1.
The Red Sox continued to troll the Yankees, blasting "New York, New York" during their clubhouse celebration.
Playing "New York, New York" in the clubhouse?

The @RedSox have ZERO chill. pic.twitter.com/xvonvEJ7gr

— Cut4 (@Cut4) October 29, 2018
Hot Stove News & Notes
Go crazy with the speculation, but it's entirely possible Boras was simply trolling Yankees broadcaster Michael Kay when asked where Harper would be playing in 2019. Maybe Harper truly told Boras he wants to leave Washington and sign with a new team (the Cubs and Phillies are probably the only realistic possibilities because the Yankees and Dodgers are set in the outfield and have other needs), but its not like Boras to give up that type of negotiating leverage.
Of Note: Although players are free agents as of 9am on the day after the World Series concludes, they cannot sign with a new team for five days after that. This gives the team they played for this season an exclusive negotiating window. Harper could only sign with Washington through November 2, after which any team can sign the right fielder.
The Cubs seem likely to pick up left-hander Cole Hamels' option for 2019, per Jon Heyman.
Theo Epstein would like to see better results next season on his investment in Yu Darvish.
Macahdo's home slash line during five seasons with the Orioles was .296/.352/.536 and in every other park it was .273/.338/.487.
Per Jon Heyman, one GM estimates Machado's contract to come in around $225-230M.
One free-agent target for the Cleveland Indians could be Marwin Gonzalez.
The Yankees have to decide whether or not to pick up Brett Gardner's $12.5M option.
Derek Holland is hoping to stay with the Giants after resurrecting his career in San Francisco this season.
The Mets have officially hired former agent Brodie Van Wagenen (who has represented Jacob deGrom, Noah Syndergaard, and Yoenis Cespedes) as the team's general manager.
Jim Riggleman will not be returning to the Reds in any capacity next season.
Former White Sox player and manager Ozzie Guillen wants to manage again.
Extra Innings
Am I really stuck with football until the Owners Meetings next month? I do like what the Seattle Seahawks are doing with their touchdown celebrations.
The @Seahawks with the perfect Nolan Ryan re-enactment ? pic.twitter.com/voUDj4DJGI

— The Checkdown (@thecheckdown) October 28, 2018
They Said It
"This has been the funnest year of my life. You never know where the game will take you. And I've gone through a lot in my life or in my career to be here, and I couldn't be more thankful." – Steve Pearce
"There was a mass shooting yesterday. I understand [Trump] is watching the World Series, but there was a huge tragedy that happened and people will say what they want to say. The focus, in my opinion, of the president is to be on the country, and not on moves that are made in a World Series game." – Rich Hill
"My plan is to manage the Dodgers. I love the city. I love the organization, everything that it's about. And I love the high expectations. And that's the way it should be. I can always get better." – Dave Roberts
"We know who the team is, it's already completed and done. But Bryce has told me he wanted to tell you personally, so I'm gonna let him do that." – Scott Boras
Monday Walk Up Song
Mother & Child Reunion by Paul Simon. No, I would not give you false hope on this strange and mournful day. I truly believe Harper and Boras are trolling just a tad.