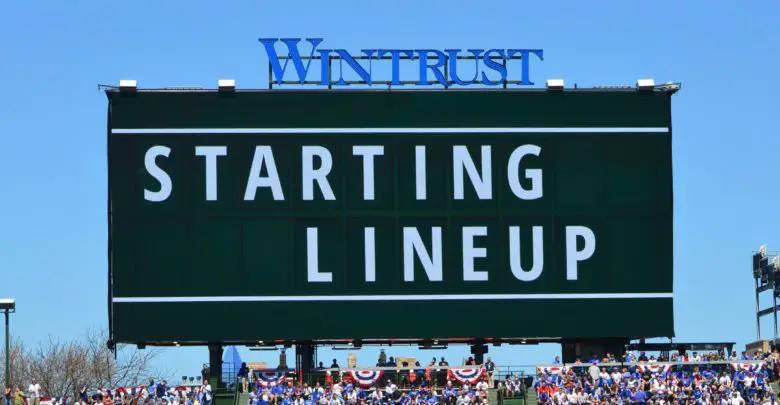 Chicago Cubs Lineup: Zo in RF, Heyward in CF, KB at 3B, Hamels Tries to Go Extra Miles
The magic number remained at two after the Tigers were unable to hold the Brewers last night. But the Cubs still have their destiny in their hands as they head into this penultimate game.
Daniel Murphy leads off with Ben Zobrist in right and Anthony Rizzo at first. Javy Baez cleans up, Jason Heyward hits fifth, and Kris Bryant remains in the suddenly-familiar six hole. Ian Happ is in left and Victor Caratini catches.
Bryant has been down in the lower portion of the order for a while now as he eases back into things. It's potentially as a way to offset a drop in power since shoulder issues curtailed his season back in May, but a monster home run yesterday says otherwise. You may notice another change in the order as the pitcher bats last.
Cole Hamels gets his first taste of the Cubs/Cardinals rivalry as he tries to get his team one win closer to the NL Central title. Aside from his disastrous start in Arizona at the end of that 30-day stretch, the lefty has been an ace. The Cubs will need that from him again as they face the unlikely ace of the Cardinals' staff.
Miles Mikolas was somewhat under the radar after pitching in Japan, but he's risen to prominence since signing a two-year, $15.5 million deal this past winter. The 30-year-old righty has held the Cubs to four earned runs over 18 innings in three previous starts this season, but he's allowed 19 hits and has struck out only 12 in that time.
The key to his success this season has been throwing pitcher's strikes and generating tons of contact on the ground. His 1.35 BB/9 mark is the lowest in the majors among qualified pitchers and his 0.75 HR/9 is sixth-lowest. He doesn't miss many bats, he just doesn't get hit hard or well. It's possible, however, that Mikolas is hitting a wall now that he's set a new career high for innings pitched.
His previous high-water mark was 188, set last season in Japan, and he's at 192.2 innings heading into this game. But Mikolas started to tail off over a month ago and his last eight starts show that he's far from indomitable. Of the 16 total homers he's allowed on the season, seven have come in the last 48 innings (1.30 HR/9). His groundball rate has also dropped, from just over 50 percent to an even 46 percent.
One thing that hasn't gone up is the walks, as the righty has handed out only four free passes in the last nine games (0.65 BB/9). He will throw strikes early and often, so it's a matter of picking out pitches and striking them with authority. That's easier said than done against a repertoire that features almost equal distribution of four-seam, slider, sinker, and curve. He's got an occasional change as well, but the slider is the real gem.
Only Patrick Corbin's has generated more overall value and only Blake Snell's is better on a per-pitch basis. Righties will see the slide-piece more frequently, and at a higher percentage when they're actually ahead in the count. Lefties get a lot more curves, but Mikolas is very confident with all of his pitches in any count and to any batter.
Lefties have gotten the best of him, particularly on the road, posting a .308/.343/.466 slash with a .345 wOBA when facing Mikolas away from Busch. Righties…oof. Again, the key here is going to be hunting strikes. The Cubs can't just be trying to walk all day against a guy who hasn't walked more than two in his last 14 starts and hasn't walked more than one in his last eight.
First pitch is at 12:05pm CT on FOX and 670 The Score.
Game 161.

Preview: https://t.co/kANZcoVdzT pic.twitter.com/N3TAaqcA0T

— Chicago Cubs (@Cubs) September 29, 2018