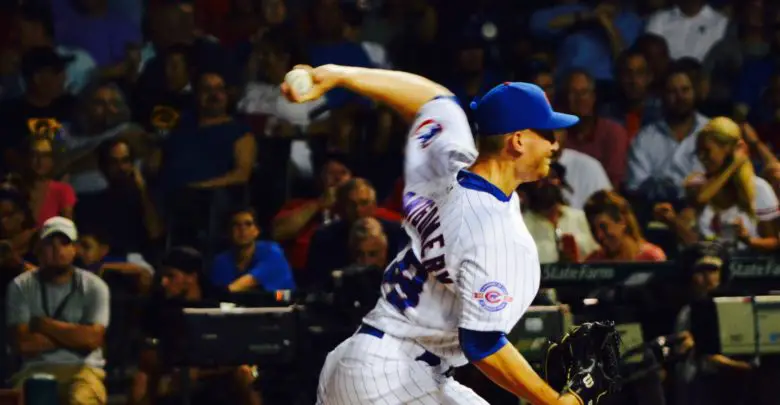 Mike Montgomery Throws Most Changeups Ever, Continues to Barrel Through Opponents
I don't know who that was out there on the mound for the Cubs in Arizona Tuesday night, but it wasn't Mike Montgomery. This isn't some full-on They Live impostership or anything, but Monty apparently came to the desert prepared to do two things: Chew bubblegum and kick ass. And as the Diamondbacks quickly discovered, the lefty was all out of bubblegum.
With a Ketel Marte home run standing as his only real blemish, Montgomery mowed down his opponents with a unique array of pitches that featured the offspeed pitch as his weapon of choice. According to Baseball Savant, the 29 changeups he unleashed were the most he's ever tallied in a game and also represented a higher percentage (30.9) of his pitches than in any other start of his career.
Out of the 16 total swings and misses Montgomery induced, a career-high 11 came on the change. His seven strikeouts on the change (six swinging) were also the most he's ever recorded with that particular pitch. Even MVP also-ran Paul Goldschmidt was powerless against the yo-yo, going 0-for-2 with a strikeout and groundout while whiffing twice.
If that last part strikes you funny, it's probably because you're conflating whiffs with strikeouts when the former simply means swinging and missing. Of course, we just saw that seven of the 11 whiffs Monty got did indeed result in K's, so the two are nearly one in the same here. That's a trend that's been on the upswing for him since he came back from the DL at the end of August, culminating in Tuesday's masterful effort.
It all stems from being willing to shake things up and find new ways to make his pitches work, which was evident not just in how often Montgomery threw the change, but where he was locating it. In the below heat map of his changeup location from the 2018 season prior to Tuesday's start, we can see that 70.25 percent of those pitches are in the lower two-fifths of the map.
Against Arizona, however, 16 of Montgomery's 29 changeups (55 percent) would have been in the upper three-fifths of the heat map. I say "would have" because my data was drawn by hand — literally, I tracked it in my notepad — from the information available through MLB.com's Gameday feature. Even accounting for two or three borderline offerings, we're talking at least 13 pitches in that upper portion.
So Monty pitched higher, both in and out of the zone, at a rate somewhere between 50-85 percent higher than his average. And what really makes that wild is not just the large sample of changeups, but the fact that you don't normally want that pitch up in the zone. Such location typically indicates that the change has "flattened out" and isn't tumbling like it's supposed to.
But, and this is what I dig about the strategic aspect of the game, you can get really good results when you are being intentional with a counterintuitive approach. That's something we saw to an extent with Kyle Hendricks and his changeup usage against the Brewers earlier this month, when he generated a great deal of whiffs while maintaining a different approach based on handedness.
While Montgomery maintained a more traditional mix, throwing 28 of his changeups to right-handed batters, the whole point is that he defied both logic and the scouting report by working up in the zone. He also established that strategy early, throwing seven of his first 10 changeups in that upper 60 percent referenced above. That ratio then dropped to five of his next 10 and four of his final nine.
He alternated between high and low, in an out, forcing the D-backs hitters to throw out the book and just guess at what might come next. It didn't hurt that the Cubs jumped all over Matt Andriese and subsequent relievers, allowing Montgomery to relax and pitch with a little more freedom. Circumstances aside, recent performance offers a great deal of confidence in the lefty's ability to solidify a bullpen that is somewhat in flux no matter what Theo Epstein says about it.
Montgomery will almost certainly flex back to a relief role for the postseason, at which point he can even further leverage the change-of-pace he displayed Tuesday night. Not only will he present a new look from the starting pitcher, he's clearly willing to display little wrinkles in his own style during the course of an appearance. That alleviates some of the previous issues he'd had with turning lineups over and makes him a tremendous weapon in the 'pen.
I'd be remiss if closed without following up on something Cubs color man Jim Deshaies noted on the broadcast, which is that Montgomery has one of the lowest barrel rates in MLB (min. 250 batted-ball events). A mere 3.2 percent of contact against Montgomery has been "barreled," and only Noah Syndergaard (8) and Dereck Rodriguez (10) have been barreled up fewer times than Montgomery (12).
That's all in keeping with a 0.69 HR/9 mark that pairs quite nicely with a career-low 2.91 BB/9 and a 51.6 percent groundball rate. While getting outs is obviously the most important thing for a reliever, or any pitcher, avoiding big mistakes is also imperative. That's even more true when playoff baseball shaves the margin for error to nil.
I've long been among Montgomery's more skeptical observers, but what I'm seeing from him since he returned from the DL has me changing my tune. Using a more aggressive, experimental approach now that he's no longer reining it in to keep from gassing out at the end of the season has the southpaw swingman looking like a whole new pitcher.