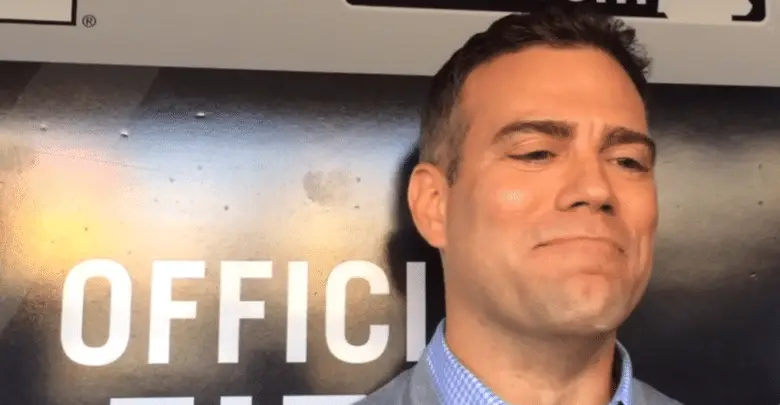 Theo Epstein Destroys Notion of Struggling Cubs Bullpen
Based on his tendency to verbally eviscerate what he feels are narratives regarding his team, I'm starting to think we should refer to the Cubs' president of baseball operations as Eminepstein. Even though he may not study the encyclopedia and try to rhyme words in the middle of sentences, Theo Epstein dropped a vicious diss track aimed at those who'd question his relief corps.
"I honestly think the quality of our bullpen is being overlooked," Epstein told MLB.com's Carrie Muskat. "It'd be nice if we could be one of those teams that has the best bullpen ERA in the league — oh, wait, that's us, by like a third of a run, and it's more than one or two guys."
While it's not quite as epic as his "they're all wearing rings" mic drop from July of last year, this latest effort still has some punch.
Sure enough, the Cubs' 3.30 ERA is 0.22 runs better than the Padres for best in the league. The pedant in me would correct Epstein's math if not for fear of the acerbic response. Although the cat's probably out of the bag anyway, since I'm sure he'll see that it's really only a fifth of a run when he inevitably reads this later.
He no doubt referenced ERA because it's the lowest-hanging statistical fruit, but it's not the only area in which the Cubs lead the league. Their .222 batting average allowed is eight points better than San Diego and their 0.79 HR/9 (home runs allowed per nine innings) is also the best in the league by just a hair over San Francisco (0.81).
The Cubs made a big deal about targeting proven strike-throwers, and, though it's neither close to the best in the league nor a marked improvement over last season, their 4.14 BB/9 is slightly better than last year's mark (4.25).
And they've done all this despite relying heavily on revolving-door reinforcements from Iowa and several late-season additions, some of whom were considered lost causes by their old teams. Oh, the Cubs have also lost two closers at various points.
"It's not exactly the way we drew it up, but we have quality relievers out there who are unafraid of going at guys and making pitches," Epstein explained. "We feel confident we'll protect leads. It's just a matter of getting those leads."
The outlook could be improving soon as well. Brandon Morrow pitched a sim game Saturday and could be activated in the next few days, and Pedro Strop is confident he'll return sooner than initially expected.
"I think I'll be back soon," Strop declared. "They said [I won't pitch] in the regular season, but in my mind it'll never be that. I'm thinking at least two appearances before the playoffs."
The exact plan for Morrow remains a little murky as the Cubs continue to monitor his readiness to return to action. He's been dealing with a bone bruise in his right elbow, an injury not entirely unlike the one that shut Yu Darvish down for the season. And though the pain has subsided over the last several weeks, Morrow admittedly isn't sure exactly how he'll react when he goes all-out on the mound.
"If he comes back and he's healthy and effective, we would certainly be open to [having him close again]," Epstein said of Morrow's immediate future. "We're not there yet."
In the meantime, other relievers have been pressed into higher-leverage situations and have gained experience and/or confidence. Heck, Justin Wilson needed only one pitch to retire the Diamondbacks Monday night. Carl Edwards Jr. may be coming back around after a string of rough outings that highlighted what has really been poor performance since the start of August. Even Dillon Maples could be settling in.
Regardless of how well the group has pitched on the whole and how soon they can get some integral arms back, the best way to make the bullpen look good is for the offense to score a ton of runs. Wait, that's the best way to make me feel good about the bullpen. Whatever, it all works out the same way in the end.