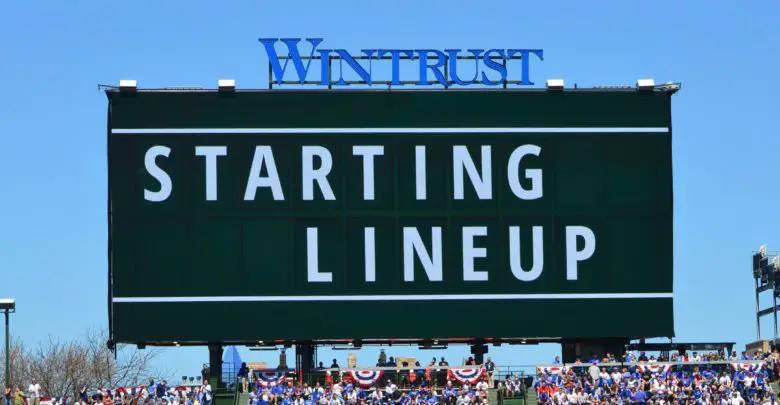 Chicago Cubs Lineup: Murphy Leads Off, KB at 3B, Heyward in RF, Montgomery on Mound
Daniel Murphy will lead off tonight at second base, Kris Bryant is back at third, Anthony Rizzo bats third, and Javy Baez cleans up at short. Ben Zobrist is in left, Willson Contreras catches, Jason Heyward is in right, and Ian Happ bats ninth in center.
Can you imagine a year ago being excited to see Heyward in there? Or being concerned that Murphy is pacing the order? What strange times these are. Monday's win was one of the few breathe-easy games the Cubs have had lately and maybe it'll get them going.
Bryant is showing that he's got his timing back and Contreras is putting some better swings on the ball lately. If Murphy can put it back together…whoa.
Mike Montgomery is slated to make his fourth start since coming off the DL at the end of August, and it'll be his career-high 17th start of the season. He's still more than 300 pitches below the high-water mark of 2,075 he set last season and should come up shy of that even with two subsequent appearances after this one.
The southpaw has failed to complete five innings in his last three starts, some of which is bad fortune and/or Joe Maddon playing the matchup game. For obvious reasons, it'd be great to see Monty go a little deeper in this one.
On the mound for Arizona will be 29-year-old righty Matt Andriese, who'll be making his first start with the Diamondbacks and just his fifth in 40 total appearances this season. Andriese came to the Diamondbacks from Tampa in a July trade and has worked primarily as a swingman through parts of four seasons.
His four previous starts in 2018 were sporadic, with the most recent coming on July 4 at Miami. Andriese lasted just two innings in that one and hasn't completed four frames in any of his appearances this season. Some of that is rooted in the Rays' penchant for bullpenning, but the moral of the story is that he's not very well stretched out.
Andriese is almost exclusively a fastball/changeup guy, using those two pitches for 88 percent of his repertoire. He will throw the curveball frequently to lefties, typically as a first pitch, but it makes up only eight percent of his offerings otherwise. The curve is actually his highest rated pitch this season, largely because he catches hitters off-guard with it.
The fastball sits 93 mph and the change is a firm 86-87 with more 12-6 drop than the typical glove-side tumble you might see from other offspeed pitches. As such, he's equally comfortable using it against batters on either side of the plate, often as a strikeout pitch. Keeping it low also generates a lot of grounders, though Andriese is prone to hanging pitches and giving up homers.
A lot of that hard contact is generated by righties, which results in monster reverse splits both this season and in his career. Righties have posted a .372 wOBA that is 100 points higher than their lefty counterparts in 2018, though things have changed recently. During his D-backs tenure, lefties are posting a .437 wOBA and righties a .436 over 16 total innings.
Andriese has allowed six homers since coming to the desert, so you have to wonder whether the decrease in humidity is impacting him. His 1.69 WHIP is a nice sign for the Cubs, who should be feeling pretty good about themselves after last night's performance.
First pitch is at 8:40pm CT on WGN and 670 The Score.
Here is tonight's #Cubs starting lineup against the #Dbacks.

Game preview: https://t.co/lnl5KMnSjQ #EverybodyIn pic.twitter.com/BFk5HH8MvP

— Chicago Cubs (@Cubs) September 18, 2018