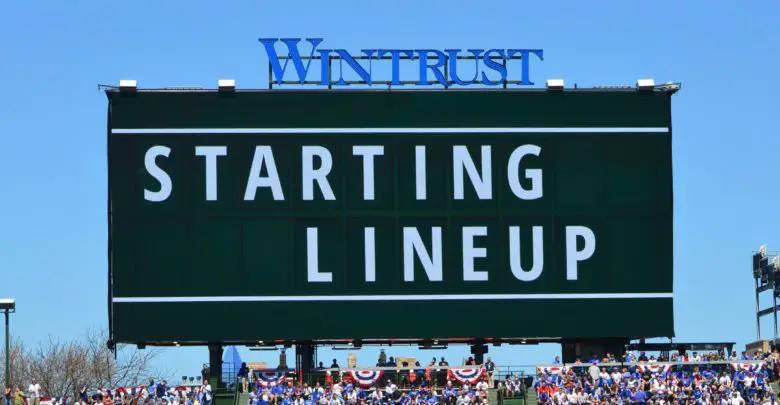 Chicago Cubs Lineup: Almora Leads Off, Russell Fifth, Caratini at 1B, Lester Back on Mound
Well, this lineup certainly is something. Albert Almora Jr. leads off in center, Kris Bryant is in right, Javy Baez is at second, and David Bote is at third. Addison Russell is batting fifth at short, Willson Contreras is catching, Victor Caratini is at first, and Ian Happ bats last in left.
This all-righty order is aimed at leveraging a pretty massive platoon advantage, something you'll read more about later, so it makes some sense despite appearing unorthodox at first blush. It's also very solid defensively, particularly up the middle, which is good for the starting pitcher.
Jon Lester left his last start with lower back stiffness, but therapy and pharmaceuticals have him ready to get back in the saddle this afternoon. His most recent start against the Reds came near the end of the second half and wasn't very pretty, as he allowed four runs and struck out only two with three walks. That was part of a stretch in which Lester was stubbornly sticking with stuff that wasn't working, after which he loosened up a little.
While I'm not necessarily advocating that he pitch to contact, I'd really love to see Lester go out and throw strikes. Getting some outs on the ground or in the air early would allow him to settle into a groove and would keep him from taxing that back too much. The Reds have some danger in that lineup, though, so it's not a given that he can just go out and dominate.
Attempting to keep the Cubs down will be 25-year-old Cody Reed, a big lefty who'll be making his fifth start of the season. Reed has faced the Cubs twice this year already, both times as a reliever, and has given up just one hit and one walk while striking out four over 2.2 innings.
He's not been great as a starter, allowing 15 runs (13 earned) over 16.2 innings and racking up 14 strikeouts to eight walks. Reed has also allowed 22 hits in that time, leading to a 1.85 WHIP that may not play well against a team that is now replete with waffle irons.
This is why @cubs fans are the best. 3 new waffles makers for the dugout from the fans! #cubsnation pic.twitter.com/JLXCnQEPcM

— Ian Happ (@ihapp_1) September 14, 2018
The Cubs are going to see mostly fastballs and sliders, maybe a few changeups to righties. Reed uses the four-seam and sinker with the same frequency, but he almost never throws the latter to lefties. Once he gets ahead in the count, it's all about the slider. Lefties will see it about 70 percent of the time and righties around 50 percent if they fall behind.
Reed can touch the mid-90's with his fastball, but the conversion to a starting role has seen his average velocity tick down to around 92.5 from above 93 mph earlier in the season. His power slider and changeup both come in around 87, so there's some deception there without a huge velo gap.
The splits show that righties have raked against Reed, both this season and over the course of his career, largely because that slider isn't nearly as big a weapon against them. He's allowed a .953 OPS and .399 wOBA to right-handed hitters overall, though he's reduced those to .861 and .365 this season.
This has all the earmarks of an offensive explosion for the Cubs, which is exactly why they'll come out and fiddle-fart around for three or four innings. They really should be able to get over on Reed, who hasn't gone deeper than five innings this season and tends to fade hard after turning the lineup over.
First pitch is 3:05pm CT on NBC Sports Chicago and 670 The Score.
Here is today's #Cubs starting lineup against the Reds. #EverybodyIn

Stream on @YouTubeTV: https://t.co/t4XvcdoeJc pic.twitter.com/kLC9RH3SkT

— Chicago Cubs (@Cubs) September 15, 2018