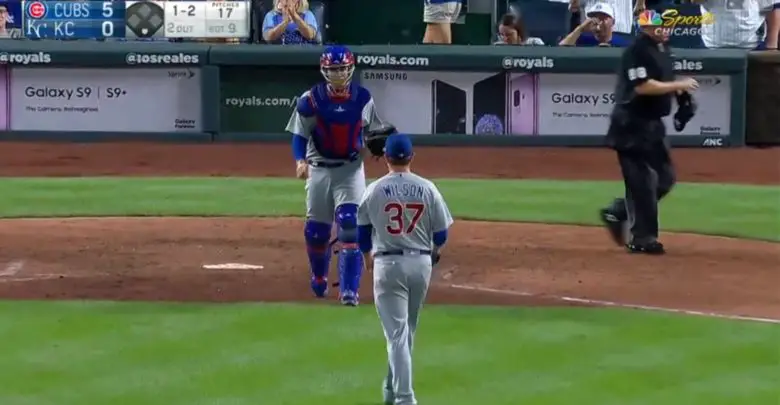 The Rundown: Analyzing Closer Options, El Mago Back on Track, David Wright Announces Retirement
Long Rundown today. My apologies, lots to cover.
Pedro Strop is "probably out for awhile," and that sums up a Cubs extra-inning victory over the Nationals that feels a lot more like a loss. I don't want to rehash the chain of events that cost the team their closer — you can read all about it in Sean Holland's game recap — but crying over spilt milk won't get the Cubs any closer to their second World Championship in three years. The team had bullpen problems before Strop injured his hammy, and now a patchwork relief corps that seems to be a weakness every year needs to find a way to help navigate this team through the regular season and playoffs.
At least in 2016 and '17 the Cubs had Aroldis Chapman and Wade Davis. This year it looks like it will be a pot luck of sorts, unless you really believe Brandon Morrow and his fragile pitching arm can hold up for six more weeks. That's if he really gets activated in the next 7-10 days. I still have my doubts.
Let's work through this together and see if we can come up with a plan to get this team through October. First we should decide who cannot close for this team:
Steve Cishek – Whether its overuse, lack of command, or propensity to give up bit late-inning hits, Cishek needs to be a one- or two-out specialist and he shouldn't enter the game with men on base, particularly in the playoffs.
Carl Edwards, Jr. – When he is on he is lights-out. When he is lost, he's a hot, greasy mess. He's lost right now.
Jesse Chavez – If the past is any indication, Joe Maddon feels the need to close games as early as the 5th and 6th innings once the Cubs get to the playoffs. Chavez will be his go-to guy in these types of situations.
Jorge De La Rosa – If Morrow and Strop are available to pitch, De La Rosa might be left off the playoff roster. Otherwise, he's best when deployed similarly to Chavez.
Mike Montgomery – He could close, but I think he is a better fit when the team needs a reliever to provide an inning or two to bridge the gap to the 8th or 9th innings.
Brandon Kintzler – Nope, next please. Probably won't make the playoff roster.
Brian Duensing – See Kintzler.
Dillon Maples – The rookie is likely not in the team's plans this year.
That leaves you one of the following three:
Brandon Morrow – I still don't think he can be counted on to perform, if he can pitch at all. It would be asking an awful lot to depend on that arm across 10+ regular season games and potentially 19 or 20 playoff games.
Pedro Strop – How bad is that hammy and how effective will he be when he is undoubtedly rushed back?
Justin Wilson – This has to be the choice. He's closed before, though not likely in any games of monumental significance, and he's been much more effective since a slight change in his mechanics.
The bottom line is this: the Cubs will enter the 2018 playoffs with probably the worst bullpen of any of the 10 teams that make it to the dance. Chicago will need to rely on offense, defense, and starting pitching if they hope to capture a championship this season.
Cubs News & Notes
Javier Baez had a breakout game yesterday. El Mago  essentially won a must-win game with a surprise bunt in the 10th inning to score Kris Bryant. He also homered in the 6th inning, his first tater since September 2 at Philadelphia.
98 mph in, @javy23baez out. pic.twitter.com/iluJzm4NHT

— Chicago Cubs (@Cubs) September 13, 2018
Cole Hamels will take the mound for the Cubs in tonight's game vs. Cincinnati. The de facto ace has dominated the Reds throughout his career with an 11-1 record and a 1.86 ERA in 16 starts. In his one start against the Red Legs this season, Hamels allowed eight hits and two walks and just one run in Chicago's 7-1 victory.
Bryant is hitting .325 (13-for-40) since his Sept. 1 return, though he's still waiting on his first home run after the long rest.
How About That!
The free-falling Diamondbacks have dropped to 4 1/2 games behind Colorado in the NL West and they go to Houston to play the Astros, followed by a three-game set at home against the Cubs. Barring a miracle of sorts you can probably count them out of the postseason.
With a 9-7 win at home against the Cardinals last night, the Dodgers are now just one game behind St. Louis for the second wild-card spot in the NL. Los Angeles trails the Rockies by a game and a half in the NL West. Still, the SportsLine Projection Model has the Dodgers at a 70.3 percent chance of winning the NL West while the Rockies have just a 24.7 percent chance.
With a home run in the 1st inning, Nolan Arenado became the fourth player in Colorado Rockies history with four straight seasons of 30 home runs and 100 RBI. Two innings later, shortstop Trevor Story hit his 33rd home run of the season, establishing a new single-season record for Rockies shortstops. Story certainly makes a strong case for NL MVP.
The Red Sox are 55 games over .500 for the first time since 1912.
David Wright and the New York Mets made the announcement on Thursday that Wright will be returning to the Mets lineup during the final homestand to mark the end of his playing career. After Wright's emotional presser indicating his plans to retire, Mets fans took to Twitter to express their devastation.
Speaking of the Mets, after last night's sweep New York has won 7 of their last 10 games. Their game one victory featured back-to-back home runs for the walk-off.
More Mets: Mark Shapiro and Ben Cherington are on the radar as the Metropolitans search for a new GM, hoping to have someone in place ahead of the Owners Meetings in early November.
Thursday's Three Stars
Javy Baez – The NL MVP candidate homered, doubled, and plated the eventual winning run on a safety squeeze. He's now batting .295/.330/.568 on the season.
Manny Machado – The Los Angeles shortstop had three hits, including a home run, and three RBI in the Dodgers' win over the Cardinals.
David Wright – Seven All-Star appearances, two Silver Sluggers, two Gold Gloves, and NL Defensive Player of the Year in 2012. It's been a helluva career for the Mets third baseman.
Extra Innings
First baseman Anthony Rizzo boarded the flights to and from Washington in full uniform. That's just the kind of silliness this team needs to ease some of the tension of a tight race. Rizzo understands this is entertainment, and going all sixes and nines every once in a while to lighten things up isn't such a bad thing.
Anthony Rizzo, that nice young man, wore his uniform on the plane and says didn't pack any pants/extra clothes for the 1-day trip to Washington.https://t.co/zbUbAAVIka (video by @PWSullivan) pic.twitter.com/QSrlMwcyyT

— Amanda Kaschube (@amandakaschube) September 13, 2018
They Said It
"I needed the baseball stuff and I needed the games for my body to finally tell me, 'It's not happening. It's not working.' From everything the doctors have told me, there's not going to be any improvement. Some days the pain could be moderate and manageable. Some days it was too much to be thinking about baseball. … It's debilitating to play baseball." – David Wright
"Everything that happened in that game, how hard we fought to win that game? Exhilarating. But losing [Strop] at that point, possibly or probably for a bit, takes a little bit of the exultation out of it. It's tough. It was tough to watch him pull up." – Joe Maddon
"If you had told me that I was going to get beat by Javy in extra innings, I would not have thought it would be on a bunt. But that's what makes him dangerous is he can beat you a number of different ways. And he put it just out of the reach of [Ryan Zimmerman]. I saw it go up off his bat and I thought we had a chance to catch it, but it was just far enough over." – Sean Doolittle
"I do not have a change of clothes. One day in and out of D.C., got to get the game in. We're flying into a state of emergency with rain in the forecast. It's just kind of a joke, so why not keep joking around about it and keep having fun?" – Anthony Rizzo
Friday Walk Up Song
Wake Me Up When September Ends by Green Day. The team's temporary theme song, no doubt.