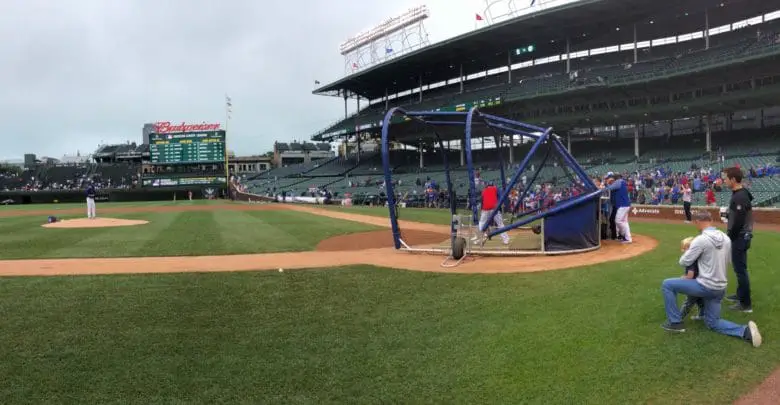 Drew Smyly Physically Ready, Cubs Being Careful After Rehab 'Ran Out of Runway'
The Cubs knew lefty Drew Smyly would miss most or all of the 2018 campaign when they signed him to a two-year deal this past winter. He was still working back from July 2017 Tommy John surgery and the understanding was that anything he'd be able to provide the team this season would be gravy. But that gravy started to looking pretty enticing after injuries and poor performance ate up a lot of the other food on the table.
The club's primary pitching acquisitions, Yu Darvish and Tyler Chatwood, have been disappointing for different reasons and the starting rotation has been largely inconsistent. And while the bullpen was outstanding early in the season, it's starting to pull apart at the seams a bit as the increased workload demanded by the rotation's issues takes a toll.
So when Smyly started throwing and appeared to be somewhat ahead of schedule, there was hope that he'd be able to provide a shot in the arm down the stretch. But his progress slowed following his initial simulated game and expectations reduced to a simmer. Then the heat was turned back up as he struck out the side for the South Bend Cubs in his first inning of live action since September 2016.
Then Smyly's subsequent scheduled appearance in the Iowa Cubs' final game of the season was cancelled due to rain, leaving the Cubs in a quandary. While he is obviously physically able to pitch, he's thrown exactly one inning in actual competition over the last two years. Maybe a team like the Reds, who have nothing but draft position and pride to play for, would be comfortable giving such a player significant action.
The Cubs, on the other hand, are embroiled in a division race that figures to go right down the end and can't just afford throw anyone out there. [Checks notes, sees they've activated Brian Duensing and Tyler Chatwood while continuing to use Brandon Kintzler in close games].
Okay, so maybe they can finagle a way to get Smyly into the bullpen mix despite the reduced margin for error. Given the death of alternatives, that's what the Cubs are going to have to do. Pitching coach Jim Hickey spoke to the delicate situation during his weekly appearance on 670 The Score's Mully & Haugh Show.
"Drew Smyly, you're gonna have to treat him with kid gloves just because of the lack of build-up that he's had," Hickey admitted. "He's just kinda…he's run out of runway a little bit in terms of the rehabilitation process. He got rained out of his second minor league start, but he did through a simulated game yesterday and he threw it very well.
"And I think he's probably physically ready to go into a ballgame, but it's gonna be a tough decision to stick Drew into a major league baseball game with only one minor league rehab inning under his belt."
That might sound like a contradiction, but consider the emphasis the Cubs place on the mental side of the game. Hell, just think of it from the most basic standpoint of building up to anything big. Just because a kid with a learner's permit has driven a couple hours with mom riding shotgun doesn't mean he's ready to hit the open road on his own.
At the same time, Smyly isn't some high school phenom the Cubs just drafted in June . He's got over 570 big league innings to his credit, so the key will be bringing him along and finding the right situations in which he can have success. That's as much about building his confidence as it is his stamina, both of which are going to be important in October.
Smyly is eligible for the postseason since he has been part of organization this whole time, though the chances of him earning a playoff spot are only slightly better than Lloyd Christmas's with Mary Swanson. There is, however, another lefty in the organization who might have a good shot at supplanting one of the current go-to arms.
"Jaime Garcia's a little bit different than the people that we called up from within our own system…because you can see him as a left-handed specialist type of a guy," Hickey said. "He can also strike out a right-handed [hitter], so he's not someone that you're really tentative about putting him into the ballgame.
"I think he fits right in when he's ready to go, whether that's today or tomorrow. He faces a guy like a (Travis) Shaw or [Christian Yelich]."
Garcia's overall numbers are troubling, but he has limited the 89 lefty batters he's faced this season to a .183/.250/.388 slash with a .274 wOBA. What's more, he walks only 2.38 lefties per nine innings as opposed to 5.57 righties. That 2.38 BB/9 would be the lowest among all Cubs pitchers who've thrown at least 10 innings against lefties this season.
The moral of the story is that reinforcements are on the way, though I'll let you decide how to feel about the Cubs perhaps having to rely on one guy who hasn't pitched in two years or another who they got on a minor league deal.