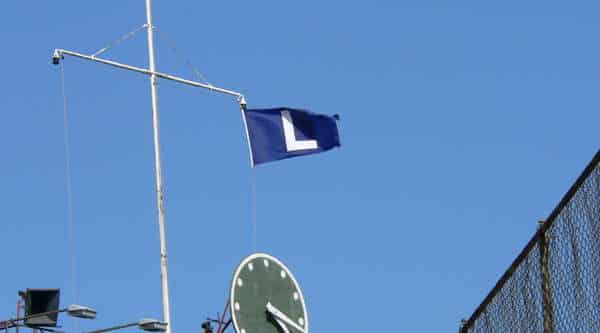 CI Recap (9/3/18) – Brewers 4, Cubs 3: Sloppy Cubs Walked Off By Brewers
The Cubs were playing the best they have all season entering the game in Milwaukee Monday. In  close games like this one, every play is crucial. But the Cubs made a series of timely mistakes that would eventually give the Brewers a key win.
The first run of the game came, ironically enough, on a error by the home team. Javy Baez reached on a bloop single in the 1st inning against Zach Davies. Anthony Rizzo followed with a single to center and Javy tried for third, when Lorenzo Cain lost his grip on the ball and spiked it in the ground. El Mago never stopped running and beat Cain's throw home to make it 1-0.
Cole Hamels was great through four innings and held the game at 1-0. A one-out single by Orlando Arcia in the 5th seemed harmless, especially after Hamels got the next out. But with Cain batting, Arcia broke for second on a pickoff attempt. Things got weird at that point, and it appeared Daniel Murphy made an error by missing the throw to second and allowing the runner to reach. A full three innings later, it was announced Hamels balked on the play instead.
Whatever the ruling, the Brewers had a man on second who scored the tying run when Cain singled to left. Kyle Schwarber threw home, allowing the Milwaukee center fielder to reach scoring position. He then came home when Christian Yelich singled to make it 2-1 Crew.
Josh Hader came on and breezed through the 6th and 7th innings, but it wasn't so easy for the lanky lefty in the 8th. Ian Happ walked and would score when Rizzo blasted a two-out, two-run bomb to right. It was the first homer Hader has ever allowed to a lefty and gave the Cubs a 3-2 lead.
Unfortunately, the lead didn't even last a full frame. Carl Edwards Jr. allowed two singles and a walk to load the bases with two outs. Joe Maddon decided to ride with his reliever against pinch-hitter Mike Moustakas, which proved a mistake, Edwards walked Moose to force in the tying run, after which both Maddon and Edwards were ejected for arguing balls and strikes.
Steve Cishek got out of the 8th before falling apart in the 9th. He walked Erik Kratz and hit Arcia trying to bunt. Curtis Granderson struck out, but not before a Willson Contreras dropped ball allowed both runners to advance. Cishek gave way to Jesse Chavez after hitting Cain to load the bases. Yelich ripped a grounder to third that Kris Bryant snagged, but a run scored when Bryant was unable to get the double play by throwing to first. (Box score)
Why the Cubs Lost
Failure to execute came back to haunt the Cubs Monday. Missing cutoff men, balks, walks, and hit batters led to the Milwaukee offense. The Brewers didn't win so much as Chicago lost it.
Key Moment
Bryant should have gone home on the final play of the game, though I don't think it was as easy some on social media would have you think. He made a terrific play just to get that smash; it's possible he didn't have an angle to throw home and Yelich barely beat the play at first. Still, would have been better to try for the runner at the plate.
Stats That Matter
Hamels was very good again: 6 IP, 2 R, 5 H, 5 K, and 1 BB. Other than the two-out rally in the 5th he allowed nothing. It was another quality start for a member of the Cubs rotation.
Rizzo continues to be on fire at the plate. For a moment, it looked as if his homer would be a defining moment of the season.
Happ worked a couple of walks including that huge one against Hader in the 8th.
Bottom Line
That was a really tough loss for the Cubs. They still have a four-game lead on the Brewers so a win Tuesday would be big. Can't dwell on a bad outcome and let it affect the next days contest.
On Deck
Game two of the series is Tuesday at 7:10pm CT. Mike Montgomery takes on Wade Miley in a battle of southpaws that airs on NBC Sports Chicago.