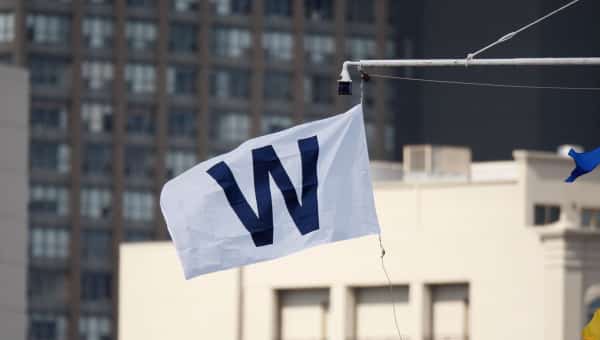 CI Recap (9/1/18) – Cubs 7, Phillies 1: Bryant Returns, Cubs Win Game Number 80
The Cubs dropped an extra-inning game against the Phillies on Friday, wasting an excellent pitching performance and several scoring opportunities. They didn't make the same mistake Saturday night at Citizens Bank Park as they scored early and often to back a quality start from Kyle Hendricks.
Daniel Murphy opened the game with a double to right off of Zach Eflin. Javy Baez hit a chopper to short that he beat out to first. Asdrubal Cabrera made an ill-advised throw on the play that went into right scoring Murphy and allowing Javy to reach third. Ben Zobrist would knock him in with a double to left, making it 2-0 Cubs.
Kris Bryant, back from his shoulder injury, made his presence known in the 3rd inning. Anthony Rizzo singled and KB doubled down the left field line to move him to third. Kyle Schwarber chased both runners home on a triple off the high wall in center.
Four runs were more than enough for Kyle Hendricks, who allowed one run and just one extra-base hit. A run-scoring single from Nick Williams in the 4th was the only blemish.
Ian Happ hit a solo homer to increase the lead to 5-1 in the 7th. David Bote doubled and Baez singled to add two insurance runs in the 9th. Jesse Chavez pitched two scoreless innings of relief. Randy Rosario took the final inning to close out an easy Cubs win. (Box score)
Why the Cubs Won
Pretty simple formula: Dominant starting pitching and early offense. The Cubs jumped ahead in the 1st and the Professor took care of the rest.
Key Moment
Two hits with men in scoring position were probably the deciding factor. Zobrist's double and Schwarber's triple built the Chicago lead. Those hits didn't happen on Friday.
Stats That Matter
Hendricks has been on a roll of late: 6 IP, 1 R, 6 H, 4 K, and 2 BB. His control is much sharper and he is getting great movement on his changeup. When he did get in jams he kept calm and didn't allow the big hit.
Bryant had two hits and handled every chance at third quite well, including a big double play in the 4th inning.
Schwarber has struggled recently, so his big hit with men on was nice to see.
Chavez has been a real find for the Northsiders. He had three more strikeouts in two innings Saturday. Starting to feel really comfortable when he comes in from the bullpen.
Bottom Line
The Cubs got their 80th win and are in very good playoff shape. The biggest development Saturday was Bryant's return to the lineup. Having the former MVP in the heart of the order makes this offense even more scary.
On Deck
The rubber game of the series features two quality pitchers as Jon Lester takes on Aaron Nola at 12:35pm CT Sunday. TBS and WGN provide the television coverage.