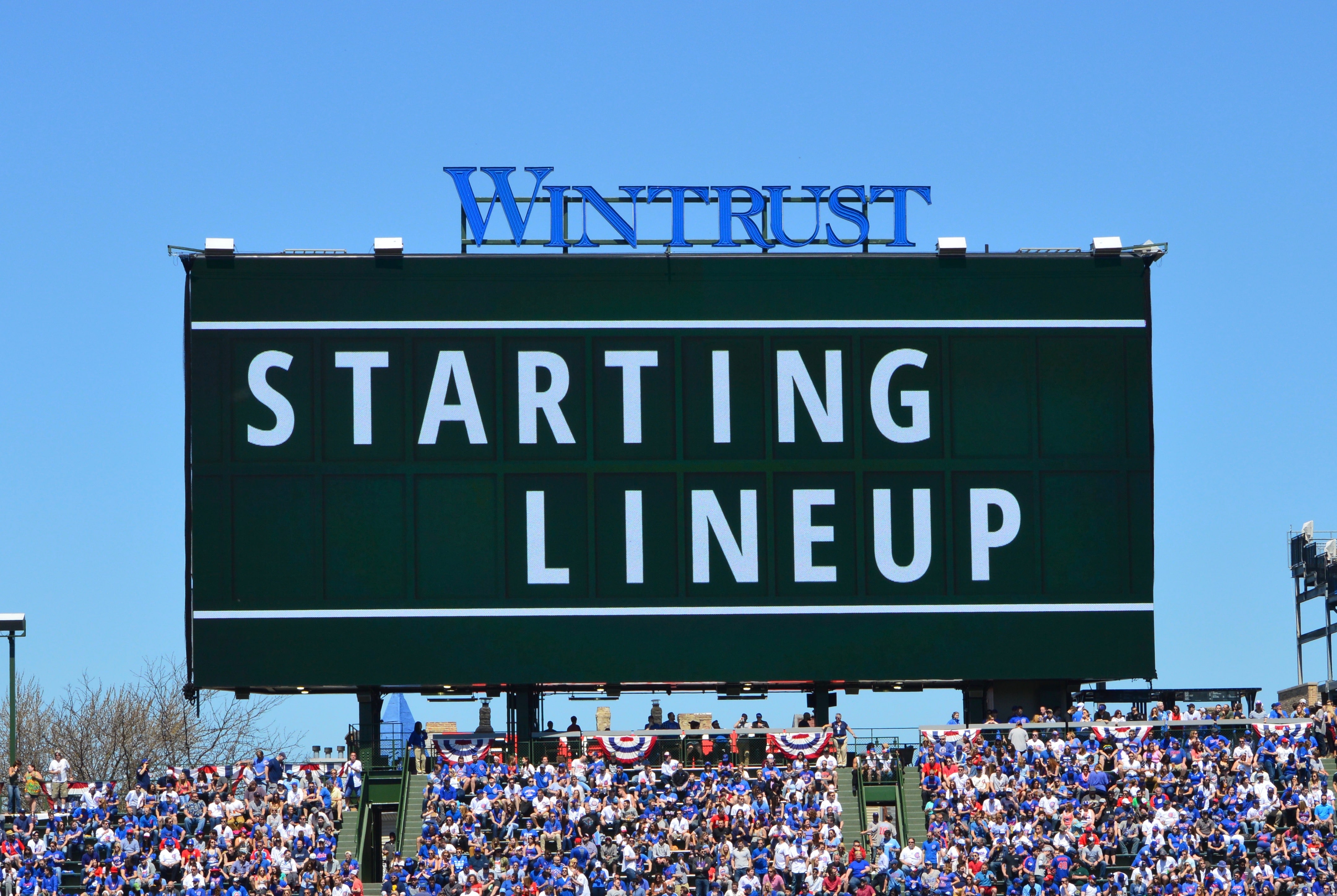 Chicago Cubs Lineup: Schwarber Leads Off, Bote at Short, Mills Pitching Series Finale
Joe Maddon told reporters prior to Tuesday's game that Wednesday's lineup — which I love that he already had set a day in advance — was going to be a wild one, but it seems pretty tame by his standards. It was kind of expected that David Bote would see a little time at short sooner or later as Addison Russell convalesces. Heck, he could even get a little run in the outfield grass if the division lead grows a little more in September.
David Bote MiLB innings played by position:
2B – 2740
3B – 904.1
SS – 344.2
1B – 259
LF – 177.2
RF – 124
CF – 82
P – 7

— Evan Altman (@DEvanAltman) August 28, 2018
Kyle Schwarber will be leading off in left, Albert Almora Jr. is in center, and walk-off hero Ben Zobrist is batting third and playing second. Anthony Rizzo cleans up, Bote bats fifth, Willson Contreras is catching, Tommy La Stella is at third, and Ian Happ is in right.
Alec Mills is on the bump for the second time as the Cubs try to stretch their rotation a little further to allow Mike Montgomery to take as much time as possible. But this isn't just splitting two-ply toilet paper to save money at the expense of a raw rear end. Mills was quite good his first time out last week, striking out eight of the 22 batters he faced in 5.2 innings.
Mills mixed a fastball and sinker with a very effective slider while pulling the string on the change now and then in that first start. Expect more of the same as he tries to keep the Mets off balance and get at least into the 6th again to keep the 'pen fresh during this long stretch of games.
On the mound for the visitors will be 35-year-old lefty Jason Vargas, a dramatic change from the hard-throwing righty duo of Noah Syndergaard and Jacob deGrom. Vargas has been brutally bad in 15 starts this season, posting a 6.95 ERA (5.48 FIP) that includes 14 home runs allowed. He has been in August, though, posting a 4.37 ERA (3.33 FIP) with only two homers in 22.2 innings.
Vargas is a soft-tossing junk-baller whose fastball and sinker sit about 87 and whose changeup is only a few ticks slower. His curve bends in at around 74 and has been his best pitch, but only because it's produced the least negative value for him this season.
Platoon splits against Vargas this year have been negligible, but that's largely due to opponents stacking righties against him. He's faced only 72 lefty batters as opposed to 221 righties, though his career numbers don't indicate any major reasons to attack him that way. This guy just isn't a scary pitcher and should not present the Cubs with any problems that aren't of their own making.
First pitch is now slated for 1:30pm CT and will start as close to that as possible, but no sooner than 45 minutes from the conclusion of Tuesday's postponed contest. NBC Sports Chicago will have the local broadcast with MLB Network handling the out of market duties, and 670 The Score has the radio call.
Here is today's #Cubs starting lineup for the series finale against the Mets. #EverybodyIn

Stream on @YouTubeTV: https://t.co/t4XvcdoeJc pic.twitter.com/NXOn8IE8CM

— Chicago Cubs (@Cubs) August 29, 2018