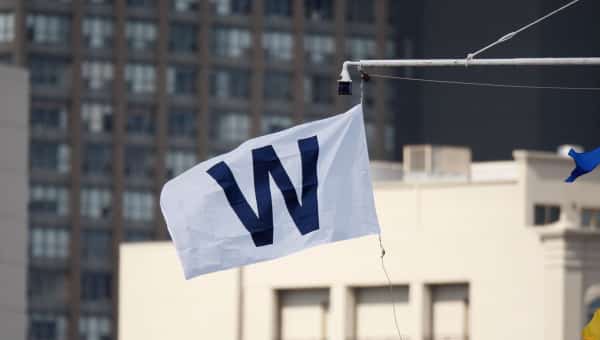 CI Recap (8/23/18) – Cubs 7, Reds 1: Cubs Cruise Behind Hamels' Complete Game Gem
The Cubs gave up a run in the top of the first inning, and that was the last time the Reds had the lead all night. Cole Hamels had a rough start, throwing 19 pitches in that frame. But he roared back and took control of the game, throwing 114 pitches — his most this season — en route to a complete game win over the Reds (box score).
Why the Cubs Won
A wise man once said, "if you don't score you can't win." That's a lesson the Cubs have taken to heart the last two games, scoring a combined 15 runs. They put together 12 hits in tonight's contest, including a two-run home run by Anthony Rizzo, and a bazooka bomb, 481-foot shot by Javier Baez.
481 Ft, 110.5 MPH JAVY 💣 pic.twitter.com/Lm1p9xepIF

— Cubs Insider (@realcubsinsider) August 24, 2018
Key Moments
After giving up a double and a single to the Reds to lead off the game, Hamels struck out the next two batters. With two strikes on Philip Ervin it looked like he might get out of the inning unscathed. Ervin hit the ball towards Daniel Murphy at second base, who made a diving stop but threw the ball too high for Anthony Rizzo, causing him to jump off the bag. A run scored, but Hamels came back and induced Tucker Barnhart into a fly out, ending the threat.
Stats that Matter
Cole Hamels has been absolutely dominant since joining the Cubs – 34.0 IP, 3 ER, 30 K, 8 BB
Daniel Murphy has added a spark at the top of the lineup – 2-for-5, 1 R
Javy Baez was doing Javy things all night long – 3-for-5, 3 R, 1 RBI, HR, 2B, SB
Bottom Line
Right when it was starting to feel like the Cubs offensive drought would never end they've put together two strong offensive outings in a row. It couldn't have come at a better time. With three more games against the Reds this weekend, and then three against the Mets at Wrigley next week, it really feels like the Cubs could surge *if* they can keep the offense rolling.
On Deck
Alec Mills will make a spot start for the Cubs on Friday at 1:20 CT, going up against Matt Harvey for the Reds. You can catch the action on NBC Sports Chicago or MLB Network (out-of-market).