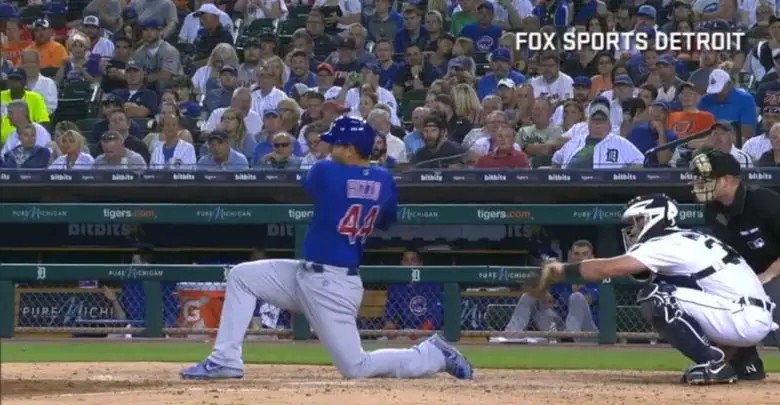 The Rundown: Cubs Stuck on One, Murphy Brings Scorching Splits to Wrigley, Nationals Waive White Flag
One run. One solo home run. One loss. Repeat after me, five times: "One is the loneliest number that you'll ever do." The Cubs extended their string of scoring one run per game with each run coming via a solo homer to a record five games as they lost 2-1 to the Tigers last night.
In 9th grade I had an Algebra teacher who was a former Playboy bunny (not a centerfold, mind out of the gutter, please and thank you). She used to call the inverse property of multiplication "switchy-switchy." The Cubs could use a little switchy-switchy right about now. Oh wait, if you multiply any fraction by it's multiplicative inverse you get one. Scratch that. The Cubs have mastered one. Yay, math.
Yesterday's loss wasted a great effort by Kyle Hendricks. He gave up two runs in the 1st inning, bringing his total to 24 such runs in 26 starts –ouch. Anthony Rizzo was last night's guest of honor on TV's hot new mini-series, Punchless: Chicago's Post All-Star Break Offense, which is a funny way of saying this team's offense is downright offensive. Maybe they need to do a deodorant commercial.
(maybe no one noticed)#TeamRizzo pic.twitter.com/Q8JCPobVih

— Chicago Cubs (@Cubs) August 22, 2018
Chicago has now scored exactly one run in five straight games twice in franchise history, the last time coming in 1934. The Cubs still have the best record in the National League and we'll hang our hat on that until it's no longer true, which should be about three runs from now at the current pace. If the team is going to continue scoring one run per game they will only win when Cole Hamels pitches.
Cubs News & Notes
If you missed it, the Cubs traded for Daniel Murphy yesterday as the Nationals threw in the towel on the 2018 season and traded or let go two more players via waivers. Though he'll help the team a great deal, the front office is probably happy he wasn't claimed by a team they may face in the 2018 playoffs. Murphy hit .529 against the Cubs in the 2015 NLCS. He's playing for them now but that memory still stings. Murphy has been especially hot of late, hitting .340 in the second half for Washington.
Chicago's shiny new acquisition loves playing at Wrigley Field. He has seven home runs, a .413 average, and a 1.142 OPS over 28 regular-season games at Wrigley, in addition to his postseason heroics in 2015. To say he already owns Wrigley is an understatement, and now he gets to bunk on the North Side for a few months.
If everyone is healthy, the Cubs have six lineup spots for:

– Kris Bryant
– Javier Baez
– Kyle Schwarber
– Daniel Murphy
– Ben Zobrist
– Addison Russell
– Albert Almora
– Ian Happ
– Jason Heyward
– David Bote

That is a first-world problem.

— Jeff Passan (@JeffPassan) August 21, 2018
Yu Darvish is done for the season, though in fairness he never really got started. A lot of fans are on Darvish but why pick on a guy when he's hurt? At least now we know why he never got it going this year. He was officially diagnosed with a stress reaction in his pitching elbow and a triceps strain to boot. Hopefully he will be 100 percent next season, where he could end up being the league's most expensive fifth starter.
Kris Bryant took batting practice at Tigers Stadium yesterday. That's a positive sign that his return may be imminent.
The Cubs continue to make opposing pitchers look like Cy Young candidates. The following starting pitchers have stymied the team's offense during their five-game, one-run streak: Jordan Zimmermann (who had allowed 17 earned runs in his previous 25 innings), Jameson Taillon, Joe Musgrove, Trevor Williams, and Ivan Nova.
How About That!
White flag time has a whole different meaning in Washington than it does at Wrigley Field. The teardown, however, apparently won't involve superstar outfielder and pending free-agent Bryce Harper, who was pulled from revocable waivers after being claimed by the Dodgers.
I'm told the Dodgers are the "mystery team" that claimed Bryce Harper on revocable waivers.

— Grant Paulsen (@granthpaulsen) August 21, 2018
Boston's losing streak has now reached three games. I wouldn't expect a Nationals-like sell-off however.
With a 5-2 win against the Dodgers last night, the Cardinals took the lead in the NL Wild Card race, a half-game ahead of the Milwaukee Brewers. St. Louis also moved to 2 1/2 games behind the Cubs in the NL Central. They'll try to sweep Los Angeles this evening.
Former Cubs prospect Billy McKinney hit his first career home run last night as his Blue Jays beat the Orioles 8-2.
White Sox phenom Michael Kopech pitched two scoreless innings in Chicago's 5-2 loss to the Twins before being pulled when the game went into a 52-minute rain delay. He struck out four batters, including former American League MVP Joe Mauer with the last pitch he threw.
Yankees closer Aroldis Chapman is fighting left knee tendinitis and was removed from yesterday's game due to discomfort. Known to register triple digits on the radar gun, Chapman topped out at 97.1 mph in the six pitches he threw before exiting. Altogether, his pitches averaged 96.0 mph. Per ESPN Stats & Information research, that's his lowest average velocity in a game since 2013.
Tuesday's Three Stars
Dansby Swanson – The Braves SS was 2-for-4 with two taters and 4 runs driven in as Atlanta beat the Pirates 6-1 to close within a game and a half of the Cubs for best record in the National League.
Blake Snell – The Rays' ace has got to be considered as a Cy Young candidate after giving up one run on four hits over six innings while striking out 11 Royals batters' in a 4-1 victory last night. Snell is now 15-5 with 160 strikeouts and a 1.01 WHIP on the season. The left-hander also became the second pitcher in the live-ball era (since 1920) with 160 or more strikeouts and fewer than 35 runs allowed through 24 starts, joining Bob Gibson (168 strikeouts, 31 runs allowed in 1968).
Brett Anderson – The veteran pitcher ran his streak of consecutive scoreless innings to 16 as the A's beat the Rangers 6-0. Anderson allowed just one hit and one walk with six punchouts over seven strong innings.
Extra Innings
Baseball is getting younger with each passing season as veteran players find contract offers more difficult to come by.
The average age of the 10 position players who led the majors in WAR in 2017 was 26 — nearly five years younger than the top players of 2001. Of those 10 players, nine were under 30 and three were under 25. Indeed, the last two championship teams (Astros and Cubs) were all built with very young core rosters.
It's possible that prevailing sentiment has gone too far. A sport that had been biased against the idea of young players' readiness to contribute now may be overly skeptical of older players. For that reason, the Cubs front office seems to have exposed that predilection by leveraging Hamels and Murphy in trades for practically nothing. It's somewhat surprising (to me at least) that Murphy made it all the way to the Cubs on a waiver claim.
They Said It
"He's kind of exactly what we need right now. Put him near the top of the order, and let him set an example for the rest of the hitters. That's what we need. Zobrist has done a great job of setting an example. Now we have another guy. We have two of the best professional hitters in the game right now. I'm not asking Daniel to come in and be this force. I'm just asking for the guys to see his process." – Joe Maddon
"We almost feel we're punishing the guys too much now. You can still be a really good player at 31 or 32. The aging curve gets very harsh as you get into your mid- to late-30s. We've talked internally that maybe we as an industry have shifted too far away from guys in their early-30s." – Neal Huntington
Wednesday Walk Up Song
She Blinded Me With Science by Thomas Dolby, to compliment the math lesson at the top of this column.