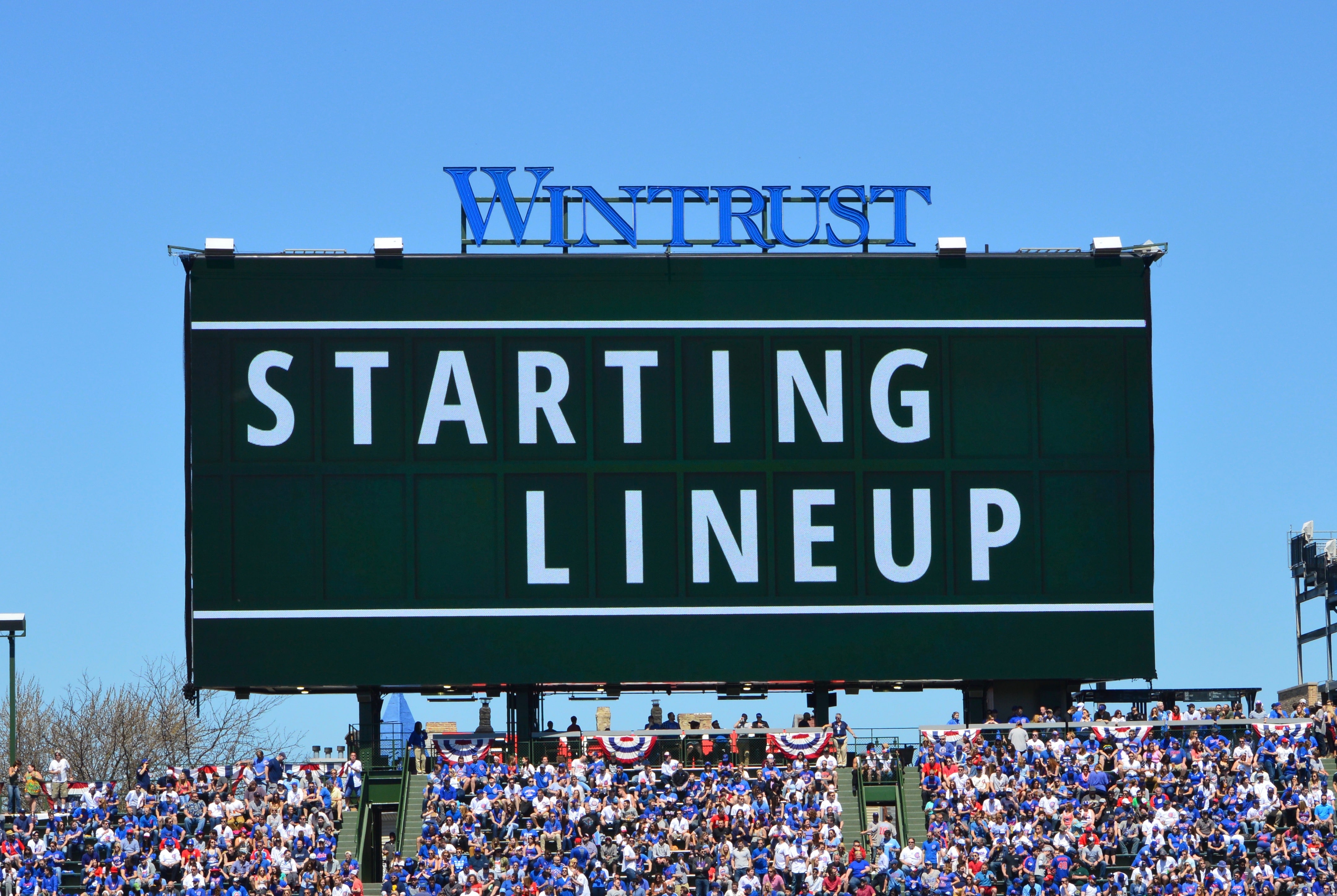 Chicago Cubs Lineup: Almora Leads Off, Schwarber DH, Hendricks Looks to Mow Down Motown
Update: Addison Russell has been scratched due to the suddenly ubiquitous shoulder inflammation, which sets up a 10-day DL stint to allow him to rest while opening a spot on the active roster for newly acquired Daniel Murphy.
Albert Almora Jr. is leading off against a righty, which is an interesting move and will probably result in a huge game because that's how things work. Jason Heyward is batting second in right, Javy Baez is at second base, and Anthony Rizzo cleans up.
Ben Zobrist is in left, Kyle Schwarber is the DH, David Bote is at third, Willson Contreras is catching, and Addison Russell is ninth. Russell has been struggling mightily at the plate, though he says he's able to play through a sprained finger.
Kyle Hendricks has really been attacking hitters over the last month-plus and it's resulted in a big uptick in strikeouts. Since his superb start in San Francisco on July 9, Hendricks has struck out eight batters on four occasions and has posted a 9.63 K/9 against only 1.13 BB/9. What's more, he's only allowing 1.13 HR/9, which is down from 1.37 in 18 previous starts.
The only problem with striking out so many and walking so few is that Hendricks is throwing a lot of strikes. And while his first-pitch strike and overall zone percentages have actually dropped during this recent strikeout binge, Hendricks doesn't have the margin for error of a pitcher who throws much harder. That leaves him susceptible to a little more contact and what appears to be some bad luck.
His batted-ball profile is nearly the same and his swinging strikes are up, yet his BABIP against has jumped from .262 to .343 if we continue to use July 9 as an arbitrary line of demarcation. Hendricks should be able to avoid some bad luck as he faces what is arguably the worst offense in baseball. The Tigers have hit only 99 homers and have a mere .676 OPS, perfect for a guy who's been stung by the longball this year.
Going for Detroit will be Jordan Zimmermann, a strike-thrower with a tendency to give up home runs in pairs. That's good, because the Cubs haven't hit more than one homer in far too long and are mired in a season-long power outage that is in much need of a new generator. Zimmermann has allowed multiple dingers in five of his last six starts and he's a fly-ball pitcher in general, just what the Cubs need.
Mainly a fastball/slider guy, the 32-year-old righty will mix in a curve from time to time and also throws the occasional change to lefties. Righties will see a heavy dosage of sliders, which Zimmermann throws more than a third of the time to them. He doesn't have a real put-away pitch, though the slide-piece can get some whiffs from time to time. He can also hang it from time to time, so that's something to watch for.
Zimmermann has been a split-neutral guy throughout his career and is more or less the same this season, which the exception of some hiccups on the road that have resulted in big production by righties. In general, though, you're looking at a guy who's equally susceptible to hitters from either side of the plate.
I'm going to go out on a limb here and say the Cubs bust out in a big way in this one. Multiple runs from at least two homers and Hendricks cruises. From my lips to God's ears, let's see what happens.
First pitch from Detroit is at 6:10pm CT and can be seen on NBC Sports Chicago and heard on 670 The Score.
Here is tonight's #Cubs starting lineup in Detroit. #EverybodyIn

Stream on @YouTubeTV: https://t.co/t4XvcdoeJc pic.twitter.com/T4ReWDCPOi

— Chicago Cubs (@Cubs) August 21, 2018