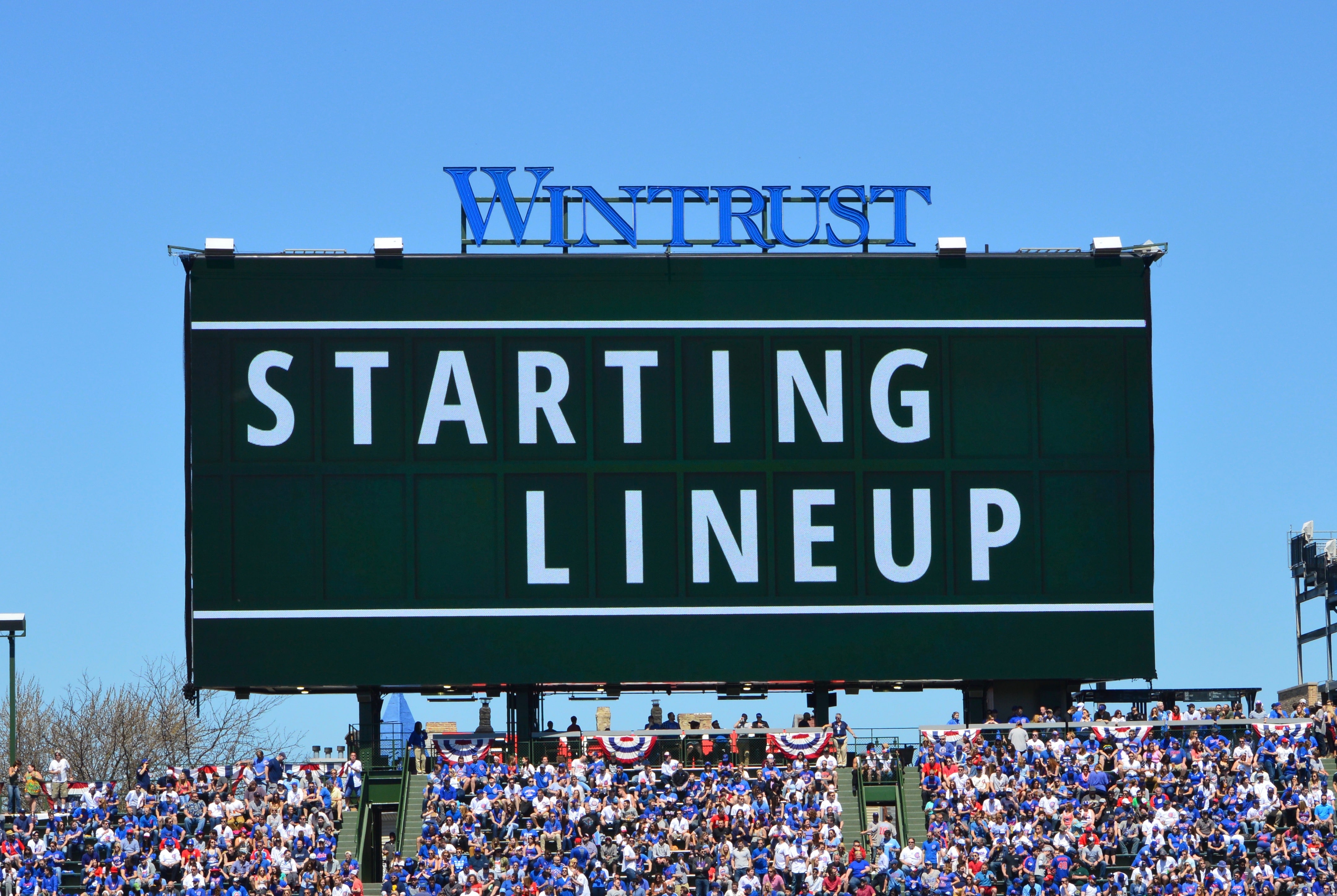 Chicago Cubs Lineup: Rizzo Leads Off, La Stella at 3B, Bote Sits, Quintana Pitching
So I'm sure everyone is totally cool with David Bote sitting again even after Sunday's heroics, since things that this are always assessed rationally. Bote is on the bench as the Cubs opt for a lefty-heavy lineup, but expect him to get at least one plate appearance this afternoon. Hey wait, didn't that grand slam come as a pinch hitter?
Anthony Rizzo is leading off, followed by Javy Baez at short, Ben Zobrist at second, and Jason Heyward in right. Tommy La Stella gets the start at third, which always scares me a little bit. Kyle Schwarber is in left, Willson Contreras is on the mound, and Ian Happ wraps things up in center.
Jose Quintana has had something of an odd season and I can't quite put my finger on exactly what's going on with him. Fastball command has been a big part of it, leading to more walks and decreased effectiveness of his curveball. That makes sense, but what's odd is the way his peripherals kind of tell on each other.
Quintana is allowing only a .278 BABIP, the lowest mark of his career, but he's giving up a career-worst 36.9 percent hard contact. He's also giving up 32.4 percent opposite-field contact, significantly more than he's even given up before. That's because he's leaving more pitches out over the plate instead of working even more away.
There's a sense that Quintana is pitching to avoid contact rather than trying to miss bats, which seems like the same thing but isn't. The lefty is throwing fewer overall strikes than he has since 2013 and he's drawing fewer swings — both in and out of the zone — than ever before. Rather than trying to induce swings and misses, he's almost trying to avoid any swings at all.
On the bright side, Quintana has pitched really well in three previous starts against the Brewers this season. He's only allowed two earned runs on nine hits and five walks over 19 innings, striking out 16 in that time. Perhaps we'll get a repeat of those performances in this one.
The Brewers will counter with 30-year-old righty Jhoulys Chacin, who's having a solid overall season in Milwaukee. The numbers belie some wild swings on the mound, though, as Chacin has laid several eggs between his excellent starts. He's allowed 11 earned runs over the last two starts after allowing a total of three earned over his three starts prior to that.
Chacin has given up home runs in each of his last five starts (seven total homers), though he's still only at 0.91 HR/9 and usually does a good job of keeping the ball in the yard. He doesn't generate as much groundball contact as usual despite a high concentration of sinkers and sliders and his increased hard contact allowed tells us that the scarce home runs might not be sustainable.
That's backed up by a .256 BABIP against him that 25 points below his career average, further evidence for potential regression. He's also been really susceptible to lefties, so the Cubs are trying to take advantage of his weaknesses in this one. Chacin has surrendered a .262/.357/.423 slash with a .340 wOBA to lefties, all of which are around 80-100 points higher than what righties have done.
Those lefty stats all go up from 13-60 points when Chacin is pitching on the road, so take that for what it's worth. And when he shut the Cubs down back in June, he was pitching at Miller Park.
First pitch is at 1:20pm CT and can be seen on NBC Sports Chicago and MLB Network (out of network only) or heard on 670 The Score.
Here is today's #Cubs starting lineup against the #Brewers.

Stream on @YouTubeTV: https://t.co/t4XvcdoeJc #EverybodyIn pic.twitter.com/5N46Wk14yo

— Chicago Cubs (@Cubs) August 14, 2018