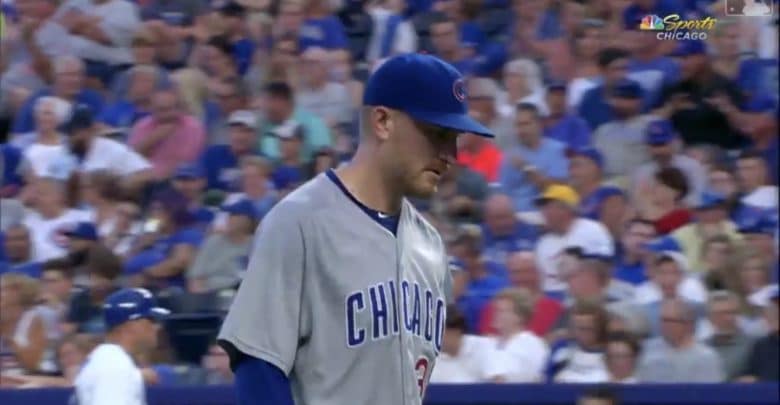 The Rundown: Montgomery Missing Bats, Bote's Elite Exit Velocity, Coghlan Has a Big Game
Mike Montgomery said after his recent start against the Padres that he thought he'd figured something out. It wasn't a particularly impressive outing, one earned run over 5.1 innings with a pair of strikeouts and a walk, but there was a little behind-the-scenes stuff going on that spoke to Montgomery's positive outlook.
"I changed the grip on my curveball," the lefty told Tony Andracki and the rest of the media last week. "It played a lot better, so I'm gonna kinda work on that and continue to better that. Also, my cutter/slider was a lot better."
That curve had been more of a weapon for Montgomery in the past, but he's not been generating the kind of strikeout numbers you expect to see in today's game. Hell, his K totals are low for any era. His 5.51 K/9 as a member of the rotation is among the seven lowest in baseball for starters with at least 60 innings pitched, and that's a little better than his overall 5.46 mark.
"I'm a groundball pitcher, but I think in today's game, you're gonna need swings and misses, so I'm constantly gauging how I can do that," Montgomery said after that effort against the Padres. "I think some of the things I did tonight are gonna give me more of those and I was pretty happy about that."
The strikeout total sure didn't show it, but Montgomery did have something working in that last start. His average spin rate of 2,046 rpm was only the seventh time all season he'd been over the 2K mark and only his second time as a starter. There's not necessarily a direct correlation between spin rate and results, but it figures that breaking pitches in particular are going to work better with tighter, faster spin.
Perhaps encouraged by what he felt in that last game, Montgomery went out against his original organization and flat-out attacked the Royals. He threw a first pitch strike to 21 of 25 batters (84%), the highest percentage he's thrown this season as a starter and about 21 points higher than his season average (61.7%). He also generated 13 swinging strikes in 95 pitches (13.7%), his highest percentage since June 13 in Milwaukee (13.9%).
His 1,929 rpm spin rate in KC was within four-tenths of a percent of his season average, so there's nothing extraordinary to point to there. But with a team that hits lefties as poorly as the Royals do, average is really all you need. Location is key too, and Montgomery did an excellent job of burying the curveball last night (I'll explore that a little further in a separate piece, since doing so here would take too much time).
After being pulled under somewhat odd circumstances only 79 pitches into his last outing, it was encouraging to see Montgomery go as long as he did in this one. That may actually speak as much to the Cubs' confidence in their other starters, whether new or injured, as it does with Monty himself.
With career highs in both innings and pitches inevitable at this point, the Cubs could be inclined to limit Montgomery in order to avoid potential late-season burnout. Riding him a little deeper in this last one could signal that they're indeed confident Yu Darvish, who will throw a sim game Wednesday, can come back by the end of the month. Or perhaps it's more about what they've seen from Cole Hamels through two starts.
However you slice it, Montgomery appears to have figured some things out and is looking as strong now as he did when he first moved into the rotation back in May. Maintaining these mechanics and aggressive approach should continue to yield positive results until reinforcements arrive, after which they'll serve him just as well in the bullpen.
Cubs notes
• David Bote leads MLB (min 25 batted-ball events) with an average exit velocity of 96.3 mph. That's higher than Aaron Judge (95.8), Nelson Cruz (94.5), and anyone else you'd care to list. Heck, only 25 players have an average EV above 92 mph. An arbitrary sampling of his last 11 batted balls shows an average of 100.7 mph, so it's not as though he's slowing down.
Bote has made a conscious effort over the last two seasons to really hit for power. He's picking out pitches to hit and really ambushing them, something I saw firsthand during spring training in 2017. It was late in the game against Team Japan and the Cubs had subbed out any of their regulars. Some dude wearing No. 70 or some such absolutely yoked a ball out to left-center and we were all like, "Whoa, who was that?"
I'd certainly heard of him before, but we'd missed the announcement of his entry into the game and he didn't have his name on his jersey. I remember having to correct people on the pronunciation of "BOH-tee" instead of "Boat," since there's nothing I love more than mansplaining to a bunch of people at once.
Shameless promotion time: If you'd like to get in on the Bote craze before this ship sails, you can grab your #EveryBoteIn (available in $19.99 or $24.99 versions) or Bote McBoatface t-shirts in the Cubs Insider shop.
• Chris Coghlan went 4-for-5 with a pair of doubles for the Iowa Cubs Tuesday night. The big performance got Cogs up to a .210 average with a .567 OPS, probably not enough to get him a spot on the 25-man just yet.
• Ben Zobrist is probably the least hip player on the Cubs' roster, which is why it was such a surprise when he was lifted early with hip tightness last night. If they've still got David Ross's walker lying around, maybe Zo can use it to rest the bum joint for a while.
• Kris Bryant took some infield and played catch Tuesday as he works back from the shoulder issue that has hampered him since mid-May. It's the left shoulder, so throwing isn't really a big deal, but just getting back to live baseball activities is a good thing.
He still hasn't swung a bat since going on the DL for the second time, so a return is still well in the future. I've said before that I think September 1 is a good target, and that still feels accurate given what we know so far.
"I trust what they're telling me," Bryant said Tuesday. "From the looks of it, I feel a lot stronger and have been able to do more reps of the program we're on which obviously makes me feel better about this whole process."
More notes
• The Angels' Shohei Ohtani may be close to getting back on the mound. Ohtani has been limited to just hitting after suffering a grade 2 UCL sprain earlier this season.
• Remember teen phenom Julo Urias, the Dodgers lefty who blew threw the system and debuted with LA two years ago? He's working his way back after undergoing surgery to repair an anterior capsule (shoulder) injury, but the early reports aren't very encouraging. He's reportedly only throwing in the upper 80's or low 90's and his stuff isn't great. That could all change in time, though, so let's keep our fingers crossed.
• Former Cubs Luis Valbuena has been placed on release waivers by the Angels.