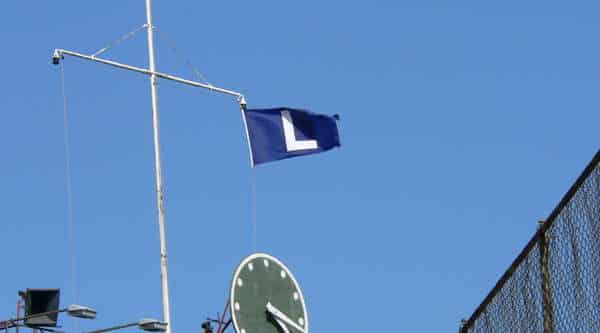 CI Recap (8/8/18) – Royals 9, Cubs 0: Royals Reign Over Cubs In Shutout Win
The Cubs looked to earn a sweep against the reeling Royals on Wednesday night, but a stellar pitching performance from a Kansas City rookie kept that from happening. It remained a close game until the late innings when the home team broke it open.
Jose Quintana began his start in impressive fashion, needing only 6 pitches in the 1st inning. The 2nd inning wasn't nearly as efficient for the Cubs lefty, a single and two walks loaded the bases with one out. Adalberto Mondesi struck out for the second out and it looked as if Chicago might escape. Then Drew Butera, sporting a sub .200 batting average, pounded a grounder down the third base line for a two-run double.
Normally, a 2-0 lead against a struggling Royals pitching staff would seem like nothing, but that wasn't the case Wednesday. Rookie Heath Fillmyer had the Cubs baffled all game long, allowing just three baserunners the first 6 innings. The Northsiders did get two men on base in the 7th, but Fillmyer got a Willson Contreras strike out and a Kyle Schwarber pop-up to end the threat.
KC broke the game wide open in the bottom of the 7th, Quintana allowed two singles to begin the rally. Then Mondesi emulated his dad, Raul, with a long three-run blast to left-center. Tyler Chatwood came on to mop up the now 5-0 game and made it out of the 7th clean. The 8th was a different story, Chatwood got tagged for 4 more runs to make it a 9-0 final. (Box score)
Why the Cubs Lost
The offense was a total non-factor on Wednesday for the Cubs with a total of four singles and two walks. Quintana needed to be perfect and he was not able to do that.
Key Moment
Quintana's walks to Lucas Duda and Brett Phillips in the 2nd were costly. They set the stage for Butera's double, one of only two extra-base hits Quintana allowed on the night.
Stats That Matter
Quintana was mostly solid, yet fell victim to the big inning again: 6.1 IP, 5 R, 6 H, 4 K, and 2 BB. Both times he allowed more than one baserunner he paid for it. Against a weak Royals lineup, it's not a great outing.
I would highlight another player here, but honestly no one did anything of note in the game. It was a listless performance all around.
Bottom Line
Expecting a sweep in any series is unfair, major league baseball players are professionals and aren't going to roll over. So winning 2 of 3 against the Royals is fine, tonight's performance though was a rough one for sure no matter who the opponent was. With the Brewers beating the Padres, the Cubs divisional lead drops back to 1.5 games.
On Deck
The Cubs head home for a three-game series with the Nationals starting Friday at 1:20 pm CT. Jeremy Hellickson faces off against Kyle Hendricks in a game that can be seen on MLB Network and NBC Sports Chicago.