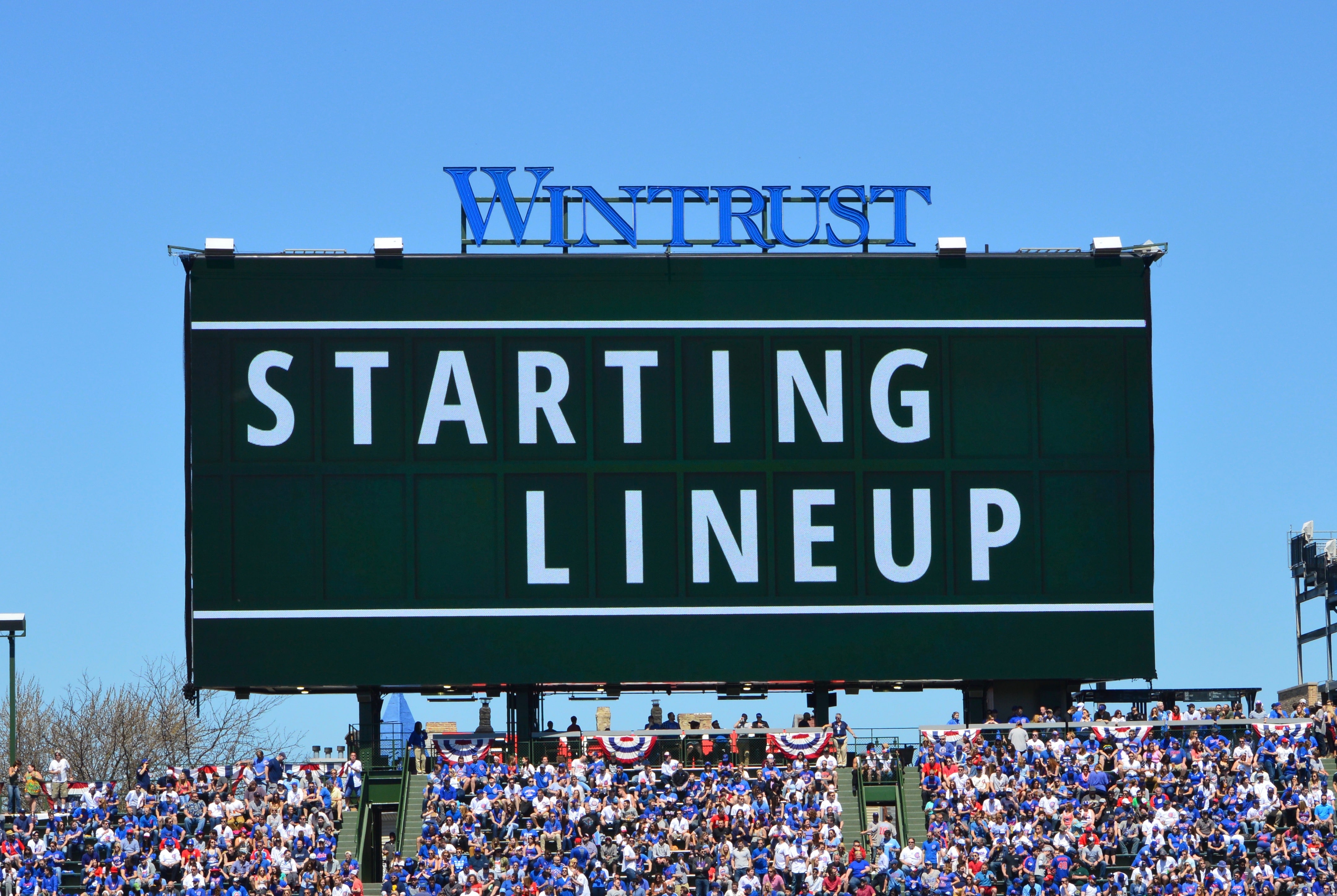 Chicago Cubs Lineup: Rizzo Leads Off, Your Bote Is the Cleanup Man, Quintana Tries to Complete Sweep
Anthony Rizzo leads off the series finale in Missouri's best baseball city, followed by Javy Baez batting and playing second and Jason Heyward batting third in right. And then it's…Oh ma Gawd, that's David Bote's music! The hard-hitting utility man brings his MLB-leading exit velocity to the cleanup spot after driving in three runs last night. He'll also be playing third, for what it's worth.
Tommy La Stella handles the DH duties, Willson Contreras bats sixth, and Kyle Schwarber is hitting seventh in left. Ian Happ mans center and Addison Russell is at short. The preponderance of lefties is a little concerning given the tendencies of KC's starter, but more on that later.
Jose Quintana will be facing his former division foes tonight, though this Royals team isn't quite the same one he faced. Or, to put it more accurately, a lot of the guys Q is familiar with are past their respective primes. Alcides Escobar (.273/.310/.318), Alex Gordon (.288/.351/.442), and Salvador Perez (.302/.333/.492) have all done damage in at least 52 respective at-bats, but none are the same hitters they were when the Royals were actually good.
It's been noted in each of the last two lineup breakdowns that the Royals don't hit lefties well, so I suppose I can just belabor the point that much further. And Quintana is coming off of an excellent effort in which he held the Padres to a single run over six innings. The best part of that outing was the zero walks issued, Q's first such game all season.
If he can just go out and throw strikes without pitching like he's afraid of contact, Quintana should have another solid start in this one.
The Royals are sending 24-year-old rookie Heath Fillmyer to the bump for his fifth start of the year. He's worked swing duty so far and has only gone as many as five innings twice, so this Cubs lineup should test his limits. Fillmyer has walked at least two batters and/or struck out two or fewer in six of his eight appearances, which makes him basically a watered-down Tyler Chatwood.
One thing he does well is generate grounders and keep the ball in the yard. With a 53.7 percent groundball rate and only three home runs allowed, Fillmyer doesn't beat himself too badly on batted balls. And those numbers are coming against a formidable slate of opponents that includes the Astros, Red Sox, and Yankees already.
Like his predecessors in this series, Fillmyer is a fastball/slider pitcher who works in a curve and change from time to time. The change has easily been his best pitch, but he really only throws it to lefties. That would explain the incredibly stark reverse splits that see him limiting left-handed batters to a .258 wOBA while righties are at .376 against him.
Fillmyer doesn't work in the zone much and he doesn't miss many bats, so the Cubs should have a chance to wait him out and really get a good look at what he offers. Righties are getting almost exclusively the four-seam/slider combo and lefties will get four-seam/change, though he'll ramp up that slider when he gets ahead on lefties as well. Not much of a strikeout pitch, it's more about getting weak contact.
Though they haven't had major production, the Cubs have done a good job in this series of grinding away at opposing pitchers. If they're going to do the same in this one, it's incumbent upon the lefty hitters to wait back on that change and be ready to hammer mistakes.
You can follow along at 7:15pm CT on either WGN or 670 The Score as the Cubs go for the sweep.
Here is tonight's #Cubs starting lineup against the #Royals.

Game preview: https://t.co/gEu3k06Z04 #EverybodyIn pic.twitter.com/Wc7TA5FO3T

— Chicago Cubs (@Cubs) August 8, 2018