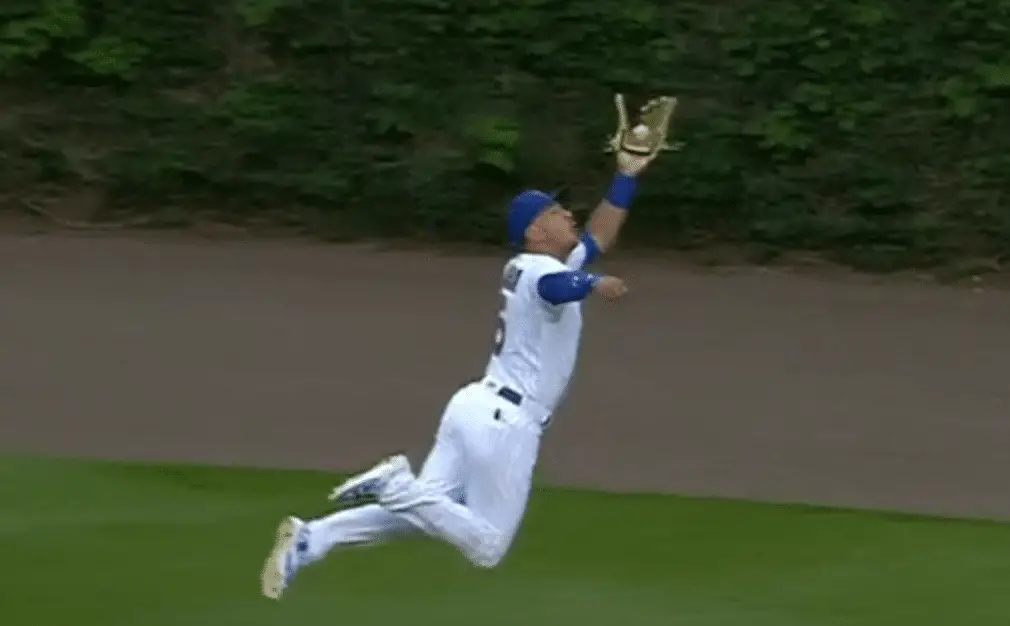 Almora's Dip in Performance Could Be Result of Playing Too Much
Albert Almora Jr. was on fire in May and June, his batting average climbing steadily toward .325 and the league lead. Social media was swept up in the Bert Bonanza and fans' discontent jammed the internet every day the slick fielding outfielder was absent from the lineup. Every fly ball another Cubs outfielder failed to track down was followed by comments that Almora would've caught it.
There were calls for the former first-round pick to make the All-Star team. His playing time, especially against right-handers, began to increase. Then the bottom fell out in July, as Almora hit .222 for the month while only walking at a 3.9 percent rate. His slugging percentage dropped to an ugly .278 as his power completely dried up. Never a patient hitter, he became even more aggressive, swinging at first pitches far too frequently.
Joe Maddon was careful to avoid using him against elite right-handed starting pitchers early in the season in order to maximize his effectiveness and build his confidence. But as Almora's performance demanded more regular playing time, we've seen his numbers dipping.
The question is, which version is more likely to be norm going forward: The hot-hitting Almora seen early in the season, or the slumping slap-hitter we've seen in the second half? The numbers seem to indicate that perhaps the second-half stats are an overdue regression that may be due to the way Almora is being used of late.
Almora put up a .372 batting average on balls in play through the first half, significantly higher than league average (.300). Even for a player who makes plenty of hard contact (27.6% in 2018) and should have a naturally high BABIP, that first-half mark was well above his .341 career average. So it's no surprise that Almora's BABIP has dropped off to .255 so far in the second half.
Another red flag is his high groundball rate, which sits at a whopping 50.2 percent in 2018. Many of those grounders have found holes, but defenses are starting to adjust and more of them are finding leather as the season has worn on. Almora has great jumps and instincts in the outfield, but his lack of elite speed means infield hits are hardly plentiful.
The final factor is a lack of walks. Almora has drawn a grand total of 19 free passes in 353 plate appearances this season, which means nearly all of his on-base percentage is based on hits. Javy Baez is a similar hitter in that respect, but the difference is that Javy is slugging a whopping .594 while Almora slugs just .409. That lessens the impact of a .300 batting average, making it basically a hollow figure.
Ian Happ, whose struggles following that home run on the season's first pitch had a lot to do with the calls for Almora to play more, has improved significantly as the year has gone on. Despite a .241 average, the switch-hitting outfielder has a .366 OBP and presents a much better option against righty pitchers. Happ has clearly earned more playing time with his good approach, but it doesn't mean that Almora should stay glued to the bench.
Almora still plays elite defense in center field and he kills left-handed pitchers to the tune of a .840 OPS and 124 wRC+ in 2018. In order to maximize that, Maddon should return to the pattern he used early in the season, of playing Almora against lefty starters and as a defensive replacement late in games he doesn't start. When he goes against righties, it would best to hit him lower in the order to hide his 90 wRC+ and .707 OPS.
If utilized properly, Almora can be a significant contributor to the Cubs' playoff run. But if he gets over-exposed, he will not be as effective and could even experience a hit to his development. Still only 24 years old, he has plenty of room to grow into an everyday player in the future. At the moment, however, being the strong side of a center field platoon is the right move for the Cubs and Almora.