Mr. New Bote Turns Pregame Practice into Potential Game-Saving Play
Bote, Bote, Bote, Bote, rockin' everywhere
Bote, Bote, Bote, Bote, rockin' everywhere
Bote, Bote, Bote, Bote, rockin' everywhere
I'm not sure they were bumpin' Bubba Sparxxx at Faith Christian Academy in Arvada, CO back in 2006, but that school's new most famous alum is bringing one of Bubba's bangers back in a big way. And no, I'm not talking about Pierce Johnson, who was Faith Christian's only big leaguer until David Bote came around.
Though he went hitless in two at-bats to his deepen his slump at the plate to five whole trips, the unlikely replacement hero still managed to help save the game for the Cubs. With the home team up 5-2 in the top of the 9th, Pedro Strop came on to close things out and nearly ended up gift-wrapping a victory to the Padres.
After a single by Freddy Galvis and a walk to Jose Pirela, Strop gave up a deep double to Cory Spangenberg that had Ian Happ twisting in the wind like a discarded hot dog wrapper. Now the Padres had a run in and two men in scoring position with none out. Travis Jankowski, who sounds like he could be a post-game caller to The Score, grounded out to bring another run home and push Spangenberg to third.
With the tying run 90 feet away, less if you subtract his lead, Manuel Margot chopped one to the left side of the infield. Pouncing to his left, the memory of his fielding work with coach Brian Butterfield that morning still fresh in his mind, Bote vacuumed the ball and fired home with quickness born of instinctive déjà vu.
It was almost as though he had been waiting for this very moment, that Margot had unwittingly stepped into the role of the Cubs third base coach as Bote simply reacted. Bote's perfect strike to Victor Caratini — the second such play the Cubs made on the afternoon, with Javy Baez authoring the first an inning earlier — cut Spangenberg down and added 23.4 percentage points to the Cubs' win expectancy.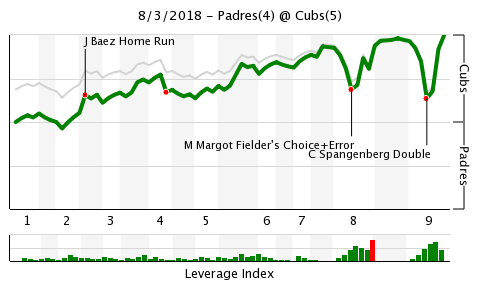 In the span of half a second, the likelihood that the Cubs would fly the W went from 67.7 percent to 91.1 percent. All because a dude most fans didn't even know before this season executed in a huge moment.
It's all too easy when we see things like Javy's El Mago slides to say stuff like, "You just can't teach that." And in those cases it's very often true; Javy is simply capable of doing things on both the mental and physical fronts that other players simply can't or won't do. But baseball is most often a game of repetition and fundamentals and capitalizing on opportunities.
Bote's play Friday afternoon was the perfect example of that, as is his overall performance for the Cubs all season. He toiled for parts of seven seasons in the minors and has had to shuttle back and forth between Iowa and Chicago as the need arose. He doesn't figure to be going back anytime soon, though, even if Kris Bryant is able to return before rosters expand.
Whether it's being ready to jump on a plane or off the bench at a moment's notice or practicing firing home on a grounder despite not being in that day's lineup, Bote has shown that hard work and good timing can really pay off. His last name also makes for really cool esoteric puns.