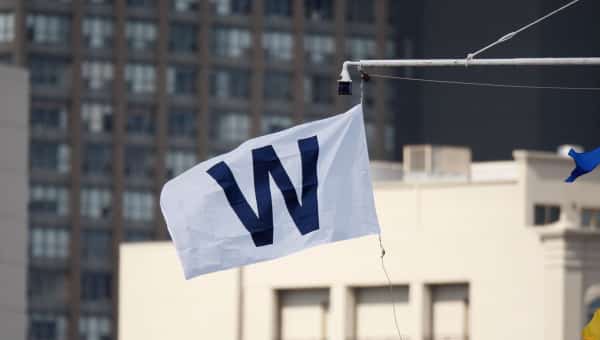 CI Recap (8/4/18) – Cubs 5, Padres 4: Offense Scores Early, Bullpen Dominates Late
The wind was howling out at Wrigley Field Saturday afternoon and it looked as if the offenses would dominate early. Instead, the real star of the game was the Cubs bullpen, which was able to secure a narrow Chicago victory.
Kyle Hendricks looked sharp to begin the day, not allowing a hit through three innings, and the Cubs jumped all over rookie Walker Lockett in the 2nd inning. Kyle Schwarber kicked off the rally with a long solo homer to right center, his 20th on the season. Ian Happ singled and moved to second with two outs, scoring on an Addison Russell single. Anthony Rizzo blasted a two-run bomb to center to increase the lead to 4-0.
Ben Zobrist followed with a double and scored on what turned out to be a very important single by Jason Heyward. It looked like Lockett was finished after the five-spot, but he went on to throw three scoreless innings after the 2nd.
Hendricks ran into trouble in the 4th when Travis Jankowski reached on an infield hit and moved to second on a bad throw by the Professor. A Manuel Margot double scored Jankowski, after which Margot scored on a Hunter Renfroe sacrifice fly. Austin Hedges added a solo dinger to make it a 5-3 Cubs lead after four.
Hendricks reached the 6th inning before running into more trouble. Eric Hosmer singled and Renfroe doubled to put men on second and third with one out. Hedges hit a sac fly to cut the lead to one. Steve Cishek came on in relief and got a groundout to strand the runner. Cishek then struck out the side in the 7th inning.
The Cubs had a golden chance to add on in the 7th with the bases loaded and none out, but Jose Castillo got an Albert Almora Jr. pop-up, a Willson Contreras strikeout, and a Victor Caratini grounder to escape with no damage. The Padres weren't able to take advantage, however, as Brandon Kintzler and Pedro Strop threw two perfect innings to close the 5-4 victory. (Box score)
Why the Cubs Won
With the wind blowing out hard to center it really seemed like a one-run lead was going to be impossible to hold. The Cubs bullpen made it look easy as Cishek, Kintzler, and Strop didn't even allow a baserunner in 3.1 innings of work.
Key Moment
Heyward's RBI single didn't seem like a big deal at the time with the Cubs already ahead 4-0, but it turned out to be the winner. Zobrist also barely beat the strong throw home from Renfroe.
Stats That Matter
Kyle Hendricks looked good for the most part other than in the 4th inning: 5.2 IP, 4 R, 5 H, 7 K, and 0 BB. He had great movement on his change up again, but the error on the Jankowski tapper seemed to shake him.
Heyward had three singles and seems to be picking back up after a bit of a slump.
Rizzo is really finding his power stroke with five homers the last week.
Schwarber had a nice game with a homer and a double.
Bottom Line
The last two games weren't pretty, but they were wins. The Cubs need to take advantage of the bad teams on their schedule. A win is a win no matter how you get them.
On Deck
Chicago goes for the series win Sunday at 1:20pm CT as Jon Lester faces fellow left hander Joey Lucchesi in a game that airs on WGN.