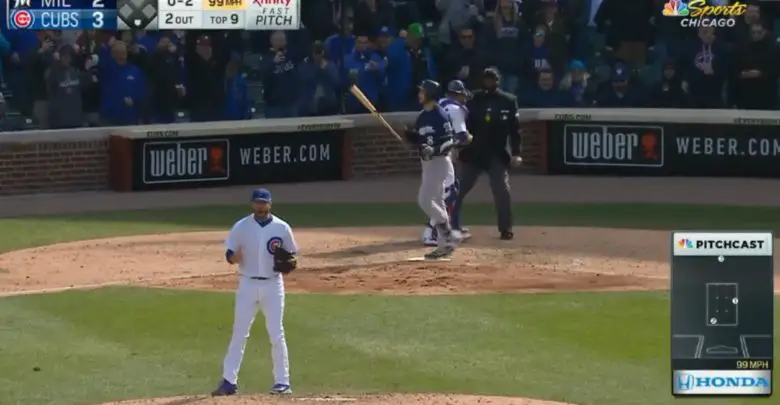 The Rundown: Rehabbing Stars Create More Uncertainty, New York Annexes Really Good Britton, Sixth Starter Woes
The Cubs have said all along that they'd wait as long as possible to assess their trade deadline strategy, which is right and proper and undoubtedly centers on pitching. What kind and how much is the real question, one that grew bigger and louder Tuesday afternoon as the Cubs prepared to square off with the Diamondbacks.
Yu Darvish threw from the mound for the first time since receiving a cortisone injection in his ailing elbow, though it was only a 16-pitch session that served as a prelude to more significant action. If all goes well, he could move up to longer bullpen sessions every 2-3 days over the next week or so before stepping up to a simulated game. Then you figure he'll need two rehab starts to stretch out and ensure that his right arm is, well, right.
Even under the most ideal circumstances, the Cubs can't count on Darvish contributing to the big league club until late August at the earliest. And you can forget about that if there's so much as a cricket's hiccup in his progress again this time around. It really wouldn't be a surprise at all for them to shut him down completely at that point, though the possibility exists that he could rest and resume rather than starting over.
Then there's Brandon Morrow, who is eligible to come off the 10-day DL Thursday but doesn't appear to be anywhere near able to do so. Joe Maddon offered no real update on his closer's status, only saying that Morrow isn't ready yet and that there's "no finish line" in sight. That's, uh, not great, especially when the Cubs had been adamant that the biceps inflammation issue was nothing big at all.
And who knows, maybe that's still the case and and Morrow will be activated by this weekend. But with the deadline looming and competent high-leverage relievers being targeted by just about everyone, the Cubs will have to decide whether and how hard they can lean on Morrow.
Then we arrive at Kris Bryant, who was out of the lineup Tuesday in order to rest his sore left shoulder. He may be out of the lineup again Wednesday and we should expect that he'll have to miss time on a fairly regular basis going forward. Maddon had admitted earlier this month that this would probably be the case for his superstar, and he doubled down on those sentiments prior to the game.
"Rest would be the best thing for him now, but we're not necessarily ready to do that," Maddon said. "For right now, it's trying to manage it and get him through the season. Hopefully, he can participate."
Playing through pain is nothing new to Bryant, who battled ankle, leg, and finger injuries throughout much of last season. The latter was particularly problematic when it came to his power numbers, though it's nothing compared to this current malady. Or at least that's how it seems from just watching Bryant swing.
Maddon wouldn't say whether offseason surgery was an option, though that may not even be something Bryant and the Cubs have discussed in earnest at this point. And if they had, that's not something Maddon's going to publicize. As we saw with Ben Zobrist's wrist last season, the only immediate solution is to be calculated with playing time in the hope that appropriate usage can mitigate the discomfort and subsequent ill effects.
So where this all leads is that the Cubs don't what they'll be getting down the stretch from three players expected to anchor the rotation, bullpen, and lineup. Which means they'll likely pursue help for both the rotation and relief corps, with the distinct possibility that they try to pick up a veteran bat as well. The latter might be a better waiver-wire option right before rosters expand, but the two former spots probably need to be addressed more hastily.
We've seen the Cubs connected to Baltimore in a big way, with reported interest in reliever Brad Brach and starters Dylan Bundy and Kevin Gausman. Tampa's Nathan Eovaldi is another starter they've been scouting intently and who is pretty likely to be moved in the next week. Cincy's Raisel Iglesias is the top target on the market at this point, but an intra-divisional deal for an elite reliever with three more years of control ain't comin' cheap.
Britton to Yankees
Would you believe I had to trash a drafted post on Zach Britton being traded to the Cubs? Well, I did. That's because he went to the Yankees instead, for a haul of three very solid-but-not-spectacular prospects. It feels as if the Cubs could have gotten this done if they had really wanted to, but they obviously didn't value Britton as highly as New York did.
With the race in the East requiring every bit of talent they can muster, the Yankees saw Britton as the final piece to what could be the best bullpen ever assembled. And they might not be done, as another starting pitcher would really round things out.
Other Cubs notes
A lot of people were upset about Luke Farrell getting the start Monday as the Cubs had to give the rotation a break after five games in four days, and that was before the Diamondbacks jumped all over him. Whither Duane Underwood Jr., they wondered, except without actually using "whither." Turns out he's sick. As in ill. And not sick like we refer to amazing pitches or ill like the Beastie Boys' license and communication.
Rob Zastryzny was missing from the Cubs' 40-man roster for a while yesterday, which had a few amateur sleuths wondering if something was afoot. It also appeared at the time that said roster would have been at 41 with him there, but I trust neither my memory nor my ability to count properly when it comes to establishing those as truths. In any case, he's back now and the numbers are correct.
Something is going to have to change with that very soon, though, as Drew Smyly will eventually need to be activated from the 60-day DL. Then you've got any trades the Cubs will make, though they could move players from the 40-man in said deals.