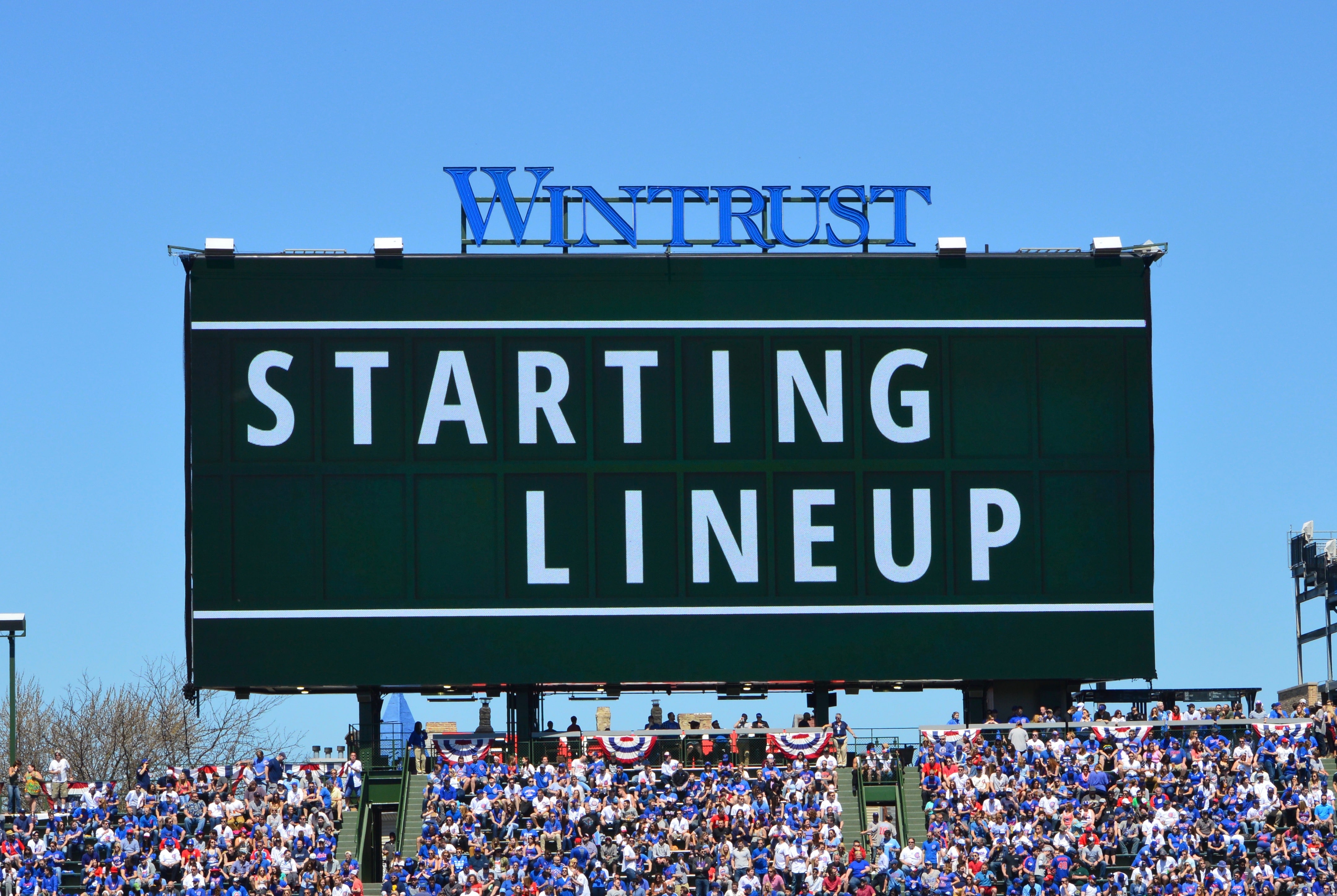 Chicago Cubs Lineup: Rizzo Leads Off, La Stella at 3B Batting Last, Lester Looks to Bounce Back
Anthony Rizzo remains in the leadoff spot for another day, followed by Albert Almora Jr. and Ben Zobrist, who will be playing second in this one. Willson Contreras slots back into the cleanup role, Addison Russell hits fifth at short, and Kyle Schwarber is batting sixth in left.
Ian Happ will handle the duties in right while Tommy La Stella takes the hot corner and bast last in the lineup. Kris Bryant is out to rest his ailing left shoulder for another day and Javy Baez is resting the knee he banged up on a tag play at second last night.
It's a little interesting that Joe Maddon is going with three lefties against a southpaw, but this particular pitcher's profile could give us clues as to where the manager's head is at on that front.
Many felt like it was just a matter of time before the regression monster caught up to Jon Lester and took a big, wet bite out of his non-groundball-getting rear end. Sure enough, the Cardinals pounced on him for eight runs on seven hits and a season-high five walks last week.
Dude's not missing as many bats (6.99 K/9) and he's walking more (3.61 BB/9) than he has since 2008, which is not a great formula for success. The latter figure is particularly troubling, since Lester really can't afford to be out there nibbling. Pitching coach Jim Hickey reiterated Wednesday his advice to his pitchers to just throw strikes and let the defense take care of the rest.
That's easier said than done for a guy who's used to being able to have his way with hitters, though Lester does seem more comfortable setting the cruise control when he's pitching with an early lead. I mean, yeah, that's a given, it's just that you can see the shift in his strategy when the Cubs are ahead.
They'll be trying to do just that against Robbie Ray, a man who puts up big numbers in several different categories. Ray is a strikeout artist whose 12.58 K/9 mark is second among 143 starters with at least 50 IP this season (Chris Sale – 13.13), but whose 4.70 BB/9 is worse than all but five of those. And his John Lackey-esque  2.01 HR/9 mark is higher than all but two of them.
Ray generates a ton of swinging strikes with his slider, which he also tends to hang far more often than he'd like. Same for his 94mph fastball, which has allowed an .855 OPS this season. The curve is even worse, surrendering an .884 OPS.
Ray's career splits aren't all that stark, but he's been much tougher on lefties this season as a result of that nasty slider. Maddon is probably hoping for a return to those career numbers, but with a hanger or two that Schwarber can bang. Righties have posted a .280/.376/.525 slash against Ray, though most of the damage has come at Chase Field. He seems like a different pitcher on the road, where he allows a wOBA that's about 180 points lower than the .441 he's given up at home.
For instance, he's given up eight homers in his last four home starts and no longballs in his last four road starts. That's something the Cubs may need to change if they want to get back to their winning ways. It'll be a beautiful afternoon at Wrigley with the wind blowing from left to right, so the weather should be conducive to a dinger or three.
We'll find out for sure when the Cubs take the field at 1:20pm CT in a game that can be viewed on NBC Sports Chicago or heard on 670 The Score.
Here is today's #Cubs starting lineup. #EverybodyIn

Stream on @YouTubeTV: https://t.co/t4XvcdoeJc pic.twitter.com/Ondlij3BAp

— Chicago Cubs (@Cubs) July 25, 2018